Last week I went to see a special exhibition The 1930s at Sudley House. The exhibition is called Putting on the Glitz and that is an appropriate term, as the clothes look stunning and the whole period was about glitz. The 1930s marked a period of recession after the Wall Street Stock Market Crashed. It wasn't all about Depression, as many people were starting to have more money and home ownership increased. Cinema tickets were cheap and most people went to see a film two or three times a week. Unlike the 1920s (see my post from the London exhibition about that period) when clothes looked boyish, now the dresses are more feminine.
Most of the dresses from the collection displayed at the Sudley House belonged to Emily Tinne. She was a teacher before marring a wealthy doctor in 1910. Her collection is amazing, with over 700 items, some unworn.
She was born in India in a Presbyterian family, her father was a missionary. She was raised in a frugal way until she moved to UK, at 7. She lived in Kent or Scotland with extended family. After finishing school, she moved with an uncle in Liverpool and here she married Philip Frederick Tinne, a GP from a wealthy family. They had 8 children together and 6 of them survived. As their family was getting big, they moved to a big house. They had a few servants, the boys went to Eton and the girls to local schools.
Emily Tinne's daughter, Alexine, donated the clothes to the National Museum Liverpool. Her daughter, idea agreed upon by the curator of the exhibition, said Emily was buying expensive items so the shop assistants could gain their commission. After the WWII, she changed to a "make do and mend" attitude and she kept this until her death.
This evening dress was my favourite. It was made by Callot Soeurs, a French company based in Paris from 1936. This dress was owned by Elizabeth van Swinderen.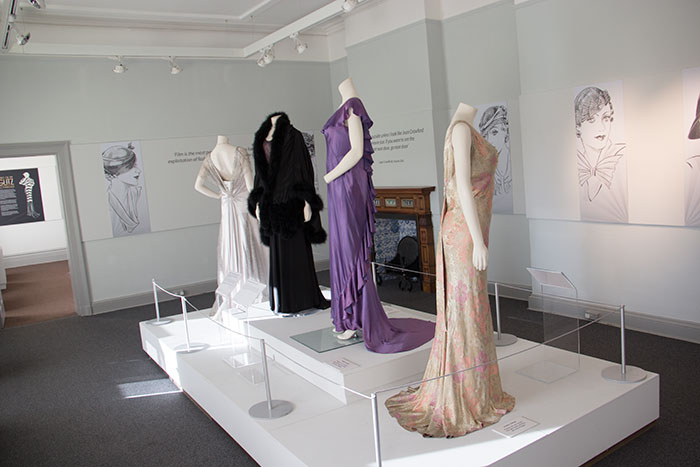 The first dress, with the flower pattern is made in France, Silk Brocade, in 1934. The purple dress is about 1932 – 1935, a bias-cut dress.
At the exhibition there are a few accessories on display too. The white gloves were made by Marshall & Snelgrove on Oxford Street, London, while the black pair is made in France.
The dress on the right is made from rayon and metallic thread brocade, by Bourne & Hollingsworth on Oxford Street, London, in 1935.
Rayon dress, 1938-1940, made with bias-cutting. I think it's stunning.
All the dresses are beautiful, elegant and feminine. I enjoyed the exhibition a lot. The special exhibition is still on until 26 March 2017, so there is a little more time to see it. Sudley House is beautiful too.