This year was the 125th edition of Crufts. I heard about Crufts after I got Festus Vom Hause Mitroi, my wonderful Rottweiler. As an owner of a pedigree dog I have a huge admiration for breeders and their work. I know how much effort goes into each dog to prepare them for shows, to raise them properly and train them. I tried a little bit of dog showing when Festus was young, but I was too stressed about it and my husband wasn't bothered by dog shows.
I can't tell you enough how excited I was to see the show. On our drive to the NEC (1 hour and 45 minutes), my husband and I talked about what we are going to spend at the show. My advice is to make a budget and stick to it. We didn't and after going in, in less than 5 minutes we were already spending £23 on a toy (picture at the end of the post). More about shopping to follow.
The first thing I did was to go to see the Rottweiler ring, obviously. I have so many pictures from the show that I had to make lots of collages. There were 22,000 dogs at Crufts in 4 days, so I guess there were a little over 6,000 dogs on the day I visited the show.

More pictures from the Rottweilers are on Festus's blog, if you want to have a look.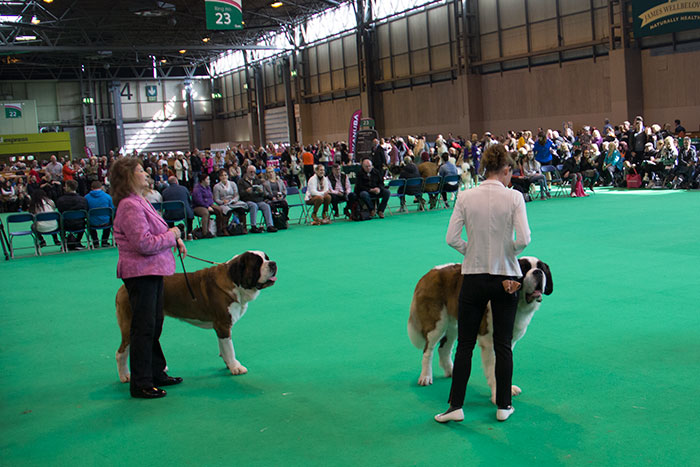 The St. Bernards are so cute, one of them was licking the owner in hope to get some treats.

Hubby managed to take a picture in a final moment at the Schnauzer ring, I'm not sure what was the category. The show is too big to be able to see everything.

I think this was the moment when the Best Of Breed was awarded for the Corgi.
When the dogs are not in the ring, they can relax at the dog benches or they are walked around the show. There are a few designated areas for the dogs to stretch their legs and they can also be walked outside NEC. The atmosphere at the dog benches is so relaxed. I can only imagine how nerve raking can be to exhibit in such a prestigious show, so I was impressed by that.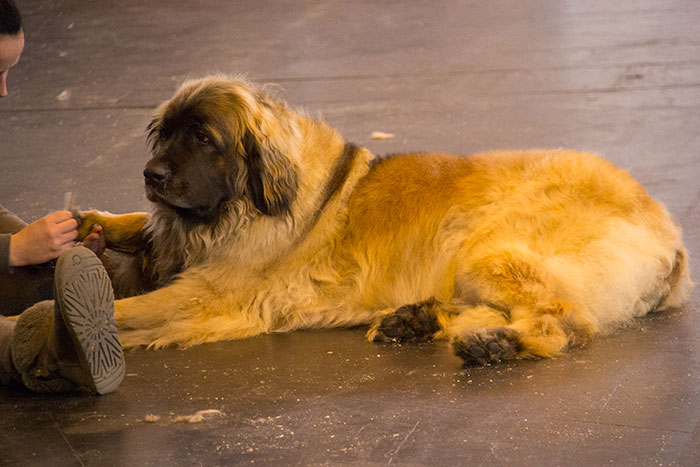 If the dogs need their space, the owners will just sit in front of them. Some of the dogs were in their cages, eventually with a towel spread on top of the cage, so they can have their privacy. Some of the dogs were sleeping. The whole focus was on the dog's welfare, I loved that.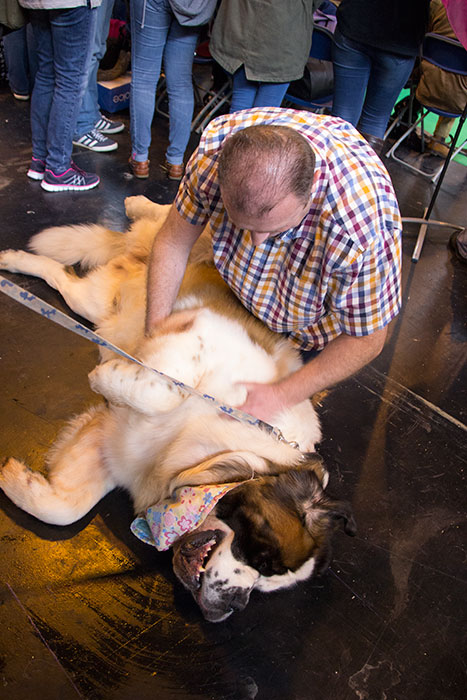 I think this happened after the ring, or else the St. Bernard would have had to be brushed again. Lovely moments and quite unexpected for me at a dog show.

Some of the owners were walking around with their dogs and were stopped by people who wanted to ask questions about the dog or just to pet them.

The Mastiff on the left was so funny, he was looking from his huge canvas cage. I think on the right those cute dogs, very much asleep, are Puli (I do apologize if I didn't identify the breed correctly, I'm not that familiar with Puli and Pumi).

A Great Dane and his owner, what is more to say about how much they love their dogs?
Crufts is not only about showing dogs. There are different other sections in the 5 Halls the show is held in at the NEC. There are things to buy for dogs, like premium and superpremium foods, toys, treats, accessories, vitamins and other supplements, insurance, art, huge doggy driers, kennels, doggy towels.
There is a section called Discover dogs where you can meet dogs from every breed from the show, pet them, ask questions and learn more about them. In Genting Arena there are Flyball competitions, Agility, police dog displays. So, I'm going to talk about one at a time. Let's start with shopping.

This is how crowded it was. There were also stands with doggy clothes and lots of grooming accessories.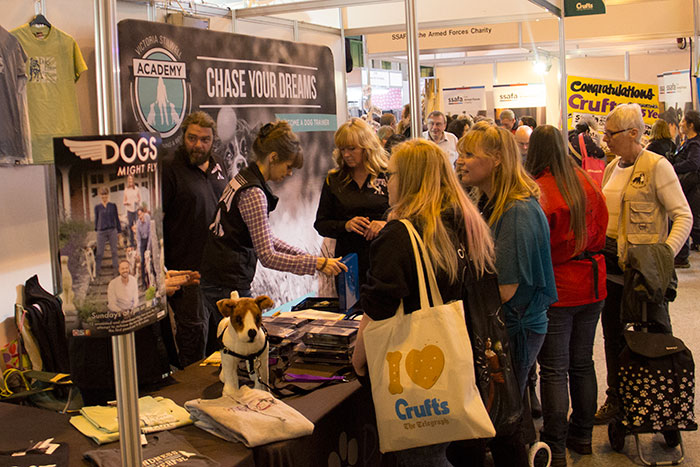 Victoria Stilwell had a stand there. I have one of her books at home and I didn't think of getting a book with an autograph. I will do that next year. On the stand it was an add to the Dogs might fly series on Sky 1, if you missed it, get it from catch up or On demand, it's an amazing series.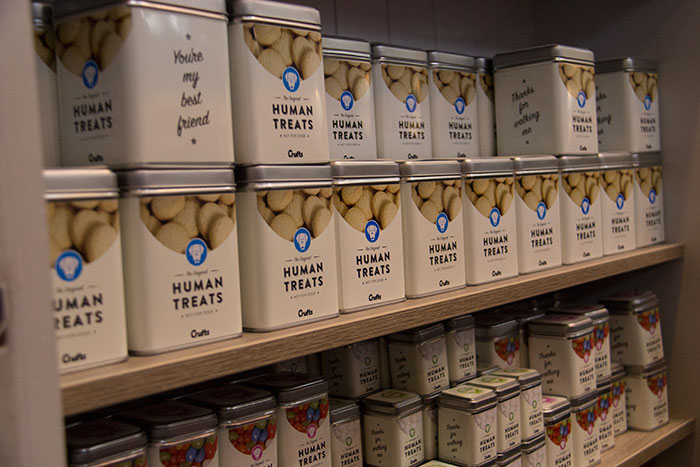 There are even human treats.

There was a special ring for Obedience. And another ring for Good citizen scheme.
The Discover Dogs section was incredibly crowded. There were stands where it was practically impossible to see the dogs. Kids and adults were just as excited to see the little (or big) ones.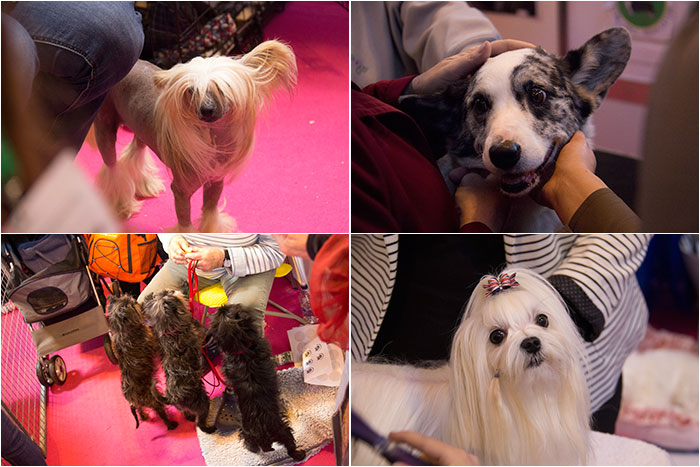 From left up, there is the Chinese crested, looking cute. Next one is a beautiful Corgi, I was impressed by them, small but full of character. In the bottom left the dogs (sorry, I don't know the breed) all three were "hypnotizing" the owner to give them a little bit of ice cream. In the right is a Maltese who was groomed by eager visitors.

Some dogs were sleeping, some were having a cuddle with their owner and…

some dogs were playing.

After seeing all 5 Halls, we were heading up to the Genting Arena, as you can see, it was quite busy.

I was just in time for the Flyball competition. I saw Flyball at the telly, but being there is different, the crowds were cheering, the dogs are barking, everybody was excited. It's really amazing.
After Flyball it was a demonstration by the West Midlands Police.

They started with sniffer dogs. It was interesting, as I wasn't aware of different aspects that involved this kind of training.
Next was crowd control and that is a subject I know about. One of Festus's brothers is trained for police work, same as two of his half brothers. When he was a pup we used to meet and talked about training, saw how it was done. I know about bite control (not releasing the grip) and the ability to act without command in certain situations.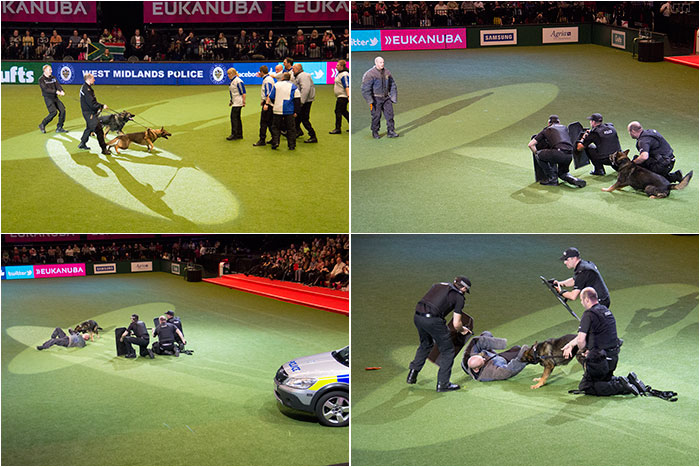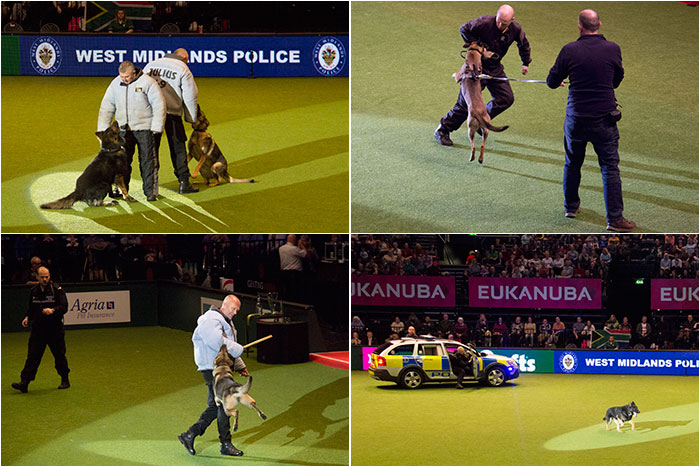 It was a very appreciated demonstration. All the dogs that were at the show are working dogs and they are now on the streets with their handlers.
This is my story for 1 day at Crufts. It's an amazing show and it has so much to offer. I will visit the show again, as it's a great way to see dogs, see fascinating things like flyball, see new breeds and get a few things for my dog.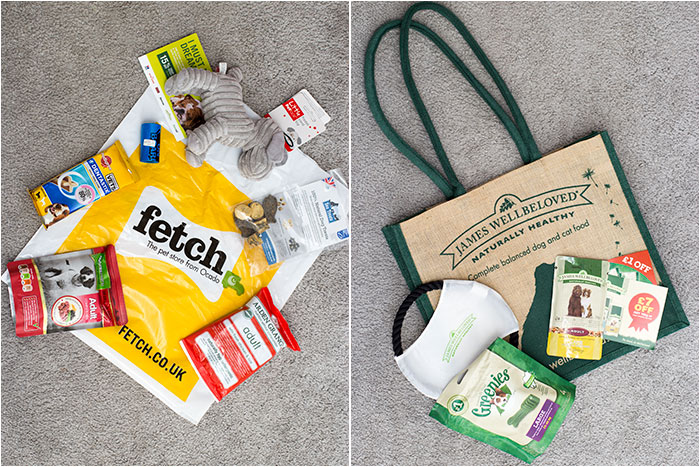 These are goodies I received at the show, samples and vouchers.

For Festus I bought a lead (because the 5+ that we already have weren't enough) and the indestructible toy with a lifetime guarantee. I'm curious if they toy will last long. Yesterday he played with something else. He managed to get his teeth in the horse ball we got for him last year.

A vet bed. In a few days (hopefully before Easter) we should receive our new sofa and this means that he must have his new doggy duvet, obviously. I heard lots of good things about Vet bed, so I'm very keen to use it and see how it goes.
I attended the show free of charge for the purpose of this review. All opinions are my own. I had a wonderful time at Crufts and I will definitely visit the show again (and again 🙂 ).