St Fagans Museum is a must see if you are visiting South Wales. It won the Art Fund Museum of the Year 2019 and I can understand why. So far I've seen only one other finalist, V&A Dundee and I wasn't impressed with that, you can check my review to see why.
St Fagans Museum is free to visit and I would recommend allowing at least 5 hours to visit it. I've seen so many wonderful houses in the museum that it was very hard to pick the ones I wanted to share. I made a "small" selection, but I could have picked at least 20 more pictures to show how amazing this place is.
These are the Iron Age buildings and these are amazing to see. I saw something similar at Stonehenge, but those were much smaller, I shared a couple of pictures with them in that post, so don't miss it if you are curious.
These Iron Age Roundhouses are from Anglesey and they were built 2,300 years ago. They were build with clom, a mixture of clay, stone, and straw. This would be the house of an wealthy family.
It was impressive how much smoke could be trapped inside. I stood in the house for a few minutes but kept coughing after I got out. I'm also very impressed with the volunteers being able to sit in the house and tell people about the house with that smoke around. It does look wonderful in pictures though.
Melin Bompren Corn Mill, built in 1850s and re-erected in 1977. It has three floors, even if it looks quite small on the outside.
A lot of the houses had the fire lit and it was so beautiful. It's worth visiting the museum on an autumn day at least for this reason.
At the farm there were pigs and geese.
This is one of the most impressive buildings in the museum, the St. Teilo's Church. It was built from the 1200s to the 1500s. It was re-erected in 2007 and the interior was painted as it would have looked like in the 1520s, just before the reformation. There were traces of these wall paintings under plaster and these were recreated using techniques and the same materials as the ones used in the 16th century.
It is quite amazing to see how decorated these churches were and how colourful.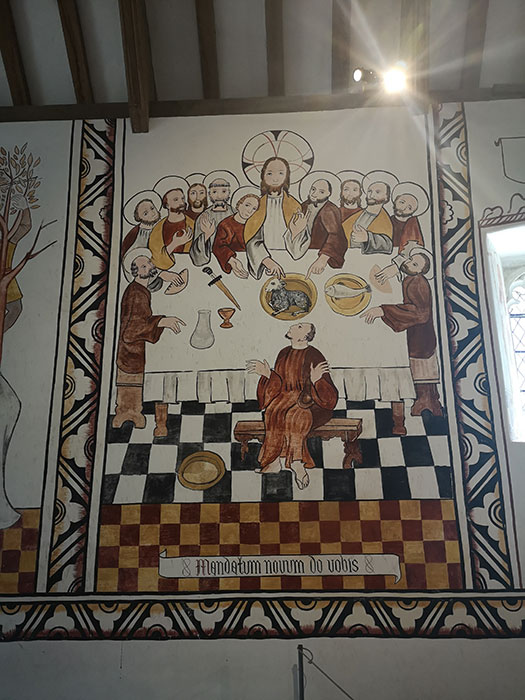 This is another find, from a merchant's house, a Tudor lamp. I haven't seen one before and it does look very interesting.
Another highlight of St Fagans museum must be this castle. It was the court of Llywelyn Fawr, in the year 1235. He and his wife Joan were expected to come for a visit and a feast will be served.
St Fagans has an impressive array of farmhouses. It is a delight to see them and I think I could have made a post (or two) only with them.
There is such attention to detail and I liked that a lot. The museum is very interesting for visitors of all ages.
Now let's talk about the bakery. It is still working. It is not that old, dating from 1900. The oven takes 3 to 5 hours to heat up and can bake up to 220 loaves of bread.
I just had to try one of their cheesy breads. Unfortunately for us, we had bread, so we didn't buy one. But I did get a loaf of Bara Brith, of course.
There are a few shops at St Fagans, including a sweet shop from where we got some fudge, but I don't have any pictures of that as we ate it before I thought of taking pictures. On the second floor of this lovely shop there is a tea room.
We stopped for a cup of tea and coffee, especially as we were tired after all that walking and there were still plenty of things to see.
Near the shops there is a row of houses and those were really interesting.
How cute is this window.
In that row of houses I saw this, a bathtub in the kitchen. I loved the idea. It had a wooden bench on top, on a hinge. In a small, old house, without central heating, it must have been the best place to have a bathtub. As it was used only for a short while during the day, having a useful bench on top seems like a very good idea.
This is the servant's bed, in the kitchen. It must have been really cosy inside and very warm too.
In the same farmhouse, a gorgeous red painted building, the upstairs were the family rooms, including this rather splendid bed and a dressing table.
The castle is gorgeous and a must see. It was built in 1580 and it was home to the Earl of Plymouth from 1885 to 1910. During the First World War it was a Red Cross Hospital run by volunteers. In 1946, the Earl gifted the castle and the grounds to the nation to create this museum.
St Fagans Museum is in Cardiff, CF5 6XB. There is a pay and display car park. It is open daily from 10am to 5pm.