Yesterday, my husband and I got in the car and headed up to BBC Good Food Show in Birmingham. It's the second show I'm going to, as last year we've been to Good Food Show in Harrogate. This weekend both BBC Good Food Show and BBC Gardener's World Live are at the NEC, so there is still time to visit it if you like the shows. A ticket is valid for both shows.

Paul Hollywood at the Supertheater was the highlight of the day for us, so this is why I've started with this picture. In fact it was one of the lasts pictures taken.
When I went to the one in Harrogate I wanted to see more stalls with produce and less with ready-made food, so I was quite pleased to see that at this show there were a few new things.

I bought a few spices from them, there is a picture at the end of the post. I didn't see some of those spices in the supermarket or the places where I shop. I can't wait to try them.
There were lots of stalls with cheese, coffee, meats, chocolate, tea, gin. There were a few stalls with potted herbs, macaroons, meringues, cakes, spices.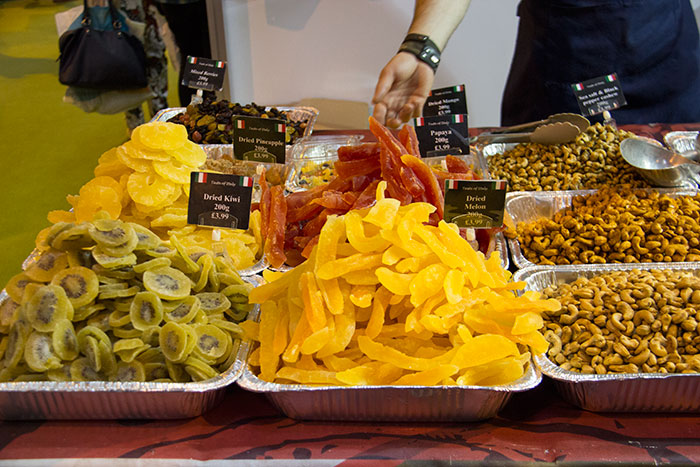 Those dried fruits really looked amazing.

The cakes looked great and the Union Jack boxes are so cute.
There were also a few stands with pans and blenders, baking equipment. There are plenty of things to buy and try at the show.

There is a section where the visitors can learn how to decorate cupcakes or make sushi. It looked very interesting.
At the Supertheater there are well known names. On Friday was Paul Hollywood and Mary Berry and that was the reason I went to the show on Friday. Today is Michel Roux Jr, James Martin and The Hairy Bikers. I would have loved to see Michel Roux Jr, I love his style of cooking. Tomorrow is Tom Kerridge and James Martin. Do I have to mention that I would have loved to see Tom Kerridge too? But I love baking bread, so Friday was more important for me.

We showed our tickets and entered the Supertheater. We found our places fast and we sat down waiting for it to start. A lady won an ice cream maker and another one won a spoon at a dance contest and then…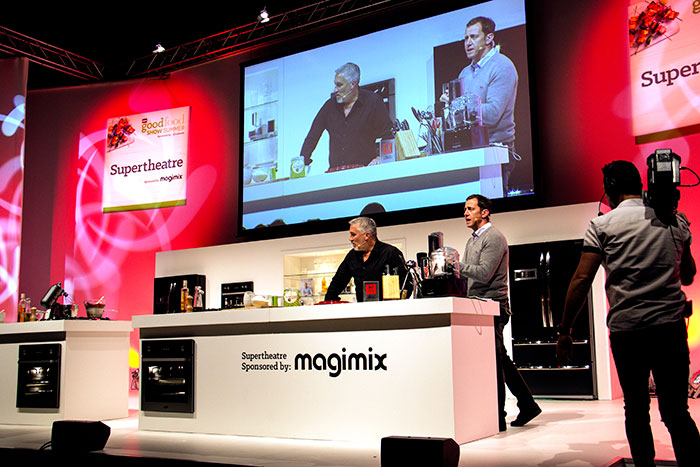 Paul Hollywood entered the stage while everybody was cheering. The demonstrations were funny, the questions from the public were funny. I liked the one about who is a better cook, he or Mary. It was hilarious.

Paul demonstrated one of his new recipes of no-knead bread and my husband told me that I should make one. So I'll make one for tomorrow, as it's Father's Day (he is a sort of a father for the dog, like I'm a sort of a mother).
After showing us that delicious bread, Paul made a cheesecake brownie. Another recipe my husband thinks I should make these days.

Paul went with a tray of brownies for us to taste and…

as we were in the 2nd row, hubby managed to get one. It was amazing.
This is how my visit to BBC Good Food Show was. I've been to the Gardener's World Live too and I'm going to blog about it tomorrow. The goodie bag wasn't as fab as the one in Harrogate, but there are some nice things there.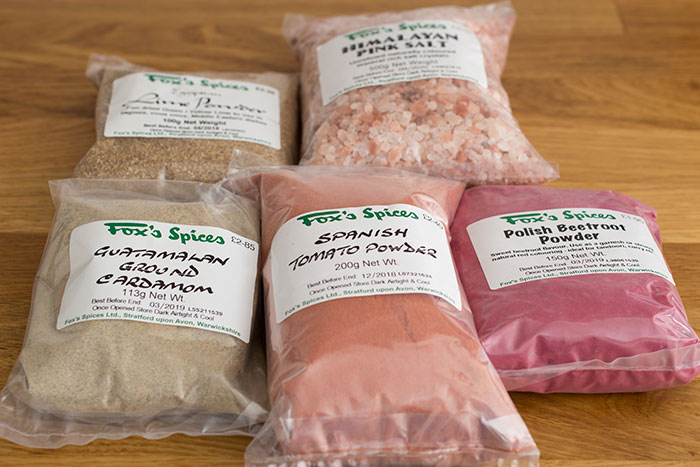 These are the spices I got from the show: ground cardamom, tomato powder, beetroot powder, lime powder and Himalayan salt. All these were a little over £11.
Have you been to BBC Good Food Show Summer?