Stirling Castle was on my list of places to visit for a long time. I wanted to make the most of our visit, so we've joined a guided tour. That was a fabulous idea, as we've learned a few things, while having fun. Our guide was hilarious, doing a bit of acting and impersonating, with funny voices for King Robert the Bruce. All the people in the group were loving the stories. Of course, not all guides are like that, but still it is worth taking a guided tour if one starts when you are visiting. They offer tours in sign language and special ones for children as well, but I don't know if those are daily or not.
Like usual, I picked a few highlights from the visit to Stirling Castle. The castle is big and there are a lot of things to see. I would say allow at least 3 hours for your visit, a bit more if you want to take refreshments. Audio guides are available for a small fee.
When we visited, the Regimental Museum was closed for refurbishment.
The Queen Anne Gardens are close to the entrance. The garden is located in the sunny south side of the castle (it was not very sunny when we visited though) and it is overlooked by the Queen's Lodgings and the Prince's Tower.
This is the interior of the Chapel Royal. It was built in late 1500s, in just seven months, by James VI and I, for the baptism of his heir, Prince Henry. Henry died when he was a teenager and James was succeeded by Charles (I).
The views from the castle are amazing.
The Great Hall has an unusual colour, golden, as you can see the building on the right. The building was completed in 1503 for James IV. Our guide said that James IV was their most important king. I wanted to ask why, considering he managed to get himself killed 10 years after this Hall was built, at Flodden, when he attacked England while Henry VIII was battling France.
The Great Hall has this very unusual colour so it can be seen from afar. The thing is that I fully understood what they meant when I saw the castle from a car park of a supermarket, the following day. You can see in the last picture how easy it is to spot the castle, even with many new buildings that wouldn't have had been around in the 1500s.
The Great Hall was used for entertaining, of course.
It looks very impressive indeed.
The Royal Palace was the home of James V, son of James IV and Margaret (sister of Henry VIII). He was born at Linlithgow Palace (if you fancy having a look at my post with that castle, from 2016), as was his daughter, Mary Queen of Scots.
Interpreters dressed as Ladies from the late 1500s are eager to answer any questions you might have.
The new tapestries, Hunt of the Unicorn, took 13 years to weave, and cost £2 million to create are on display in the Royal Palace. At Stirling Castle there is a special exhibition with details about the tapestry and I would recommend visiting those as well.
It is quite special to have something like this on display. It shows how light and colourful life at court was in those days, not the grim grey walls we associate with old castles.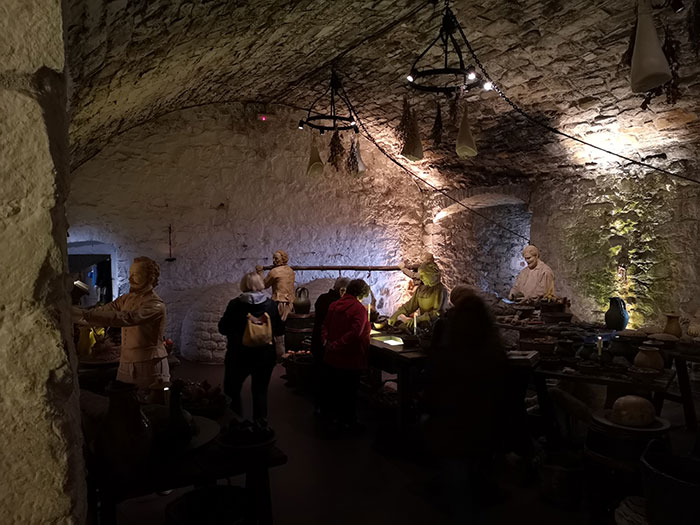 The kitchens are a highlight too. They look really great.
The powder magazine.
Stirling Castle is on Castle Esplanade, Stirling, FK8 1EJ. Their car park is quite small and we didn't find a space, so if you can avoid driving there is better. The entrance fee is £16 for adults, but a bit cheaper if you buy the tickets online. Members of English Heritage and CADW benefit for half price entry in their first year and for free when they renew. The castle is open all year around, with a few exceptions.