Are you ready for lots of pictures with the animals at Knowsley this month? I've shared 28, but some are with the spacious fields the animals have, just to show what great conditions they have there.
To have good pictures of the animals I need to take the DSLR with me, otherwise, the zoon on the phone camera is not good enough to take good pictures. This is the kind of the space the animals have. In the back, barely visible, are the rhinos.
We got to the Monkey enclosure after feeding time. Even so, this little one was trying to find a bit more treats underneath the grass.
This little guy instead was happy to have a pellet of food on each leg, and three in his hands. It was a bit difficult for him, trying to juggle five pieces of food with only 4 limbs, but he felt the need to do so.
At one point I think we had about 10 monkeys on the car, judging how loud they were on the roof.
Eating on a car is so much better than on a steady surface, like grass, at least if you are a monkey.
The fenced enclosure in the background is the one where the monkeys are.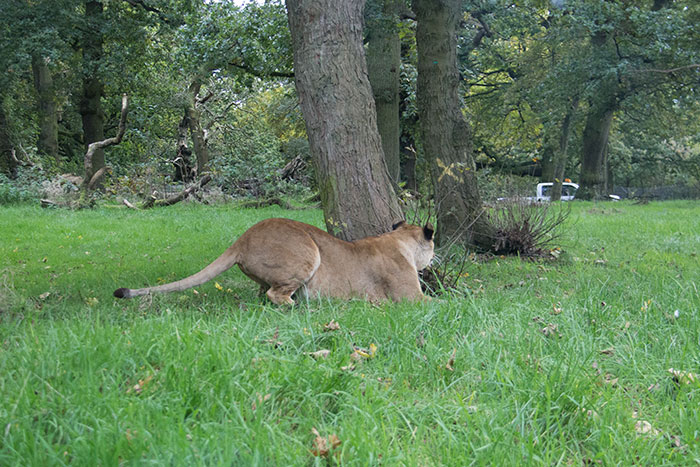 The lions were restless as it was time for them to have their dinner.
Look at the size of the lion. I saw them so many times and I'm still very impressed with them.
It feels like a privilege to be able to stand so close to a lion. She looked at us in the car, checking probably if we have any food.
They were pacing, waiting for someone to open the gates.
You can see the staff from Knowsley on the left side of the photos. The lions ignored him. They were too busy thinking of their food.
Each got a bird. They didn't eat close to each other.
During autumn and winter, camels are one of my favourite animals. Their coat looks so good. In the summer they are a bit scruffy to say the least.
Camels are curious about people. Sometimes they sit on the road and look in the cars. We had one getting her head in the car to sniff us. Maybe she was looking for food, but, of course, we don't give them any.
This is Knowlsey Safari Park in October. Now I'm looking forward to the next month.