This month a very important thing happened, on the 2nd, but I'm not yet ready to talk about it (see the picture with the Champagne bottle) in the round-up. A few other things happened this month, I've shared pictures of my newly renovated home office. I've attended BlogOn and I've won 2nd place in a BlogOn Bake Off competition! I was so happy because baking is important for me.
The month started with petting horses on a field we pass by from time to time. They are so friendly and cute, and so we stop if is possible. Maybe people feed them carrots or something else, but for us is just a bit of grass. They don't seem to mind.
As we do every year in May, this time we've been to LightNight. This is when I took this picture. How gorgeous is Liverpool? I really love this city.
We've been to the Cat Cafe in Liverpool. This is a picture we took another time, when we were in the city centre, and we saw a lot of people staring at the two cats in the window. Isn't that just the best way to advertise the cafe? Both cats weren't bothered at all by the people looking at them.
This weekend is the River Festival in Liverpool and part of the festival included the display of Gaia, a replica of Earth, in Liverpool cathedral. It was just amazing. We've been to see it twice, once during the day and again in the evening.
1. Cute horses. 2. We've had something to celebrate, important enough to open a bottle of Champagne. 3. My cake for BlogOnBakeOff. 4. BlogOn. 5. I picked up flooring for the bedroom. 6. Festus sleeping. 7. 1.5kg of chickpeas… for houmous. 8. Skateboarding lesson. 9. Munk debate on China. 10. Festus. 11. Pizza for lunch (vegan). 12. Shugborough Estate. 13. I walked with a piece of flooring in the handbag so I can match stuff to my new bedroom flooring. 14. The Boy Who Followed His Father into Auschwitz by Jeremy Dronfield. 15. My husband booked a table to a restaurant, where I had this amazing dessert, apple crumble. 16. Movie at VUE Cinema in Manchester. 17. LightNight. 18. Apple & pineapple crumble, I had to make my own version. 19. Escape room game. 20. Cat cafe. 21. An item from the order at the Body Shop arrived damaged, but the problem was solved quickly. I got my replacement the following day! 22. VR. 23. My vegan lunch when I was alone at home, it included 2 servings of Brussels sprouts! 24. We played Weird Things Humans Search For, it was fun (review will come soon). 25. Gaia, by day. 26. Gaia, by night. 27. Festus. 28. The book I finished that day: The Future of Capitalism by Paul Collier. 29. Biscuits I've made, dairy-free. 30. Lunch: roasted potatoes with tarragon, a vegan steak, and mushroom (shiitake and closed cup) with pepper tahini stroganoff. 31. My favourite mug, filled with coffee.
This month I've cooked some lovely dishes, but nothing out of the ordinary, besides this. It's called breadfruit and I've made chips out of it.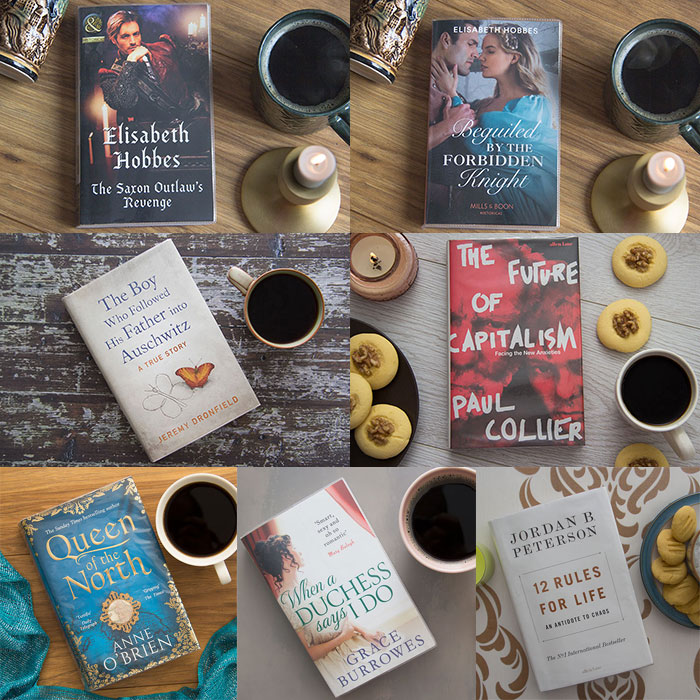 This month I've read a lot of fiction. The first two books by Elisabeth Hobbes are really great. I've enjoyed them a lot. Besides these two, I've read two more fiction books, one about Elizabeth Mortimer by Anne O'Brien that proved to be quite disappointing, considering that I've read books by O'Brien that I liked. The last fiction book was by an author I haven't read before, Burrowes. That book was awful, historical fiction filled with historical inaccuracies. On top of that, the plot was strange and unrealistic.
I've also read three non-fiction books, two of them were amazing and the 3rd one was amazingly bad. The boy who followed his father into Auschwitz is a hard read, as the subject is horrific and Dronfield doesn't shy from more descriptive scenes. For me that was what made the book amazing. If it is an uncomfortable read, we can't even imagine how is to actually live through experiences like those.
The Future of Capitalism by one of my favourite authors, Collier. I've read a few of his books on different subjects, like refugees, immigration, and natural resources (how are used, who should profit from them, duty to future generations). This is another book that makes you think and his propositions for policy are very interesting indeed.
Lastly, 12 rules for life, a self-help book that makes no sense. The controversial Peterson tells endless stories based on the bible, without a proper connection with the rule. He is blabbing so much on these things (besides the bible is Disney and Marvel), that I was loosing track on the rule he was talking about. It is a very disappointing book.
Books I've read in May:
The Saxon Outlaw's Revenge by Elisabeth Hobbes – 5 stars
Beguiled by the Forbidden Knight by Elisabeth Hobbes – 5 stars
Queen of the North by Anne O'Brien – 3 stars
The boy who followed his father into Auschwitz by Jeremy Dronfield – 5 stars
When a Duchess Says I Do by Grace Burrowes – 2 stars
The Future of Capitalism by Paul Collier – 5 stars
12 rules for life by Jordan Peterson – 1 star