Yesterday I blogged about British Style Collective – Catwalk and Alcatel Arena Show and today I'm blogging about Shopping and Designers.
I mentioned yesterday about Gary McQueen (top-left) and his scarf debut collection: Life – Death – Rebirth. The collection is a tribute to Alexander McQueen, his uncle. For the Life scarf (top-right), the modernist fantasy birds design he said he used real pigeons, trained to take parts in photoshoots. That is impressive.
The second one (bottom-left) is Death – carved ivory. Alexander cared about animals and he incorporated that in his collections, like NATURAL Dis-Tinction, Un-Natural Selection in 2009. He presented the impact of humanity on the environment by using antique taxidermy in an artspace in a building used as a morgue in Paris. As I said, Death was my favourite scarf. As it's silk and quite expensive (£250), I will not buy it. I don't wear silk for ethical reasons.
The last scarf of the collection (bottom-right) is Rebirth, a celebration of femininity.

I've embedded the youtube video again, as it's just as relevant today as it was yesterday.
There were other designers at St. George. It was delightful to see "Made in England" on labels.
Now let's talk about the Shopping Halls. This picture was taken on Friday, the first day, in the weekend was even busier.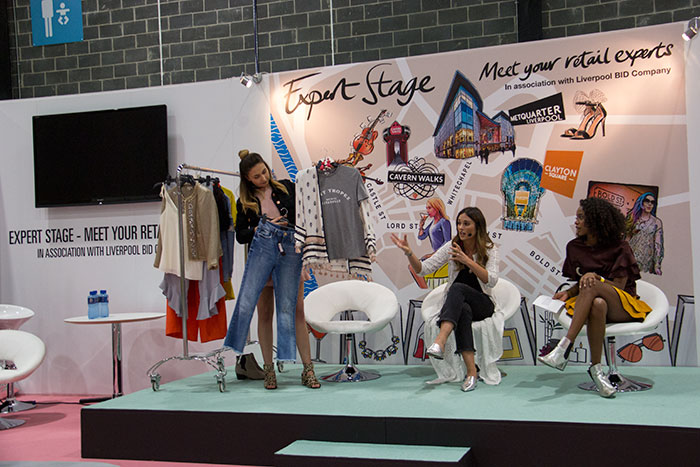 In the Shopping Halls there were talks from experts on different subjects, from hair removal to personal shopping. Here the girls from River Island present the complimentary service offered in a few of their stores, including the one in Liverpool.
There weren't only clothes at the show, but lots of other products too, like this creams and balms, makeup, makeup brushes, Konjac sponges (I used them, mentioned it a few months ago and they are really nice). In the halls were a few places you can have a drink and relax a bit. No pictures, as it was very busy and I try not to get too many people in the pictures, to respect their privacy.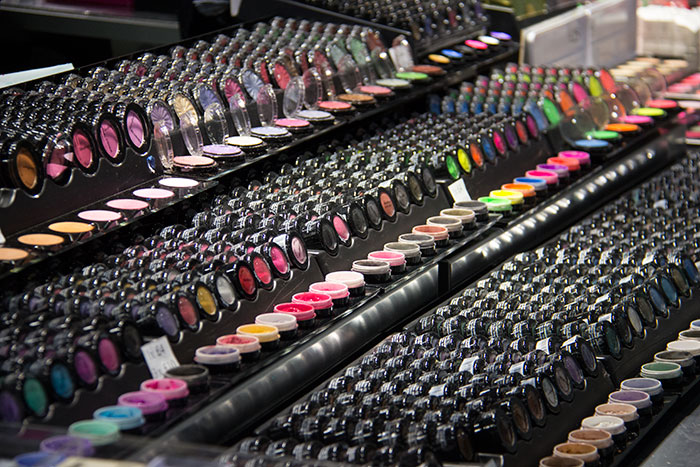 There was an Elemis Bus with a huge 20% discount, they were very popular, obviously.
When it comes to clothes, there were big known brands like Oasis, but smaller designers too. I think that was great, a good way to find and support local business too, if you like the style.
Of course I stopped and looked at these shoes. I love the colour and I usually tend to get stilettos with a strap at the ankle as I find them so much more comfortable. I can wear them all day.
Besides the Shopping Halls, there was a vintage fair – Fine Tuned on Albert Dock, during the weekend.
Not only clothes, but all sorts of lovely things, like these bottles ready to be filled with gin for a lovely infused gin. I didn't get any, but I will make my own flavoured gin or vodka. I made Visinata before, that is Homemade sour cherry liqueur and I love that.
There were vintage inspired stalls like this one. I like the dresses so much, but I'm not keen on patterns. Most of my clothes have block colours or stripes-tartan.
Obviously there were authentic vintage clothes and accessories too. Add food stalls, ice cream vans and lots of people on a sunny day and it's perfect.
I had high expectations before the show and it was much better than I hoped it would be. Lots of choices, big brands and small designers, old and new, plenty of options for drinks with a few bars in the Shopping Halls and at St. George too. I can't wait to attend the show again next year. If you love fashion, it's a must.
*I was invited, all opinions are my own.