My garden in June looks so much different than it did only two weeks and a half ago. I bought a few more flowers and a tree, as I wanted to take part in the Tree-bilee as Prince Charles named the campaign launched to mark Queen's Platinum Jubilee. I am so happy with how the garden looks right now. I don't think I will need to add any more flowers this year, as more of them will grow and, if they are doing like last year, they will keep for a long time too.
The garden is full of colours now. I will start to cut a few flowers, like the lilies, only leave two instead of a bunch of three for example, because they are growing a lot and this will allow other flowers to grow besides them.
The allium looks amazing. We got this from when we visited a garden and I'm loving it. It's so big and the bees are loving it. I often see two bees on it, it's just amazing. I wish I got more, but I will keep this in mind for next year.
As I said, the bees are loving it too.
In the back you can see how big the raspberry bush is. It's fantastic.
The yellow poppies are in bloom and very popular with the bees too. I think I saw five at one time on the poppies.
We have a new visitor, which is really amazing. With the first passiflora dying, I thought small birds will not visit us, but it seems that at least one is brave enough to come.
The birds are not too scared of Festus. As you can see, a pigeon is having his meal while a magpie is looking at us, to see what we are going to do. The pigeons are less scared of us, they are ok with me being in the garden, if I put some washing up for example. In the back the passiflora near the bird feeder died, but a new one emerged and it's now growing. I had an indoor passiflora, a baby from the first one, and I moved it outside. It's growing nicely.
Pear tree for tree-bilee, the latest addition to our orchard. I think I can call it an orchard as we have a fig, an apple, and a cherry tree too. This particular pear tree will make Doyenné du Comice, as the name suggests is French. It is a self-pollinating tree. It can be kept in a pot on a balcony or patio, so I think the pot is big enough for it. They recommend pruning it into a sphere three to four times each year. It looks happy in its new pot.
The fig tree looked a bit sad a couple of months ago and I thought it died, but look at it now. It's gorgeous.
These lilies were grown from a bulb. I forgot I bought them and only remembered after they bloomed. So, I might have a surprise or two in the garden. Despite my intention to write down everything I bought, I didn't, so it's back to laissez-faire gardening.
Ageratum are looking so cute and I think they are making a lovely addition to the garden, as they are small. I got some marigolds as small bedding flowers too.
Alstroemeria is one of the flowers my husband gets for me. It is so long lasting in the vase I thought it should be even better outside, in the ground.
Lupin is another new plant I got. The way its leaves keep the water is so interesting and the flowers look lovely. I'm happy with it.
The strawberries are producing quite a lot of fruits this year, really happy with them.
Potatoes are growing. I put a couple of Apache potatoes in a growing bag and it seems they are doing fine.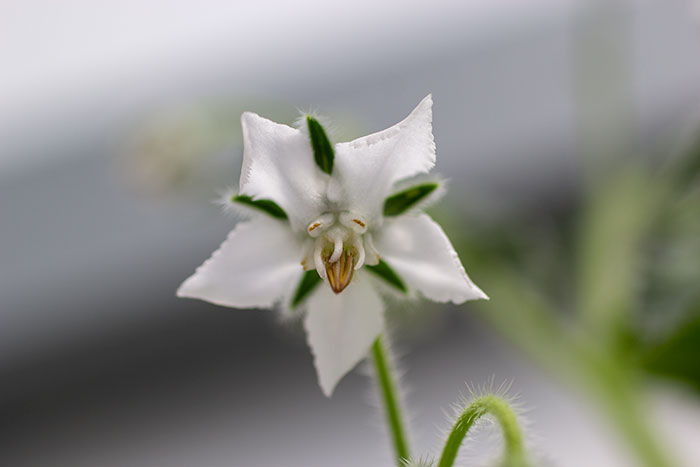 Borage, another edible flower I grow. It looks so lovely and I will use one or two for cocktails.
Marigold, edible version, which might be the same as the garden marigolds, but as I'm not sure, I keep these in the conservatory. I'm yet to taste them, but I imagine they have the same taste as other edible flowers, like a bland salad.
I was studying for my exams when my husband took this picture. Festus was having a nap and it was so lovely and relaxing. I'm enjoying working and studying outside a lot. Luckily the neighbour with the two small children moved and the neighbour who moved in has a small dog, which makes less noise, after a couple of day of arguing with Festus. He is a cute little dog.
Now I am looking forward to see more Dahlias in bloom. I got three new dahlias this year, a huge white&pink one which is lovely called Sincerity, a black one with beautiful and colourful flowers called Happy Days Halo, and a small dahlia.