December was an incredible month, UK was the first country to authorize a vaccine for COVID-19 and in 2 weeks over 600,000 people were vaccinated. How amazing is that. After rather surprising comments from Fauci and EU about the rapidity in which the vaccine was approved in UK… US approved the same one and over 2 million were vaccinated before, finally, EU approving the same vaccine too, and vaccinating a few people (in France it was less than 100 in 3 days), with the exception of Germany, of course. On top of that, the Oxford vaccine was approved too and the rollout will start on the 4th. That is such good news, especially with the up to 12 weeks delay between dozes, allowing for more people to get the first doze and short-term protection against the virus. I imagine that by the end of January vaccinations with the Oxford vaccine will start in US and EU too.
In Liverpool, we started the month in lockdown and we end it in lockdown, due to the new string of the virus. We didn't plan to go anywhere anyway, so it's no big deal for us. This month we were able to go to the cat cafe, we had coffee at a cafe, we had a meal and cocktails at a veggie place we like. We were also able to visit the safari park. Overall we had a good time.
This month Mick Schumacher was crowned F2 champion and he will be in F1 from next year. I was so pleased about that, which is not a surprise if you've seen that the gifts I received the Christmas include a book about his father. Verstappen won the last race of the season in F1 and that was pretty amazing too.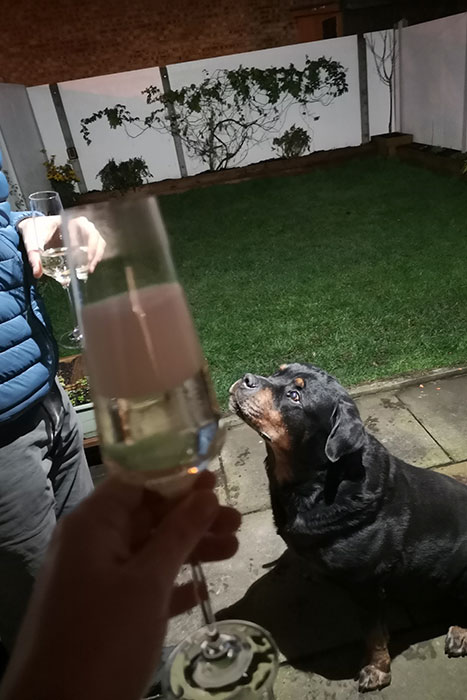 This month we've had an incredible celebration: Festus' 11th Gotcha Day! We opened a bottle of English Sparking wine, as he loves the whole process of pop open the bottle. He gets excited and loves that the cork flies. He is quick to catch it and bring it to us. Of course, he gets a treat for the trouble.
On the same day, we got a free carrot from the supermarket, advertised as being for "Rudolph". He enjoyed it as much as any reindeer would, of course. It is a much smaller carrot than the ones he usually gets, but he loved it none the less.
After Christmas we had snow! Yay!!
1. Christmas tree is up. 2. Hot chocolate slice, my last bake for Bake Off. 3. My new coffee mug, with my book blog logo. 4. Is it ironic that I am reading Surveillance Capitalism in a coffee shop? 5. Went to Down at the hatch. 6. Mick Schumacher won the F2 championship. 7. Festus has his own advent calendar, in which he gets to pick one of the three: Carrot, Apple, or Pear. 8. New book review A History of British Baking by Emma Kay. 9. Games for our advent. 10. Cat cafe. 11. Wrapping up a Secret Santa gift for my husband, for his colleagues. 12. Knowsley Safari Park. 13. Verstappen winning, the best way to end the F1 season. 14. I started using some of the items from the Glossybox. 15. Toast delivered. 16. Having fun while working out. 17. I am reading Obama's new book. 18. Xmas inspired doughnuts. 19. Book delivery. 20. Vegan desserts from the supermarket, it's amazing how many we could buy. Many other more on offer, but it would have been too much to get more. 21. Christmas T-shirts with a meaning. 22. Festus' 11th Gotcha Day! 23. Planthood order delivered. 24. English sparkling wine for a celebration (not-xmas related). 25. Christmas. 26. Boxing day, Festus still picks his favourite veggie of the day. 27. Food, more food. 28. Snow! 29. 5 min push-ups. 30. Books I finished in December. 31. Happy New Year, image from Fare Well – Edinburgh's Hogmanay 2020.
In December I finished 7 books, a mix of amazing books, like The Age of Surveillance Capitalism and Dear Child, and also the very disappointing Difficult Women. While I would highly recommend the first two books, the latter was not great.
When it comes to history books, the topics were so varied. Post-War Childhood offers a different view and challenges today's perceptions on the golden age for children. British Baking was fascinating and anyone could pick up a few interesting details from it. Last, but not least, the Life in Miniature was fantastic. I enjoyed it a lot, it offers a detailed history of dolls' houses, from the 17th century. I am very happy I read all these history books.
Books I read in December:
Post-War Childhood by Simon Webb – 5 stars
A History of British Baking by Emma Kay – 4.5 stars
The Age of Surveillance Capitalism by Shoshana Zuboff – 5 stars
Life in Miniature by Nicola Lisle – 5 stars
Difficult Women by Helen Lewis – 2 stars
The Christmas Party by Karen Swan – 3.5 stars
Dear Child by Romy Hausmann – 5 stars
Happy New Year!! I hope 2021 will be a better year for all of us.