I've been to Knaresborough Bed Race last year and I enjoyed it a lot, so this year we went to see the race again. Yesterday was the 51st race since its beginning in 1966 and it's a very hard course of 2.4 miles. This year the theme was Cities of the World. Each team was assigned a city a few months before the race.
We arrived at the park&ride around 11.30 and we've decided to walk to the centre to see the parade. We bought some delicious desserts from a local bakery and we found great spots for the parade. I had to choose a few of the beds that I liked more because there were 90, too many to feature on this post.

This is obviously Vienna. The couple on the piano was moving. It was the most impressive design of all.

The team number 30 was The rocket men and their city was Budapest. I had to look online to see that the design was based on the inventor of the Rubik's Cube, Rubik Erno. Or their inspiration might be the Rubik's Cube Museum. I've been to Budapest, but I went to the more known locations and missed this very interesting museum.

Can you guess by looking at the bed which city it is? I thought is hilarious… it's Panama. Considering the tax haven scandal with Cameron, it was the most appropriate representation for that city.

I'm not sure what is the inspiration for team 68's Santiago, but it looks too good not to share.

After seeing all the beds, my husband and I head up to the park to see the start and finish.
At 3pm the race started, with each team going at intervals of 10 seconds.

Starting the race by going up the hill is not easy. This team finished the race in 14 minutes and 07 seconds. I think it's really impressive.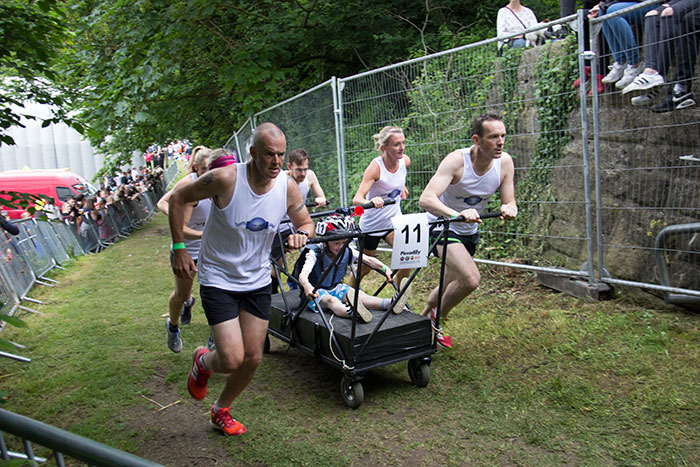 We saw most of the teams starting and we then went to see them going into the river Nidd.

The river is quite deep there. All the participants must be able to swim.

Getting into the river is a challenge in itself.

The race ends with the team getting their beds out of the river and make a short run to the finish line. It's hard.

Everybody was waiting to see who was the winning team. The 2016 race results are published on their website.
It was fun, like last year. We will go to see the race next year too.