Knutsford is a lovely small town in Cheshire, just a few miles south of Manchester. The town is linked to the viking King Canute (995-1035). King Canute is believed to have crossed the Lily Stream in 1016 giving the Town its name. Knutsford was recorded in the Domesday Book of 1086 as Cunetesford. Another mention of the town appears in 1292 when a charter was granted to William de Tabley by King Edward I. The charter gave permission for a court, market and a fair to be established.
In the 18th and 19th century, the town was renowned for cockfighting and races. Elizabeth Gaskell, an English novelist and short story writer lived here in the 1800s. Surprisingly for its size, Knutsford was visited by Princess Victoria (later Queen Victoria) in 1832, the Prince of Wales (later Edward VII) in 1887, Louis Napoleon (Napoleon III) in 1848 and Winston Churchill.
The centre is filled with small independent shops in beautiful old buildings. It's a delight to visit. Besides the shops, there are a few pubs, a Tesla shop, an antiques centre and tea rooms.
Dogs can have a pint too, but only of water.
This is the most beautiful lane I saw, even though it doesn't look very special before you start looking at the cottages. The houses are so beautiful.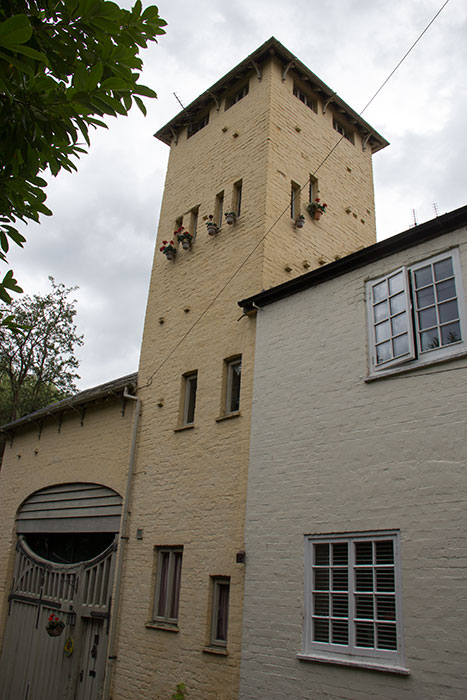 This was my favourite house from the lane. I told my husband I would love a house like that. I would make the master bedroom in the tower and feel like a princess (or more like Rapunzel, but I need a slightly longer hair for authenticity).
This beautiful lake is part of a big park. The park was very busy, with lots of children playing and enjoying the warm weather.
The red door is just stunning. The building housed the old library, now it's a day nursery.
I've noticed this passiflora. I have a similar one in the garden, but mine doesn't have flowers like this one has.
The Market Hall was built in 1872 by the same architect that designed the Natural History Museum in London. The upstairs rooms were used for meetings and concerts. During WWII evacuees were gathered here. Now the place is a lovely restaurant.
I enjoyed walking through the town and learning about its history. I always find it relaxing and I would love to go back for a meal at the pub, at the restaurant and having a look in the shops too.