After all the goodies we've enjoyed last month, as Veganuary meant all supermarkets competed with each other to bring the yummiest vegan offering, we were happy to see that it continued into February! Valentine's Day had lots of vegan options and, in fact, we had 2 special meals, one the day before, as we were so keen to try more. I started buying chocolate for Easter and, again, there are lots and lots of new options. I'm so happy about it. Also, if you haven't tried M&S' salted no-beef pretzel, do so. It's not easy to find, as they sell out fast! It happened at least 3 times if not 4 to go to the shop to get it and find out they have none left, we bought other stuff, so it was not an unnecessary trip.
Now, let's talk COVID. We are in group 11, which is great, as I imagined that we are going to be in the last one (12). I assume we are going to have our vaccine in June or July and that's much sooner than I was expecting, so I'm delighted and I can't wait to receive the invitation for it. I hope for an Oxford vaccine, but that's hardly a surprise.
I am disappointed with the rollout in EU though, where my extended family lives. The EU commission made blunder after blunder. I read a long and interesting article about UK vs EU when it comes to Oxford AZ contracting and not only that, the whole approach. I think, in this case, the fact that UK was not in EU was much better, as the government could move fast and invest in vaccines (don't take this as a political statement, it's not, it's just an observation on what happened). Last year I imagined that the EU will have the same approach, investing in, at least, EU based companies, but they didn't. Amazingly, if the Valneva (French) vaccine is approved, the first doses will be delivered to UK, as someone from them (can't remember the person, sorry) declared in an interview I saw on France24, as UK invested in the vaccine so it has priority. WOW! On top of that, Serbia, a small European country not in EU, managed to vaccinate 20% of its population, which is almost 3 times more than Germany. I just wish they can sort themselves out, because the situation is dire, and, their attempt of "solidarity" proved abysmal… Hungary ordered vaccines from Russia, Germany placed a bilateral order with Pfizer.
I read on a few blogs about walks in the cemetery and I thought I should give it a try. It was amazing, much better than going to the local park, where is so crowded. There are lovely flowers and it's so quiet. I enjoyed it.
This weekend we've started updating the garden. The raised bed got a lick of decking stain to freshen up. We finally took the decision to level the lawn. The first garden tasks were made exactly when we bought the house and we did not have time and money to do complicated things, as we were in a hurry to move in and there were things we had to do indoors too. So, we removed the concrete slabs, put a bit of soil, sprinkled grass seeds and waited for the result. It was ok, but, in time, the lawn was more and more uneven and the soil was not great either. Yesterday we levelled the lawn and added a mix of top soil and compost, today it's grass sowing day. I will share more in 2-3 days, when I will talk about the garden. Last month it was pointless to have a garden update when nothing happened anyway.
Sam Bird won the 2nd race of the Formula E season, after being taken out from the first race when he was passing another car (he was hit into the wall). I was so happy to see him on the podium. He is the only driver to have won a race in every single Formula E championship (this is the 7th one) and I so wish he will be able to win a championship too, he is a very good racer, fast, brave, and a really lovely guy in the interviews.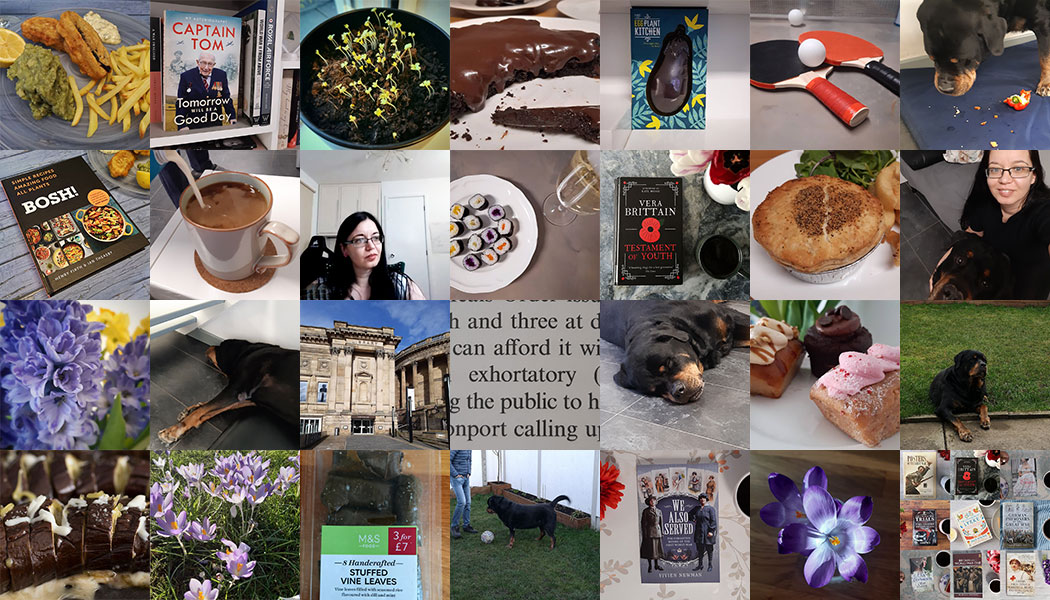 1. Homemade vegan fish and chips. 2. Captain Tom died with COVID, a very sad day. 3. My salad is growing, in a pot on the windowsill. 4. Chocolate cake, vegan. 5. EggPlant. 6. Table tennis. 7. Festus picking up his daily veggie treat. 8. Sharing my thoughts on a cookbook I like, BOSH!. 9. I tried Barista milk and it is great in coffee, well worth the extra £s. 10. A print screen from my seminar. 11. A celebration with vegan sushi and Prosecco. 12. Thinking of a book I read, for an essay. 13. Pre-Valentine's Day meal. 14. Valentine's Day picture. Only me and Festus, but my husband was distracting the dog, so it was very much an all-hands-on-deck situation. 15. Flowers from my husband, for Valentine's Day. 16. Festus enjoying his new bed, sort of. 17. Picking up books from the library. 18. I found a new word for the Wondrous Words series. 19. Festus, sleeping. 20. New vegan cakes from Sainsbury's. 21. Festus, in the garden. 22. I made cheese aubergines, this is an old picture though. 23. Crocus on a walk. 24. We tried M&S Vine leaves stuffed with rice. 25. Festus, last time he plays in the garden for a month or so. 26. Reading a new book, which is very interesting too. 27. Flower from the garden. 28. Books finished this month, 9 in total.
This month I finished 9 books. As you can see, I am studying the WWI. I have a couple more books to read on the subject and after that I will take a short break to read something else. I loved all the books from WWI and all of them are so very different. The history ones are informative and deal with other topics, so it was not boring at all to read them one after the other. I would highly recommend all of them. The one that is different is Vera Brittain's book, as it is a literary masterpiece, so moving and wonderful.
When it comes to fiction, I read 2 books from Mary's Survivors' Club series and enjoyed both. I am looking forward to read the next in the series, most likely next month.
Books finished in February:
Posters of the Great War by Frederick Hadley, Martin Pegler – 5 stars
Testament of Youth by Vera Brittain – 5 stars
The Escape by Mary Balogh – 5 stars
First World War Trials and Executions by Simon Webb – 5 stars
The Little Book of LYKKE by Meik Wiking – 4 stars
German Prisoners of the Great War by Anne Buckley – 5 stars
Only Enchanting by Mary Balogh – 4 stars
Britain and World War One by Alan Simmonds – 5 stars
Menus, Munitions and Keeping the Peace by Avalon Weston – 5 stars
I am joining the 365 linky. Do feel free to check the other blogs and support them by leaving a comment.
You are invited to the Inlinkz link party!