I had to go to Rudy's Vegan Diner and we've been a few times there. Piers Morgan had a rant about Rudy's, as a vegan butcher and this is how I found out about them. Of course, I ordered Christmas dinner from them, and we went there a few times, both at the butcher shop and for meals, in both locations. It gets very busy, as all vegan places tend to be, so I would recommend reserving a table.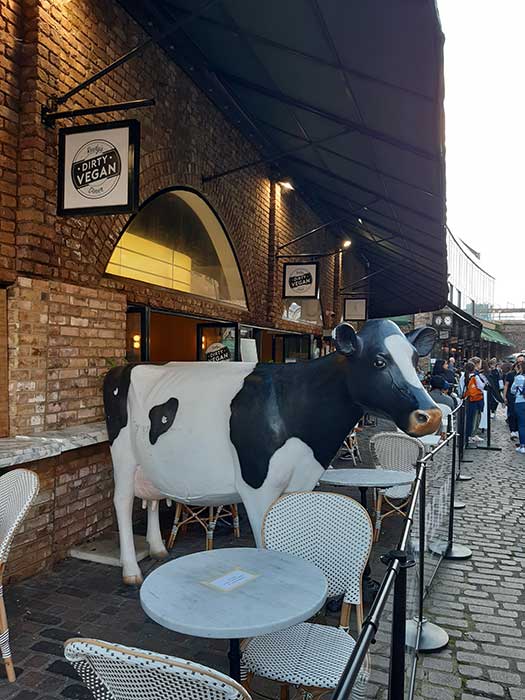 I followed them on Instagram before going there, so I was familiar with the cow in front of their diner. Isn't it cute?
This is the place in Camden Market. It is quite impressive to see so many vegan places out there and that all of them are busy, but it is not surprisingly at all, as the food is amazing. A few minutes after I took this picture the table was occupied by new guests.
I love their burgers, they are so good.
My husband always picks a Reuben's sandwich from them. He likes these a lot.
Shakes in Camden, both very good. I think this was from our first visit to the Camden place.
Shakes at the Islington  place, which is, I believe, from the first time we've been there. As you can see, these look pretty amazing and they are so good.
Rudy's Dirty Vegan Diner is in Camden Market, 729-731, Camden Stables Market, Chalk Farm, London NW1 8AH. In Islington they have the diner and the butcher's shop, so keep that in mind if you fancy buying a few more things to take home. We got plenty of stuff and it's delicious. So, in Islington the address is 206 Upper St, London N1 1RQ. On their website the shop has a different address but that is because there are two doors, on different streets, but the diner and the shop are connected.