I woke up and I went downstairs, in the dim light of the early morning, when I saw my Christmas gift, near the French doors. I smiled and felt joy, overwhelming joy. It's not Christmas day, it's only 8th December and I received this Christmas gift almost 6 years ago… it's Festus, my beautiful dog. He is wagging his tail because he sees me, even though only a couple of minutes ago we were both sleeping in the bedroom, he on the floor, beside the bed.
Festus or to call him on his full name, Festus vom Hause Mitroi, was an unexpected gift. I agree that dogs (pets) are for life and not just for Christmas and I have the car sticker to prove it. But not all stories are the same as this is our story.
We've decided that we are going to get a dog and I wanted a Rottweiler since I was a teenager and I discovered how amazing they are. Hubby didn't have a dog, so for him everything was new. I did a lot of research about dogs and the breed and looked at the legal implications around it. We went to a couple of breeders. I was happy with both of them, but I didn't take any decision at that time. The dogs were kept in beautiful conditions, no expenses spared. I still wanted to find something else, I can't say what because I don't know even now.
So, a few days before Christmas we arrived at the third breeder. I had to go on a business trip to meet a few of my colleagues that were working in another city. We were friends too and after going to a restaurant, we were invited by on of them to their house and we had a chat. My colleague had a small girl, a lovely wife and a couple of dogs. We had fun. After that hubby called the breeder and we went to see the dogs; we were tired but we wanted to go anyway. If I was happy, we would have put our names down for the next litter. We've decided to get a female as it is easier to manage. All our plans shattered when I arrived there and saw the kennels and talked with the breeder for hours. The breeder is an amazing person who loves his dogs deeply. He showed us the pups and I fell in love with Festus. We said we have to think about it, got in the car and drove off. After 30-40 minutes of talking, hubby stopped the car and called the breeder, we were coming the next day to get the pup. It was crazy to get a pup just before Christmas, while having a cat, but it didn't matter. I wanted Festus.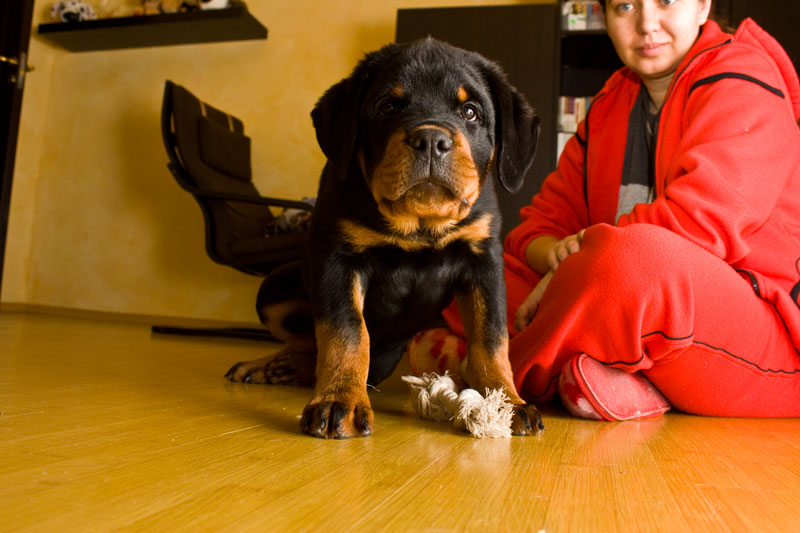 We had an awful Christmas that year with a 3 months old pup that was 33 pounds of energy, happy to pee everywhere and chase the cat between meals. We thought a few times that we were crazy to get a pup, but he was sweet and he learned things quickly and he loved us and he was happy to go with the car everywhere. He changed our life in so many ways. He made it happier, as in my 8 photos of happiness he is in all the pictures after getting him.
This is The Best Christmas Gift I ever had. I asked hubby and he said Festus was a gift for me. He couldn't say and I understand why. What can be more special that a gift that makes your life amazing by smiling, laughing, running around the house, playing like kids and so many other ways, some of them too personal to share.
If anyone asks if they should get a puppy for Christmas, I would say yes, if only they already know what a dog means. It takes lots of time to train and educate, daily walks and play time. If they understand how much money it involves. If they are ready to be committed for the next 10-12 years, then getting a pup as a Christmas present is a very good idea.
I asked a few bloggers to share their special gifts and here is what they told me. Becster has a similar story to mine, you can read on her blog about her wonderful dog, Jimmy.
Samantha said "The best Christmas gift for me was when my brother and I were little and it was from my parents. They gave us each a card to open at the dinner table and it read "Keep 14th February free because you'll be swimming with the dolphins in Florida!" We literally couldn't believe it, they had kept it a lovely surprise and we were so excited! ". You can find her at Cocobutterblog
Lakisha said "I am a huge Whitney Houston fan and when I walked in the living room at 14 years old my sister handed me a box filled with Whitney cd's, dvd's,records, and magazines. I started crying like a baby and years later I still have the box on display in my room and I've been adding to it over the years." You can find her at OUR LIPS ARE MOVING
Jennifer said "The best Christmas gift I received was my first ever DSLR from my parents. I remember spotting the bundle under the Christmas tree, and wondering what it could be. When I unwrapped my Cannon t3i I burst out crying with happiness. For years I always snapped photos on my phone or my digital cameras, trying to capture everything and everyone. And now I could not only capture life's wonderful moments, I could do so in HD magic. All thanks to my beautiful parents. To this day, I still use my trusty dslr for blogging and more." . You can find her at modernchicmag
Jessica said "It's my daughter's first Christmas this year so her dad has bought her a little wooden box, and put a note inside reading (paraphrased) 'everyone said you would only be interested in the box, so I cut out the middle man and bought you one which will last you forever and take whatever abuses a baby, a toddler, and a young lady can throw at it'. I thought it was such a sweet idea! I've made her a 'suffragette barbie'" . You can find her at babiafi
Kezzie said "The year I lived in Indonesia I lived for my post from England. Phoning was ridiculously expensive and because my budget was limited and the internet was SO slow in the internet café, I couldn't communicate very much with my family. My mum was an absolute GEM for sending me letters weekly AND piles of old magazines! I lived for new English reading material. English language books were hideously expensive and I didn't have the money to waste on them.
When it came to Christmas, I decided that I wanted to try and do something for the other scholarship foreign students to mark Christmas. I didn't have a huge amount of money but I wanted to mark it. I bought some red and white material and sewed some very rudimentary red stockings and put a soap, chocolate bar, various other items in them and left them outside people's doors. When I came home, I realised how much I missed my own stocking from my Mum but she had sent me a present. I'd been waiting to open the parcel all day and I came home to open the parcel. When I opened it up, she'd packed a material stocking inside!!!! I was delighted with it! There was the must-have item, Chocolate coins which miraculously hadn't melted despite the searing heat. PROPER UK chocolate, not weird Indonesian fake stuff! Some nice shower gel. There may have been some underwear in there. To be honest, I can't remember exactly, but it was the fact I had this English material stocking from home in this totally other environment with lots of little presents and I was so happy with it! It was like I was back home just for a moment!
It probably isn't the BEST or most expensive one I've ever received but at that time in that place, it was SO thoughtful! Oh, and then my then-boyfriend turned up in the new year with an inflatable T-rex that I had liked in London the year before. Also memorable!" You can find her at KezzieAG