Last week I was invited to the Mother's Day with Moonpig event in Manchester*. Now that Valentine's Day passed, I think is only appropriate to talk about Mother's Day. Have a look on their website for more details and range of cards, gifts, and flowers.
I arrived at the lovely venue they picked up in Manchester, got a glass of Prosseco, a lovely vegan salad, and I was waiting for the evening to start. We've had a presentation of Moonpig and what they do for Mother's Day.
First of all, I thought they mainly do cards, which is true, as they sold over 17 million cards in the last year alone! Since they started back in 2000, they sold over 100 million cards, that's so impressive. But they also have cards which can be personalized, gifts, and flower bouquets.
The personalization is what is the most interesting for me, as I find it hard to get cards sometimes. I like to get cards "from the dog" for our anniversary, for example, just to have a laugh, and, maybe unsurprisingly, these are quite hard to find. Now I know to have a look at their website next time I'm looking for a very special card.
At the event, we had our pictures taken and we've personalized a card.

picture courtesy of Elouisa from elouisageorgiou
I've used an website before which was personalizing the cards, but I had no idea how many options Moonpig offers. It is not only the front cover, but all four sides, including the back! I did not expect that at all, so I'm very impressed. Also, the prices are not high either, at £3.49 for a standard card and with two big sizes available too.
They also have a very useful tool, to add to a calendar when you buy something and a reminder will be sent, so you know not to miss the anniversary or birthday.
I won't share a picture with my card because it was not made for mother's day, as my mother is not in UK, and so I made an anniversary card for my husband. The card I made arrived very fast, with their standard post. I did not tell him anything and he was surprised to receive it. I think he liked it very much.
Another activity at the event was to make a flower bouquet. It was very interesting to see how a bouquet should be made, with guidance from the Moonpig flower specialist. I asked her about flower feed and she said that a bit of sugar in the water helps, as I've read.

picture courtesy of Elouisa from elouisageorgiou
This is a picture of my arrangement. Isn't it gorgeous? I've used a pink Financial times wrapper, that's so me.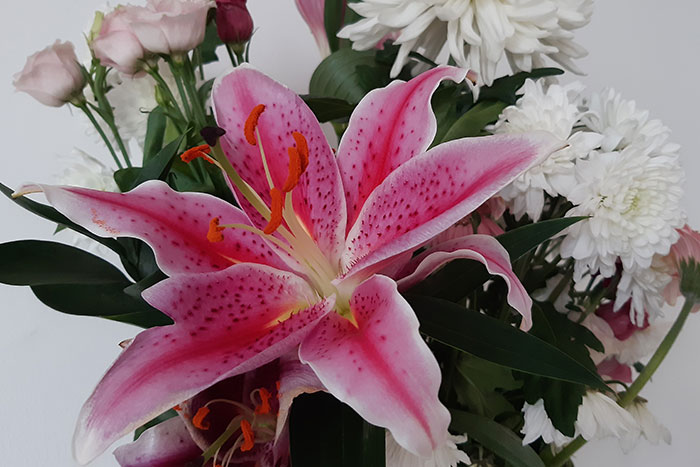 Here are the flowers after nine days, the event was last Friday. I took this picture a couple of hours ago, with an white background so the flowers are very visible. I did not use any flower feed, but juts a bit of sugar. I've also topped up the water a couple of times.
Next we had a cocktail masterclass. I've been to a few of these and they are always so very interesting. The alcohol used in the cocktails is available as a gift for Mother's day. It just shows what a great range of gifts they have.
Finally, I received this as goodie bag. This is one of their letterbox boxes. On the website they have quite a few options. Of course this is a good idea, as it is so easy to send something even if that person is away at work. The boxes range from £15 to £30, most of them are around £20. It is a nice selection of items inside and all the boxes have a list of items, so you know if what you get is what the person you are buying for will like.
I've had a lovely time at the event and I know I will order at least a card or two from Moonpig.
*I was invited the event. All opinions are my own. Two pictures are not mine and you can see underneath them who made them. All other pictures are my own.