Last year I've been to see the Museum of the Moon, a replica of the Moon. Check that post if you haven't seen it before. This year a new event takes place in Liverpool and we were able to admire a Giant Earth, called Gaia (Earth in Greek Mythology). Gaia is brought here for the River Festival Liverpool.
It is amazing to see it, to see the a replica of Earth in a confined space. I think choosing Liverpool cathedral as a place to display it is just as fascinating as the Earth itself. Only a few hundred years ago people were killed for saying the Earth is not flat and Galileo Galilei was on trial for saying that the Earth moves around the Sun in mid 1600s. He spent his last 10 years of his life in house arrest because his scientific theories contradicted the belief of the Catholic Church (based on the Bible). Thus it's astonishing that today we are able to see a full picture of Earth in a church.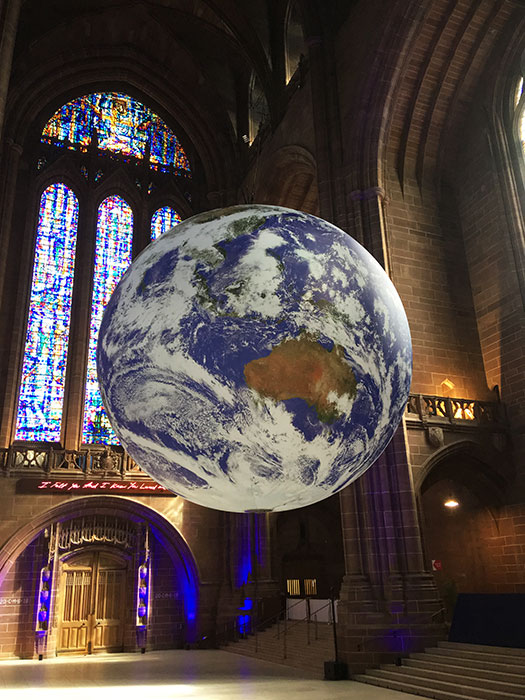 We went to see the Earth twice, once during daytime and again, the following day, in the evening.
Gaia is made, as the Moon was, by Luke Jerram and it is a 23ft replica of the Earth. Luke Jerram creates sculptures, installations, and live arts projects. He used the same concept as for the Moon and so, Gaia features accurate and detailed NASA imagery of the earth.
A few technical details about Gaia:
– 7m in diameter (23ft)
– it is 1.8 million times smaller than the real Earth
– it was made with 120dpi detailed NASA imagery
– by standing 211m away from the Gaia, you can see it as it appears from the moon

If you are not able to come to Liverpool, there are a few Earths displayed in other parts of the UK, here are the dates and locations:
Salisbury International Arts Festival: 24 May – 9 June
Liverpool River Festival: 25 May – 23 June
Llanthony Secunda Priory, Gloucester: 28 – 30 June
Wales Millenium Centre: 20 July – 1 September
Gaia is displayed at the Anglican Cathedral from 25th May to 23rd June in Liverpool. Last year 60,000 visitors went to see the Moon. The event is free and the opening times are great, most days being open from 8 in the morning until 10 at night. Check online before going though, as it might differ.