In UK 135,000+ people had their first dose a couple of days ago and I was one of them. I've decided to talk freely about this on my blog, as my experience might help others, who did not have their vaccine or might hesitate to have it, using real data, from reputable sources, such as Our World in Data and NHS England. I am disappointed to see that BBC and Sky News are not talking about the risks the public still faces in UK from COVID-19, and they ask travel operators about holidays, because, for them, people are "desperate" for a holiday.
I had a Pfizer vaccine but I would have had an Oxford-AZ one if I had the choice, just because UK has more doses on order of the Oxford one and, well, because also I'm a bit biased when it comes to Oxford. The risks of side effects from the jab are incredibly low when compared to the benefits.
COVID-19 Vaccination. Risks from COVID:
First of all, let's talk about COVID-19. Currently in UK healthy people, 38 and over, are eligible for getting a vaccine, this means that while 68.2% of adults had their first dose and 35.9% their second dose too, there are many more people not vaccinated, almost a third of adults and all the children. The virus can spread.
The risks of dying are small for the remaining population, but it's not talked about the other risk, of long-Covid. 60 clinics are now offering support and treatment for people with long-COVID, this is how prevalent it is. According to ONS, about 1.1 million people in UK reported experiencing long-COVID, as in more than 4 weeks. A study, available on ONS, found that almost a third of people hospitalised with COVID were readmitted in hospital within 5 months and 1 in 10 died.
Also keep in mind what is already talked about about vaccine efficacy, that they are not 100% efficient, and that new variants can emerge at any point. While herd immunity is talked about in terms of percentage of population vaccinated or immunised, it is a mistake to think like that, in UK. The vaccination program is amazing, but keeping it simple and vaccinating the most at risk first meant that in some families, like the ones over 70, they received their second vaccinations and are fully protected. At the same time, in a family with both parents aged 37 and two children under 16, none is vaccinated (unless they are in at-risk group or healthcare worker). The immunisation is not spread evenly in all age groups and all professions, so I think it's detrimental to talk about herd immunity.
COVID-19 Vaccination. COVID in Europe:
Many people are thinking of a holiday abroad and Europe must seem like a safe space. Travel operators and airline bosses are going on and on about how safe is Europe as a destination. It's not, but the journalists rarely ask difficult questions about this. I picked a few European countries which might be a holiday destination and/or where people have extended families which they might want to visit: Spain, France, Italy, Germany, Greece, Cyprus, Portugal, Poland.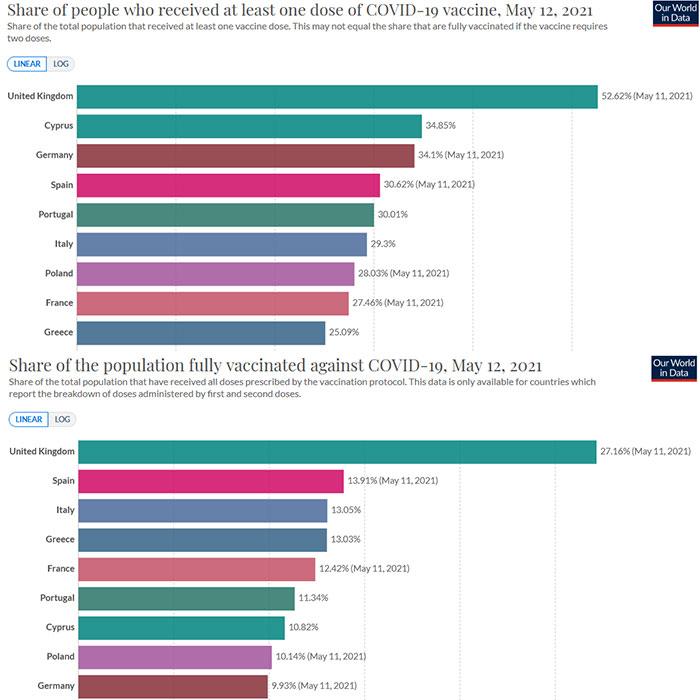 I think most Brits know that the rollout in Europe is not great and, unfortunately, the supply is not the only problem they have, as they have lots of unused Oxford-AZ vaccines and a much higher vaccine hesitation when compared to UK. If we can't talk realistically about herd immunity within UK, just looking at the data shows that the situation is worse in these European countries. With only 1 in 3 having some protection, the virus can spread easily, hence the next topic: cases.
New cases, as a rolling average, show that Portugal is the only country which is in a similar situation with us. This is why it was included on the green list. Cases alone are not enough, of course, so next I mention: share of daily tests.
World Health Organisation said that the virus is under control if the proportions of tests giving a positive result is less than 5%. If we look at the latest data offered by all these countries, just two are doing relatively well, besides UK and Portugal. But Cyprus has a lot of cases, even if they are on top of the spread, it's still a lot. Cyprus shows that testing and vaccinations are not enough to curb the spread of the virus. As for Germany, the country which was hailed as one of the best when it comes to testing, is doing bad, which is not surprising as they are charging for COVID tests, unlike in UK.
Of course, travelling will affect all of us, as new variants or even old ones can be brought back from abroad. I hope that the government will keep the amber list as long as possible and that people will not decide to go on holiday because some journalists and travel operators said so. Check the data before booking.
COVID-19 Vaccination. My experience:
I received an invitation before my age group was called because they had availability in my area. My husband received an invitation too; we went together and had the vaccine easy and fast. We queued for a bit, but it was going fast as there were many vaccinators working flat-out. After getting the vaccination cards I was asked a few questions, like if I got a vaccine in the previous 7 days or if I have allergies. Getting the jab took seconds and I couldn't feel it. After that we had to wait for 10-15 minutes before being allowed to leave. That was it.
On the following day I experienced mild side effects. I was expecting this, because I had some after getting a flu jab last year. I've experienced fatigue and a mild headache throughout the day. On top of that, I was very hungry, which is something very specific for me. When I have flu or a cold I get very hungry. I had 4 very consistent meals, instead of the usual 2 + a very light 3rd but not daily. My husband found it funny that I've eaten about twice as much as he did. He had a sore arm and was a bit tired in the evening, but nothing else. So, overall, I just had more to eat and spent most of my day in bed and on the sofa. That was it and that is what most people with side effects experience.