September was a busy month, a lot of things happened. One of the most important was the long trip to London, 10 days, mainly with work, but we managed to see a few things too. I went to BlogOn MSI and it was great as usual. There were other blogger events too: No one told me organized by Ligths by TENA, Lush Liverpool, Volair SPA and the launch of The Manchester SPA at Hilton, Manchester. I've been to 2 cat cafes, to one by myself in London and to the 2nd one with my husband in Manchester. I baked along GBBO and I made a Breakingwell tart among other bakes.
Last month we've celebrated our 2nd Home anniversary and Festus had his 7th birthday.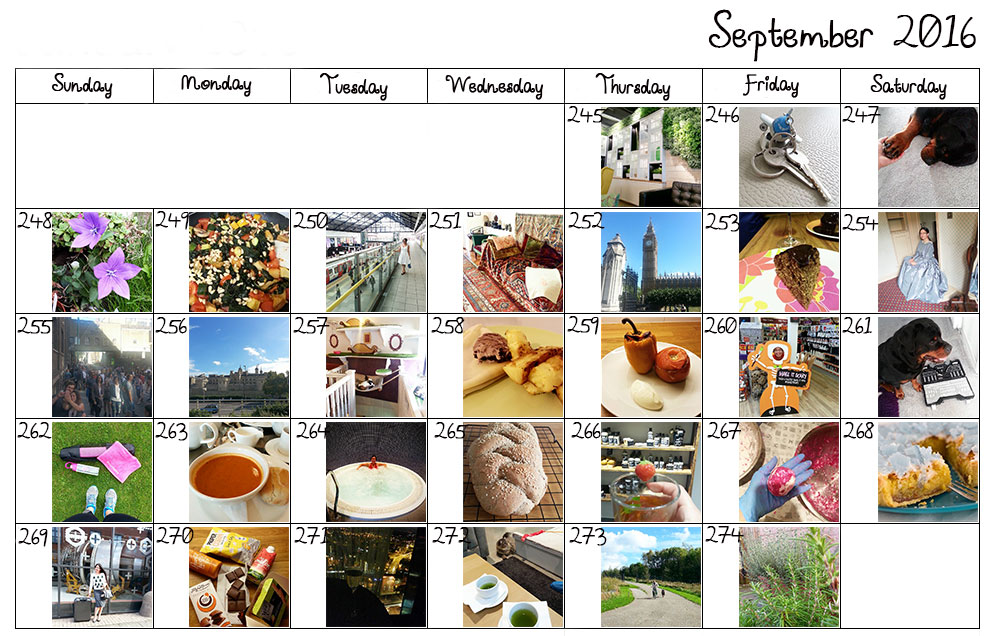 Day 245. I went to Ikea to get a few bits and I was admiring the wall in their restaurant. Day 246. My keys, because we've celebrated the 2nd home anniversary that day. Day 247. My boy, very tired after a very busy day. Day 248. More flowers in bloom in my garden. Day 249. Stir fry with the leftover veggies. Day 250. Me, at a tube station in London. Day 251. Freud's sofa and chair, the ones he had in Austria. I saw them at the Freud Museum in London. Day 252. Big Ben. Day 253. Chocolate cake baked in the caravan for my name-day. Day 254. Trying on a Victorian dress, with a huge crinoline. I loved it. I wish I could wear something like this daily. Day 255. Busy Sunday in Shoreditch.
Day 256. Tower of London. It was a hot September day and I've decided to leave a stop earlier and walk, especially as it meant I could exit near Tower of London. Day 257. I went to Lady Dinah's Cat Emporium for coffee and I loved it. Day 258. Crepes with ice cream and grilled pineapple prepared just in time for GBBO. Day 259. Stuffed veggies with a dollop of soured cream. Day 260. At Hobbycraft, having fun. Day 261. Festus, involved in DIY, as he usually does. Day 262. Yoga outside, on the grass on a beautiful day, at the No one told me event. Day 263. Soup at a lovely tea room I found by chance. Day 264. Enjoying the Jacuzzi at Volair SPA. Day 265. Freshly baked bread.
Day 266. Blogger event at Lush. Day 267. A bubblebar made the day before at Lush. Day 268. Breakingwell tart, baked for GBBO bake along. Day 269. BlogOn MSI. Day 270. Trying some goodies from the goodie bags. Day 271. Drinking champagne at Cloud 23, at the launch of The Manchester SPA at Hilton. Day 272. Matcha tea and happy cats at Cat Cafe in Manchester. I love cat cafes, it's the 2nd one I'm going to and I would gladly visit one again soon. Day 273. Perfect day to go for a bike ride in the park. Day 274. Picked herbs from the garden for my baking.