A few months ago I blogged about the foundation I was using, No7 Airbrush Away. A few days after publishing that post, I managed to drop the bottle and, because it was glass, it shattered. That meant that I had to start searching for a new foundation, with greater coverage. While I think the Airbrush away is a good foundation, I wanted a full-coverage foundation this time. A trip to the shops ended up with me picking three samples: Matte Clay Skin Clarifying Foundation from The Body Shop, No7 Beautifully Matte, and Lock-It Liquid Foundation from Kat von D.
I tried Kat von D make up before (lipstick and brow make-up that I have in the pictures for this post), so I was very excited about it. Obviously I had No7 foundation before, the Airbrush I mentioned earlier and Stay Perfect. I have to admit that I didn't have high expectations from the Matte Clay Skin Clarifying Foundation. It was the cheapest of these three, being almost 3 times cheaper than the Kat von D one. But, as I'm using so many products from the Body Shop, from face cream to shampoo, I thought I should try the make-up as well.
I'm very excited about the Kat von D products. I love the brow cream, it was a definitely great choice and it's very likely I will buy it again. Their lipstick is amazing, it has the same quality as Max Factor (I tried both at the same time), but with the amazing twist that is vegan and cruelty-free. The prices are similar, not exactly cheap, but considering how long lasting it is, is worth it without a doubt. The thing I don't like is how pushy the sales guys are at Kat von D. I stood my ground and asked for a sample and it was a great idea. The shade I was recommended was so yellow, it looked unnatural on my skin. It looks like is a great quality and long lasting, but I wasn't able to try the sample as I looked funny with it.
This meant that I focused on the other two. I used the No7 a few times and it seemed good, as expected from the brand. In the end I tried the Matte Clay Skin Clarifying Foundation from the Body Shop. I had a great experience in shop, as the lady took her time to make sure the shade she suggested, Japanese Maple, is the one that is suitable for me. She gave me quite a lot of product in a sample jar. I was able to use that sample for a week and that is more than plenty of time to try on a foundation. After I tried once I could only say: Wow, this foundation is fab! The coverage is great, it is very easy to apply, and it is also long lasting. I was so impressed by it.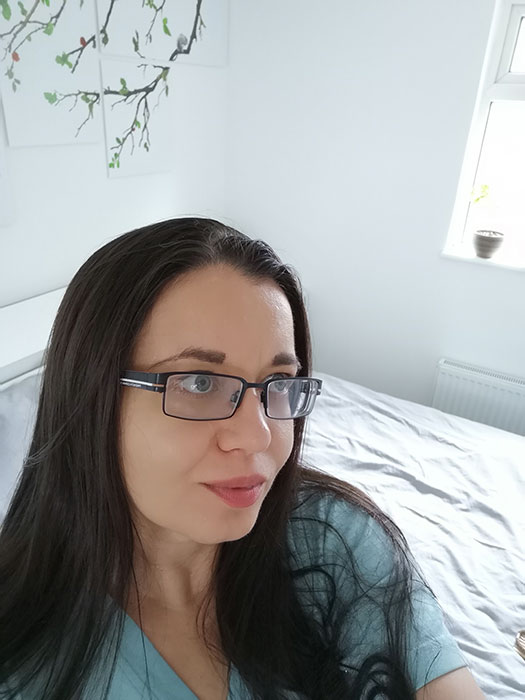 Because I've used this foundation for a few months, I was able to test it in all sort of conditions. I used it on clean skin, on top of primer, over different types of face creams (all from the Body Shop, but makes no difference), over SPF cream (with a cream applied before or not). In all situations the foundation is great. The only thing is that I need to wait a minute for the cream to be absorbed before applying the next one, obviously. But, besides this little point, there is nothing more I can add, the foundation is amazing. At only £10, it is great value for money.
This is how I look after a few hours I've applied the foundation. I didn't have time to take pictures before leaving. I tried to take some pictures outside. As the wind was blowing my hair everywhere, I took a few selfies at home, when I got back. I took the first picture with the front camera and this one with the back camera of the phone. I'm not good at taking selfies and I had to adjust a bit the lighting in the 2nd picture. Thus, I used Photoshop to do that and also to crop the picture, nothing more. The skin is not oily or shiny, but looks matt. It doesn't transfer onto the clothes, but it is very easy to take off with a good make-up remover.
I'm going to buy this foundation again and I might try the other foundation they have as well; the other one is not full coverage as this one is. On the plus side, it has SPF 15. For me, it doesn't matter if the Matte Clay Skin Clarifying Foundation doesn't have SPF. I'm using either a face cream with SPF 30 or one of two SPF creams I have, with SPF 20 and SPF 50. Getting a suntan is something I do my best to avoid.
I apply foundation with a silicone sponge. I wash it regularly and leave it to air dry on a small face towel. It is really good, the one I'm using at the moment is an year old and is still almost as good as new.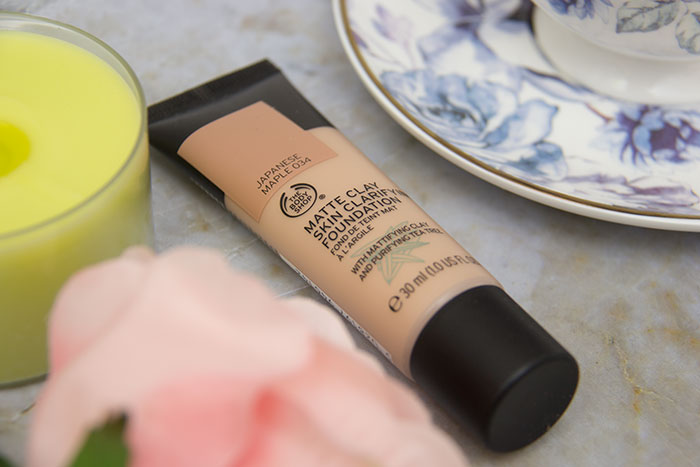 I'm not going to list the ingredients, as they can be found on their website. It has tea tree oil and is promoted as suitable for any skin type. With my combination skin, I can say that this is true, it does work for oily skin as well. Matte Clay Skin Clarifying Foundation is suitable for vegans.
Besides Matte Clay Skin Clarifying Foundation from the Body Shop, I also wear Double Dare lipstick and Super Brow pomade, both from Kat von D. I will make a review of the brow pomade next month. Have you tried any of the foundations from the Body Shop?