In early July we were still in Italy, for our long holiday. I stared blogging about our travels and finished recounting about Verona, which was my favourite city. We've been to: Flora and Zazie (vegan and vegetarian restaurants), Castelvecchio museum (art gallery in a 14-th century castle), The Roman Theatre (includes a medieval monastery), Casa di Giulietta (from where Shakespeare got his inspiration), Museum of Archaeology, we saw an opera at the Roman Arena di Verona, the Duomo, went with the funicular and took a train with a guided tour. Now I've started to talk about Venice and shared pictures from the Doge's Palace.
As usual when I'm away I listen to news in the morning, regardless if I understand them or not. Well, this time I understood everything and I was pleasantly surprised to see how much they talk about the Russian invasion of Ukraine. The facts are presented clear and there is support for Ukrainians, much more than what we can see on British TV shows. I also liked how they explained what was happening in other situations, without moaning uselessly.
In other news, I received my marks for the exams and I can say that I finished the year with an overall grade in the 1st class range. I'm delighted! My husband prepared a special surprise for me and we spent the weekend in a castle! It was one of the things in my bucketlist and a perfect way to celebrate my achievement. We were treated to a fresh loaf of bread in the morning. I would love to go there again, such a wonderful place and so very special.
That weekend we also went with the Steam Yacht Gondola.
On Friday we went to see the friendly between Dynamo Kyiv and Everton. It was a fundraising event and also a moment to show solidarity with the Ukrainian people. There were about 13,000 people in attendance, of which 2,000 received free tickets (refugees, were given through charitable organisations). Both teams adorned the Ukrainian flag, as you can see in the top side of the collage. There were loads of people with Ukrainian flags, us included, and many Brits were cheering for both teams. Only the Ukrainian anthem was played before a minute of silence was kept for the ones who died in the war and they mentioned the latest victims at that point, from Mykolaiv. Earlier in the day I saw pictures with the aftermath of the attack (uncensored, not that blurring them would have made much difference though). People walking their dogs were killed and 2 dogs died too. In the half time we listened to Oy u luzi chervona kalyna and at the end of the match the artist sang Imagine by John Lennon. How appropriate to sing that wonderful song and in Liverpool too.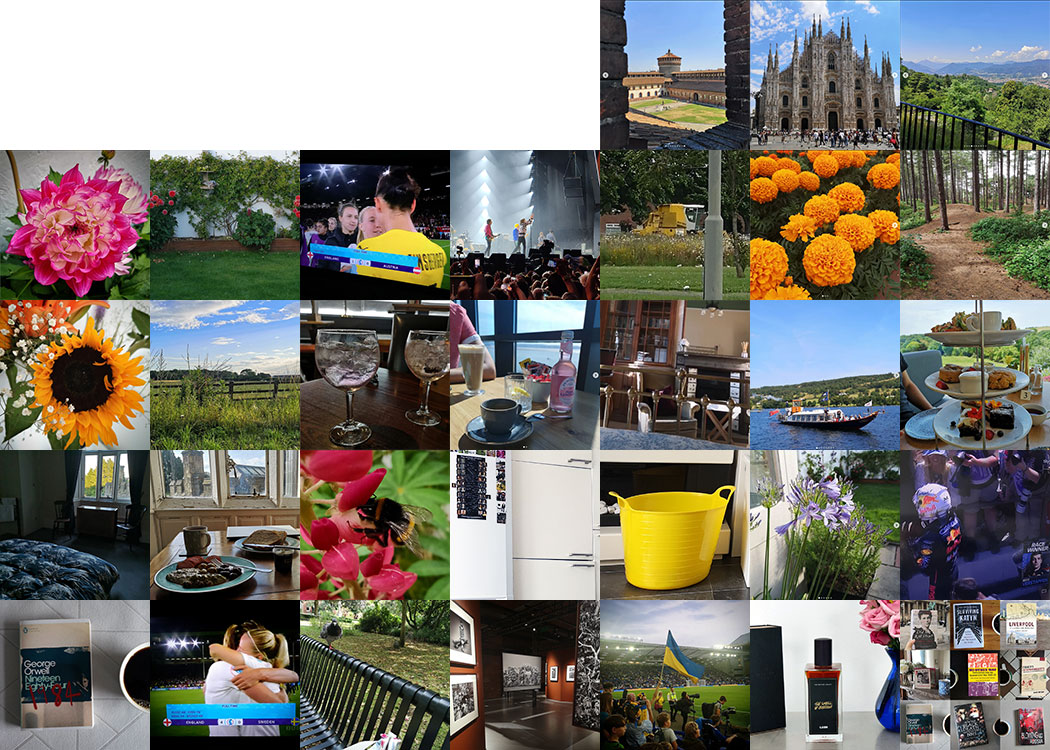 1. Castello Sforzesco, Milan. 2. Duomo, Milan. 3. Bergamo. 4. Back home, enjoying one of the flowers that bloomed while I was away. 5. The pigeon was waiting for his dinner. 6. England won against Austria, fab game. 7. Throwback to the Rolling Stones concert in Milan (on the day they were in Amsterdam). 8. A combine-harvester was used to cut grass near the supermarket, how peculiar. 9. Bought flowers from the garden centre, including these orange marigolds. 10. Formby walk. 11. Slava Ukraini. 12. Field with horses. 13. Celebrating receiving my grades for the exams, I finished year 2 with a 1st. 14. West Kirby Marine Lake, from the day before. 15. We arrived at the castle for our weekend away. 16. Steam Yacht Gondola. 17. Vegan afternoon tea with a view. 18. We stayed two nights in a castle, it was amazing. 19. Breakfast at the castle with freshly baked bread. Technically the pictures are from the weekend, but it was too memorable not to include them. 20. Bee. 21. Talking about the kitchen… and 22. Renovation started. 23. My garden. 24. Max won. 25. Finished 1984. 26. 4-0!!! England is in the final. 27. Little friend. 28. MOSI, from the day before. 29. Match between Everton and Dynamo Kyiv at Goodison Park, to raise funds for Ukraine and show support. 30. A lovely gift from my husband. 31. Books in July.
We've started renovating the kitchen and hopefully we will finish it by the end of next month. Things are going great and we can see progress.
I read 9 books this month too. Firstly I read 1984, which is amazing, well worth reading. Somehow I imagined while reading that Margarita Simonyan (editor-in-chief at RT) would be perfect for the Ministry of Truth. I also read about Katyn which was a communist massacre of POWs, over 21,000 of them, with the sign-off by Stalin, which seems familiar to anyone following the Russian invasion of Ukraine. I finished the month by reading about the FSB's involvement in blowing up 3 blocks, killing 300+ and wounding 1000+ so they could invade Chechnya in 1999 (they lost the first time). All the books are reviewed on my book blog.
Besides those, I read for university, and two books on Mrs Maybrick, an American-born woman who was on trial in Liverpool for murdering her husband, in the Victorian era. Such a fascinating case, well worth reading, the second book is shorter and better.
Books I read in July:
Did she kill him by Kate Colquhoun – 3 stars
Surviving Katyn by Jane Rogoyska – 5 stars
Liverpool: A Landscape History by Martin Greaney – 5 stars
Mrs Maybrick by Victoria Blake – 5 stars
No Other Way by Liz Woolley – 5 stars
Franco's Internationalists by David Brydan – 5 stars
1984 by George Orwell – 5 stars
How the Black Death Gave Us the NHS by Jaime Breitnauer – 4 stars
Blowing Up Russia by Yuri Felshtinsky, Alexander Litvinenko – 5 stars
You are invited to the Inlinkz link party!