December was a really fast moving month. I had my booster, I finished the first term, we went to London for a few days in holiday, and, of course, I had work and the celebrations. I will share a few highlights from December. With limited time I couldn't post about all the exciting places we've been to, such as Westminster Abbey and Hampton Court, but I will talk about them next month. Also, next month I'm going to share a lot of reviews for vegan restaurants I've been to this year but didn't manage to talk about.
At the start of the month a Christmas party was organised for the tenants by our landlord, in London, but I missed it as I was back home in Liverpool. Imagine my delight to see that she left a lovely Christmas cracker at my door for me. That's so thoughtful.
We celebrated finishing the first term at King's. I blogged about this, so check the link if you fancy to see more about my experience at KCL. I was back in Liverpool, so we went to our favourite fast-food place which also serves amazing cocktails.
After I finished my term we went to London for a few days on holiday. It was wonderful. On the way there we played for a bit, which is not what I usually do (read or work), so a nice change.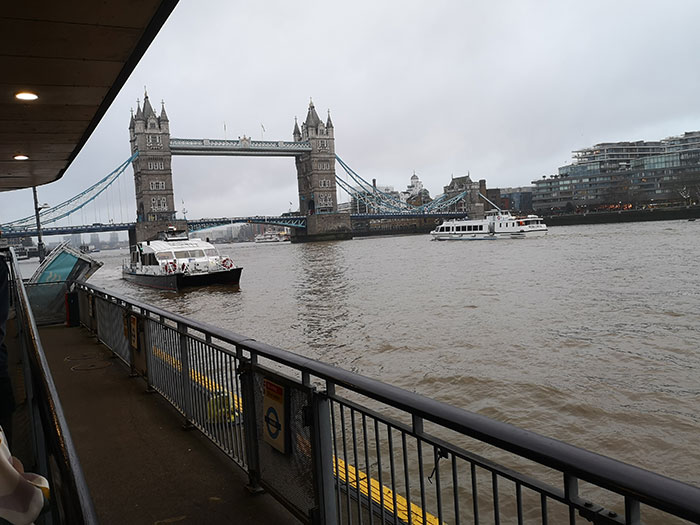 We tried the waterbus, taken from the Tower to Embankment. I am not a fan of boats so I'm not sure why I keep going to these kind of trips. It was a change from the tube or bus and we could use our Oysters, so it's more something to try once.
Besides the museums we've been to and the restaurants we had lunch in, we also went shopping. Covent Garden was buzzing with people and it was lovely. We also went to Selfridges, Liberty, Fortnum & Mason, and Harrods (they are in order of preference with the best last). We got a few things from each place, such as delicious confit fruits from F&M which we had for Christmas, you can see them in the post about Christmas.
I should say that despite the covid situation and with us being in constant crowds, we did not get covid. I bought medical grade masks, changed them after a few hours, or used two masks, both indoors and outdoors. With hand washing and masks, we avoided contracting the disease. As we only had our booster with a day before going to London, we were aware that the immunity didn't have time to build, so the extra measures were ok. My husband was busy on the last day, so I took a shift at a covid vaccination centre and so I've interacted with a few hundred people only at that site. Getting a negative covid test was, thus, a bit of a pleasant surprise.
1. Christmas tree. 2. Flowers. 3. Puzzle making. 4. Vegan delivery. 5. I'm enjoying the standard premium. 6. Surprise from the manager, at the flat in London. 7. Presentation. 8. London beautiful while it rains. 9. Huera Christmas sandwich. 10. A Christmas "tree" at the London flat, ready for Christmasy celebrations. 11. This turmeric latte with a snowman on top from Wild Root was so lovely. 12. Max Verstappen won!! I can't believe it!! 13. Another puzzle and a new idea, of mounting them for decor. 14. Celebrating the end of the first term at King's College. 15. Booster celebration, cake, of course. 16. London. 17. Christmas at the Tower of London. 18. I got Pickled Brussels Sprouts from F&M for Christmas. 19. Stardust trail at Hampton Court. 20. Covent Garden. 21. Harrods 🥰 22. Back home. 23. A big puzzle, 3000 pieces, of London. 24. Ready to open the last gifts. 25. Christmas. 26. Enjoying Snow by Pamuk. 27. Don't Look Up! 28. Flowers started to appear in the garden. 29. The puzzle is going great. 30. Books in December, including A Short History of War. 31. Happy New Year!
I managed to read only 3 books this month, taking it to a total of 89 for the year, less than my goal of 100, but pretty decent considering all that happened this year and the time I have available for reading. This will change in the new year and I think I will be able to do my target of 100 books in 2022.
Books I read in December:
A Short History of War by Jeremy Black – 5 stars
The Secret History of the Roman Roads of Britain by M.C. Bishop – 5 stars
Snow by Orhan Pamuk – 4.5 stars

You are invited to the Inlinkz link party!