Today I'm making a quick round-up of our stop in Venice. I blogged about the vegan restaurant, La Tecia Vegana, and about Doge's Palace. Now I'm going to share lots of pictures from the city and a few highlights.
Venice is well known for its canals, but the small streets are just as delightful.
Restaurant delivery by boat, early in the morning.
An old church in Venice, which is free to visit. St. Mark's Basilica is very hard to get into as they have only a limited amount of tickets available.
When we got tickets for the Doge's Palace, we also got tickets for Museo Correr. We had a coffee (that's a long/Americano in the picture) before visiting the museum.
Gondolas are not hard to find, but they offer a 30 minutes ride. As I get sea sick, I knew 30 minutes would be too much. But I still couldn't entirely miss the gondola. So, Google Maps considers that taking a ferry is the same as walking. We got to a place where there was no bridge over the canal. A lady saw our puzzled looks and started laughing, saying in English: "GPS brought you here!" She was not exactly keen on crossing with a ferry, but there was little choice at that point. The gondola-ferry arrived fast and in a few minutes we were on the other side, happy to say that I took a gondola in Venice without having to spend too much time on it.
The gondoliers were so funny, starting to sing, helped me embark and disembark. It was a lovely experience.
Italy is perfect for dog owners who want to bring their pets with them. I saw so many dogs at cafes and everybody seemed happy with dogs there. This little one was tired even if it was quite early in the morning.
Venice by night is just as spectacular. It is different and the cafes close early because Venice is crowded and cramped and while tourists are great, respecting the locals is one of their priorities.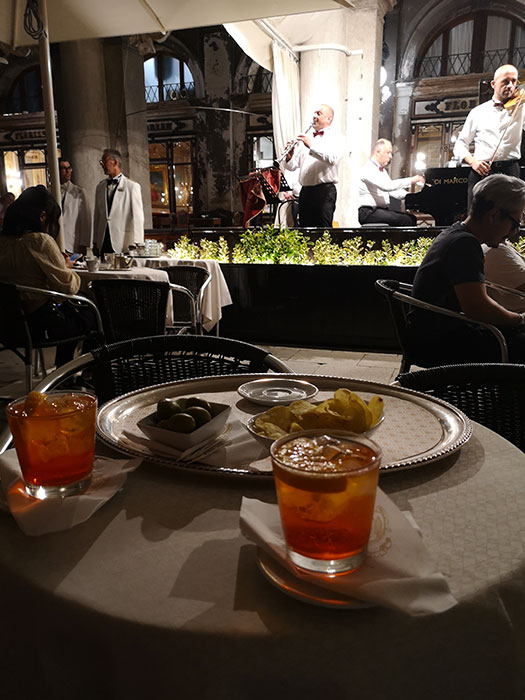 We stopped at Caffè Florian for drinks, Aperol, of course. The cafe dates back to the 18th century and it's splendid inside. Outside we were treated to classical music. The music is included in the bill, which is great. I would love to go there again, without any doubt.