I had other post planned for today, but I just had to talk about ABQ London, a Breaking Bad themed cocktail bar that is set up in an RV. If you've watched Breaking Bad, then everything makes sense. If you haven't, first of all, watch the series! It was my favourite series ever. You might remember my Breakingwell tart from two years ago, if not, check it out, it involves homemade blue "meth".
Secondly, if you don't like the series or you don't fancy watching it, you should go to ABQ London just for the experience. It is really amazing.
You don't have to book, because they do welcome walk-ins, see more on their website at abqlondon.com/abq-london. But I would strongly suggest you should book. We went a few days ago, in January and it was almost full in the RV. I imagine that from February all the places will be fully booked. It's just so much fun and such a fab experience that it's easily understandable why people are so keen in going there. After leaving the bar, we've talked about the next time we are going to go there.
Because I had work commitments the following day and my husband was driving, we booked the Dry January experience, with mocktails. It was just as great if you ask me. The whole experience is to cook your own cocktails using things like dry ice and all sort of other gizmos.
We were taken to our table and we've started by dressing up in the yellow suits provided, ready to cook some cocktails.
We've enjoyed our first cocktails. These are one of three cocktails, included in the price of the experience. Also, the price is for 1h45m in the RV. The timing is perfect.
While we were enjoying our cocktails and thinking of what we are going to order next, we admired the decor. The attention to details is great. We've also ordered pizza.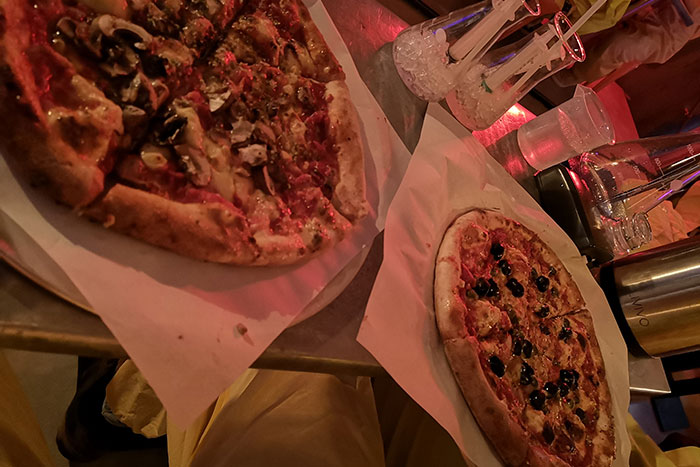 Neither I nor my husband read the menu properly. As we didn't read the ingredients after we saw the name of the pizza, as "Los Pollos", we assumed is with chicken and as vegetarians, obviously not suitable for us. Only after we've overheard one of the guys saying that all the pizzas are vegan, we looked at the ingredients. It was vegan chicken style fake meat. Well, we know now what we are going to order next time we are going to ABQ London.
We've started cooking our first cocktails, using dry ice and syringes with flavours. It was so much fun. It seems daunting in the beginning, when you read the processes. But if you do a couple of cocktails, you see that is pretty easy.
It was my turn to cook my first cocktail. I haven't used dry ice before and it was exciting. It's not as complicated as I thought it will be.
I loved all the cocktails we've tried. I can't wait to go there again and try the rest of the cocktails.
This is the bar area in the RV. I loved it.
One of the cocktails requires a bit of "cocaine" (if you are curious what it is, is icing sugar). It is a lemony cocktail. It was fun making the lines.
Pouring liquid from test tubes into a champagne flute sums up the experience you get at ABQ London. It's so quirky and unique.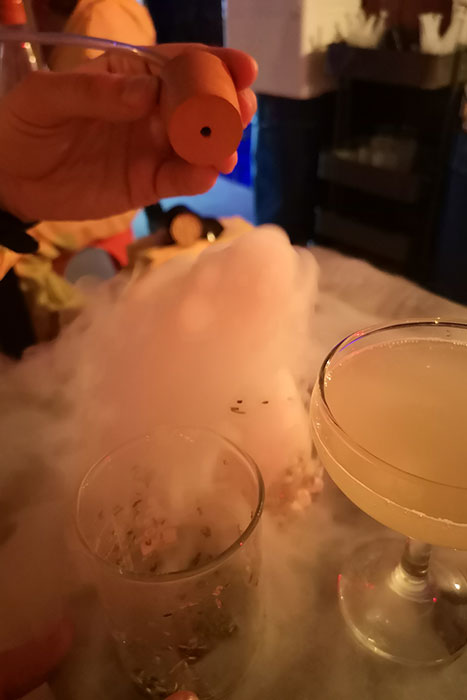 My husband ordered his third cocktail with dry ice. It had a lovely rosemary flavour.
That was it. We took a few more pictures of the bar and the pizza oven. We both had an amazing time. The guys working there were so friendly. It was a fun, interesting experience. If you are in London or visiting London, do make sure you keep this place in mind, because it's worth it.
They have an RV in Paris too. Last year they had one in Manchester, but we missed that one. You can be sure that if they were to open again somewhere north, I'm going to go to the bar.
ABQ London is in 18 Bohemia Place E81DU, London. The price for person is £35 for the three cocktails. The pizzas are around the £10 mark, most of them less. We've booked a non-alcoholic version that was cheaper, but I don't think that is available at all times.