Is it too early to talk about Christmas? I think it isn't, I've already got my advent calendar and I also started thinking of what I should buy for Christmas. I was delighted to be invited to the Press Day at Metquarter*. You know that I've blogged about them lots of times so far. So, this is a post about Christmas Shopping at Metquarter.
I really love how stylish Metquarter is and last year I bought a few things from there, such as a shirt for my husband from his favourite retailer, TMLewin (read the review if you want to know more about them).
If you want to buy something really nice for the man in your life or for a friend, there are plenty of shops to chose from at Metquarter, all in one place, so it is easy to browse and decide what you are looking for. Some of the brands you can find at Metquarter are Vincentius, BOSS, Gieves and Hawkes. For women there are MAC, Mococo, House of CB, and Jo Malone. If you want gifts for children, there are a few shops for them too. On top of that, there is an art exhibition called dot-art exhibition. The artworks can be purchased and prices vary from £25 to £2500, and thus there is something for everyone.
Of course, shopping can be tiring and a break is needed. Last year Everyman opened a new cinema at Metquarter, with lovely comfortable sofas and food and drinks brought to you directly where you sit. It's luxurious.
We were asked not to disclose the movie we saw, so I'm not going to talk about it. But I will say that the whole experience was great. Earlier this month my husband booked tickets for us at Everyman. He waited for me at the train station, as I was getting back to Liverpool from Oxford. After a busy week with my studies, relaxing a bit, having something delicious to eat and seeing a movie was just great. I'm going to talk about that for a bit longer on my monthly round-up though.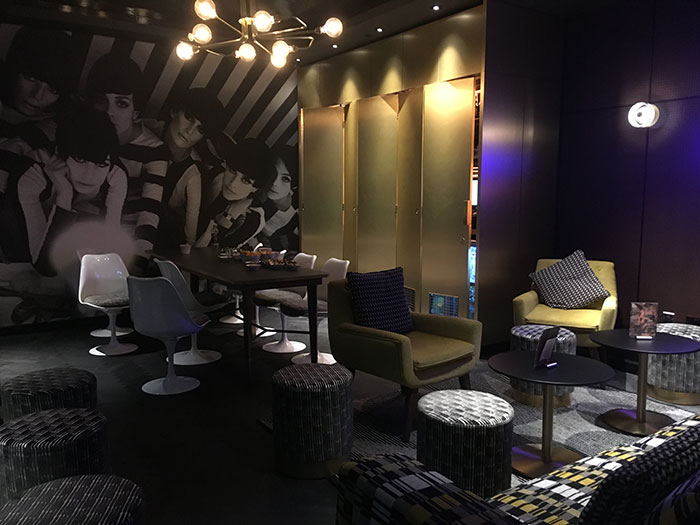 This room is near screen 4 and for the event it was reserved for us. It's such a lovely place, it would be great for a Christmas party.
*Press Day invitation. I wasn't asked to write a post, but I wanted to because I like them.