I was invited to sample the new lunch menu at the Castle Street Townhouse* in Liverpool. Obviously, I was delighted about this and I arranged a lunch date for me and my husband. After having lunch, we went to see the Double Fantasy exhibition at the Museum of Liverpool, about John Lennon and Yoko Ono. It was a lovely day out, so let's start by talking about our lunch.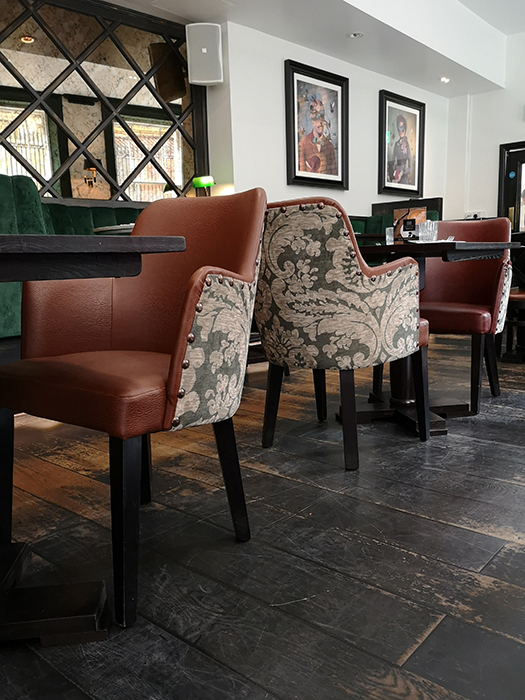 The place looks gorgeous. I like the tables, distressed floor, and those lights at the back of the restaurant. The artwork is nice too. It looks like a great location for a more fancy lunch or for dinner.
We had a look at the new lunch menu and we've decided to go for the Falafel Salad and Hummus Flatbread. Of course, both options are vegetarian. As for drinks, my husband wanted a mocha while I got an apple juice. We also had cucumber water on the table, brought exactly after we took our seats.
For full disclosure, I have to say that I was not impressed with the staff. All were polite as you can imagine, but none seemed friendly, especially the lady that took our order. Maybe they had an off day.
The Falafel Salad was made with couscous, cucumber, pickle carrot, pomegranate, harissa pepper dressing. The price for this one is £9. I liked it a lot. The falafels were delicious and the couscous was nicely cooked. The portion size was great, considering that it is from their Light bites lunch menu.
The Hummus Flatbread was with red pepper, olive oil, and feta cheese at £8.5. You can obviously see the size difference between the falafel dish and the houmous, despite having a similar price. It was a shame, because the houmous was really good, very garlicky an delicious. Having a bit more on the plate would have been really good.
We both enjoyed our lunch and, considering how the restaurant looks, the prices are good. I loved the couscous and that is something I would order again. The houmous was very good as well. The food came out fast and the atmosphere was nice. In the pictures it seems we were the only ones there because I took pictures when I could, avoiding catching customers in them, for their privacy.
Castle Street Townhouse is at 25-27, Castle St, Liverpool L2 4TA. If you want to read more about them or book a table, head over to their website @ castlestreettownhouse.co.uk.
*I was invited by Castle Street Townhouse. All opinions and pictures are my own.