I've been using hand creams from The Body Shop for many months, almost one year, so now I'm talking about them. I've mentioned one of the hand creams I've used, the almond hand and nail butter.
Right now I'm using these three hand creams: British rose petal-soft, Moringa, and Mango. The hand cream from the Body Shop come in two sizes, 30ml and 100ml.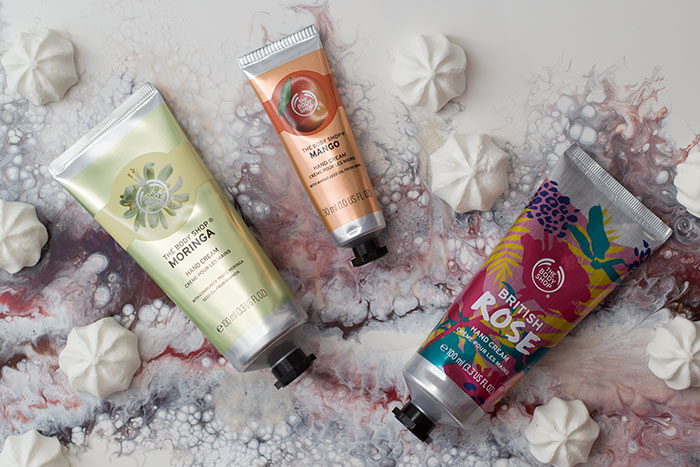 The smell of the hand creams is lovely. I had a Shea hand cream and that didn't smell as strong as the other ones. It was just as good, but if you are looking for a hand moisturiser that also smells lovely, then pick another one. Besides the ones that appear in the post, I also used the coconut hand cream. So far I'm happy with all of them. I wouldn't buy Shea hand cream again because I'm more into the ones that smell lovely, but it was very good.
The hand creams are not very oily and they absorb in the skin fast. I do like that, as I'm using hand cream when I'm blogging or working on my laptop. A couple of minutes again, after I've started writing this post, I've used a bit of hand cream. Writing about a hand cream will surely make you remember to apply it.
One thing I don't like is the cap, but I usually transfer some of hand cream in smaller jars (that I would reuse). The creams are £5 for the 30ml and £12 for 100ml. Although I don't think I ever bought a cream at the regular price, as I usually take advantage of different offers they might have. Buying in bulk to reach a certain amount to get a discount and free shipping is a really good idea if you are using the same product again and again. I do that because I'm happy with the items and all of them are vegetarian, so this works for me.