I wore these 5 outfits last week, so I've decided to make a post about them instead of 5 different posts. A few things are new, some of them were mentioned before on my blog. When I chose the clothes for these 5 days, comfort was of the main things I had in mind, as you'll see.

Having a look at all the 5 outfits together I realized that I really love pinks/purples and grays. I should have taken pictures of the jewellery and makeup too, but it was too late and I'm going to keep that in mind for the next post I'll make.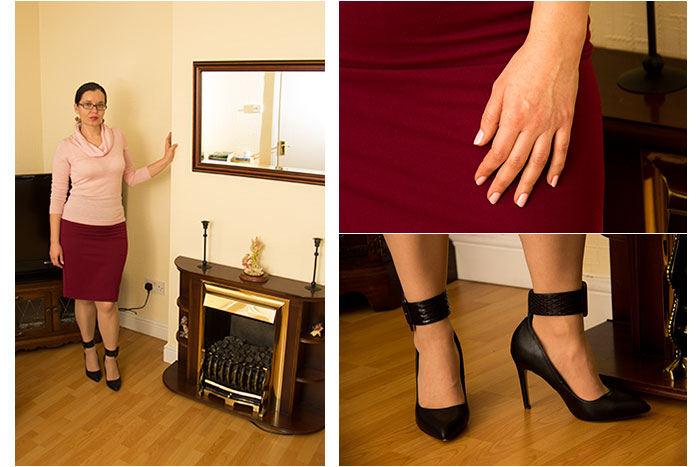 The first day I had an old burgundy skirt, a merino wool pink cowl neck jumper and one of my favourite pairs of shoes from Asos. The pink nail polish is from W7. All week I've used the two W7 makeup pallets I bought recently and I love them, very good quality, the nail polish not so much.

My second outfit is a Marks and Spencer skirt and T.M.Lewin French Cuff-type shirt. I said it before that I love shirts with cufflinks for women, I find them so enticing. The shoes are Roman Originals and very comfortable to wear through the day. The nail polish is Ciate, a light golden shade.

Next outfit is another Marks and Spencer skirt with a jumper found at TKMaxx that is very comfy and butterfly jewellery from Magic Accessories. The shoes are the same brand as the previous ones, Roman Originals, very comfy. The nail polish is L'Oreal.
The forth outfit is a dress I have for a couple of years now and I find it so comfy to wear. The nail polish is L'Oreal (will not buy again as is not cruelty-free) and the shoes are Asos.

My last outfit is a light purple Asos dress with Asos boots, L'Oreal dark purple nail polish and Magic Accessories jewellery.