I picked Madurodam as the next post in the Travel Memories Series because it's a special place for me. We've been in the Netherlands on our honeymoon and Madurodam was one of the places we've visited while we were there. I've enjoyed that museum so much and I'm happy I can share pictures from that day with you, today.
Madurodam is only 45 minutes away from Amsterdam and 25 minutes from Rotterdam, where we've stayed. See more details on their website (madurodam.nl/en). The tickets are around €17, not sure how they compare with the prices from 11 years ago. Of course, if you buy tickets online, you'll get them cheaper.
We didn't plan to visit the museum, we were walking in The Hague, ended up in front of the museum and we were intrigued. We've decided to go in and we've spent there most of our day. It was amazing. I love all those small details, there were also some displays that moved, operated with coins.
It was the first time I've ever been in a miniature museum, so imagine my excitement and awe to see these stunning displays.
Isn't it just stunning? The small golden carriage for the Royals, the beautiful pageantry, all the figures standing there like they were waiting for the next step in the ceremony to take place.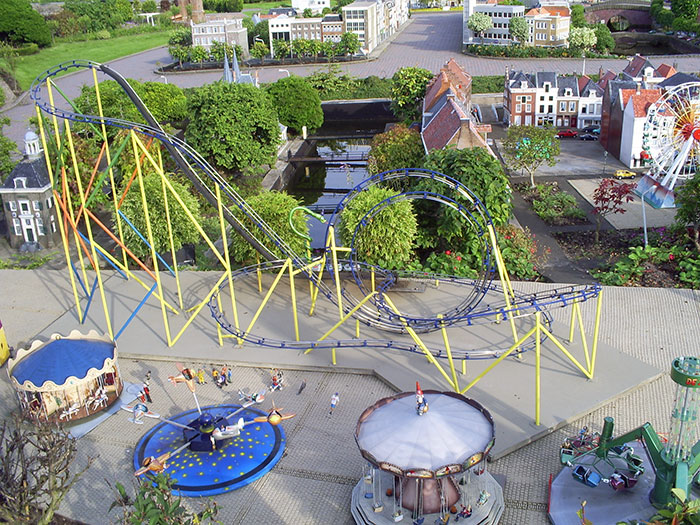 There were displays in the museum. That attention to details is staggering. I loved discovering small features like these ones.
There were many cars, people, and animals in many displays. People doing their everyday jobs. Like this ones, that are cutting trees. You can see two small people near the car.
Cattle waiting for their turn to be milked.
As with the World Cup underway, I thought is appropriate to share a picture of the football stadium. I have lots and lots of pictures to pick from and it was quite hard to only choose a few for this post. Madurodam is a truly remarkable museum. I would love to visit it again, I think I would appreciate it as much as I did the first time I've been there.
In the narrow rivers there were fish and, amazingly, they were quite friendly. They approached my husband's finger and he even touched one. How lovely is to see animals so friendly in a place so many people visit each day.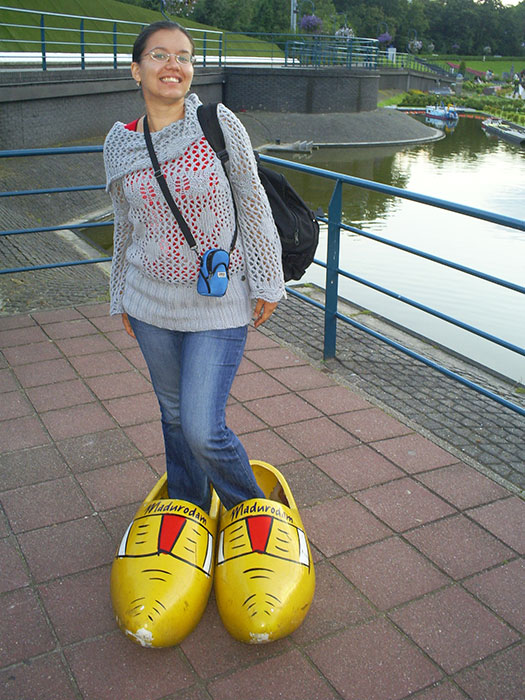 This is me, 11 years ago. I think I look pretty similar today.
Have you been to Madurodam?