In our trip north we ended up visiting Mount Grace Priory, an interesting and beautiful priory. According to their website, Mount Grace Priory, the unusual monastery, is the best preserved Carthusian priory in Britain.
I have to admit I didn't hear about the Carthusians before visiting the priory. The funny thing is that now that I'm reading the last book in The Cousins' War by Philippa Gregory, I learned that the son of Margaret Pole lived and studied at Sheen Priory, a Carthusian monastery.
This is a new built, from the 17th century. The Priory was set in the woodlands and was founded in 1398, a small monastery with 23 monks and a prior. The priory was closed in 1539 with the Dissolution of the Monasteries by Henry VIII. The priory was sold and buildings were dismantled. The guest house, in the picture above, was repaired and it was a manor house.
In 1953 the Bell family gave the house and priory to the nation, now owned by National Trust and managed by English Heritage.
Sir Bell bought the priory in 1898; he wanted the home furnished in the Arts and Crafts movement. The Arts and Crafts movement emerged at the end of the 19th century as an alternative to the mass-produced goods. It was a celebration of utility, crafts and natural materials. The wallpaper is an original Morris design, hand-printed with the original blocks held in the Morris&Co archive.
The room now looks like it would have been in 1901.
This is something I never saw before, original paint from 1654. The red still has its beautiful bright colour, amazingly preserved after 350+ years.
Outside, at the back of the house, there are the ruins of the old priory. One house is restored to how it was like in the 1500s.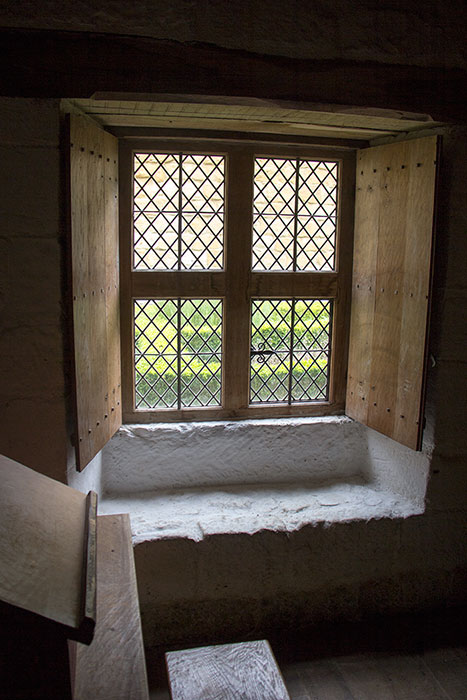 This is Cell 8, originally built in the 15th cenutry on the north range of the cloister. It was unroofed and partially dismantled in 1539. Sir Bell rebuilt it in 1900 – 1905. The reconstruction was made to show how the cells would have been at Mount Grace Priory.
Due to an outbreak of dry rot, English Heritage replaced the internal partitions with materials more in keeping with the original structure. The furniture is similar to the ones on the site in the 16th century.
The Madonna Of The Cross is obviously a new sculpture, from 1996.
In the front of the manor house, there is a beautiful garden and this lovely park.
Well, this picture has nothing to do with the priory, but I loved the colour of my nail polish and I asked my husband to snap a picture.
If you want to visit Mount Grace Priory, the address is: Staddlebridge, Northallerton, North Yorkshire, DL6 3JG, quite an interesting exit/entry from a busy main road to a country road. The entry fee is £6.60 for adults, free for EH members.