No 1 Royal Crescent is one of the best known museums in Bath. It's one of the houses built in the Georgian era for the ones who would come to visit Bath, for the waters.
The No 1 Royal Crescent was built after a design made by John Wood the Younger, using Bath stone. All the houses have the same Palladian design to the principal facade, but they are very different in the back. These houses were constructed in the 18th century. Work at No 1 started in 1767, followed by an extension two years later. If you want to find out more, have a look on their website.
After purchasing your ticket, you can see a short clip about the house and after that you can go on to visit No 1 Royal Crescent, where you are greeted by a guide. When we visited, the guide was nicely dressed in period costume and he had some folding spectacles, like the ones I saw at Blaise Castle House Museum in Bristol.
The house had different owners and in the 1840s it was a seminary for young ladies.
The first resident was Henry Sandford, he lived there for 20 years. He was educated in Dublin and was an MP. After his wife's death, he retired to Bath, most likely because he had health issues. His son, aged 25, took over the estate. A lot of information about him is available at the museum and on the museum's website.
In each room, a guide can answer any question you might have. I liked that they were very friendly, as anyone would expect, but they were knowledgeable too and they answered our questions.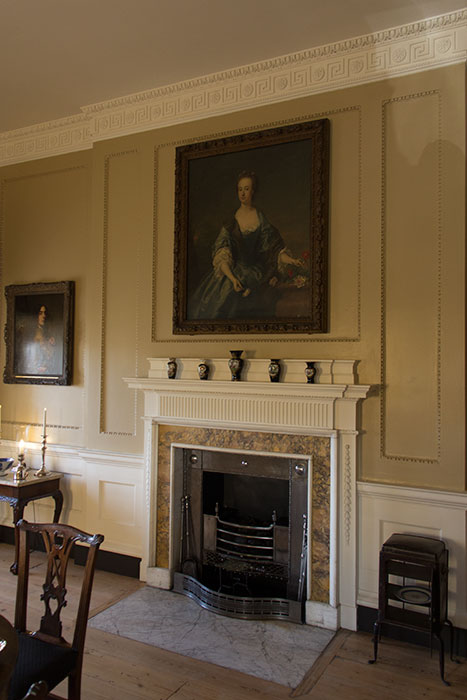 Isn't that a fantastic view?
The Housekeeper's room, quite big and looking lovely.
No 1 Royal Crescent has only a small courtyard and not a back garden as the other houses on the street.
The kitchens can be seen. They do have some replicas that people can touch, like that iron on the board. I was surprised to see how heavy it is. I was expecting it to be heavy, but not as much.
There are many more rooms to discover in the museum, than the ones I've shown here, so do visit the museum.
No 1 Royal Crescent is on 1 Royal Cres, Bath BA1 2LR. Car parking nearby is seldom, so I would suggest using one of the ones in the city centre and walk. They are open almost each day, but do check before going to visit. The entry fee is £10.30 for adults. There are some discounts, for members of Art Fund. Also, you can take a Combination Ticket for No. 1 Royal Crescent, the Museum of Bath Architecture, and the Herschel Museum of Astronomy. I visited all three and I thought the Architecture museum is not as great, but you can visit it for free, why not? The other two worth a visit anyway, so a combination ticket might be the best option.