A few months ago, in May, I've reviewed Timeline and Dobble. I loved those games and I was delighted to be sent the newest Timeline game: British History. I learned British history mostly by watching movies (The Tudors, Outlander), documentaries and visiting museums and locations managed by English Heritage and National Trust. It's an amazing way to learn new things, it's so much easier to remember them. I wasn't too keen on history at school and anyway, British history was just a small part of European history.  As a teenager I had no idea back then that I will move here, so it wasn't something I particularly paid attention to.
That being said. Lets talk about the game. These aren't the type of games that you play only once, they are so much fun. We've played a few times in the last months and not only while caravanning.
Timeline British History covers a range of events, from the formation of the islands to modern history like Prince William & Catherine wedding, the vote to leave the EU and the London Olympics. As with the other Timeline games, some events are so close that it's very hard to place them in a timeline and it makes playing the game so much fun.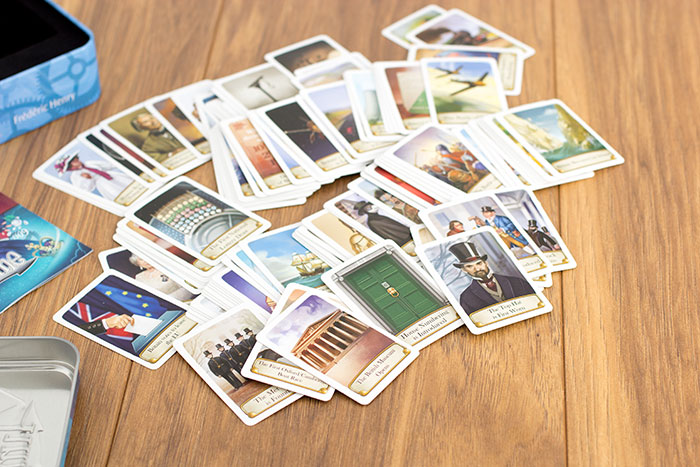 As we were familiar with the game, we chose 6 cards each and we've started playing. It was so engaging that we forgot to take pictures for the review. It just meant we had to play again and again.
If you have other Timelines, they can be mixed up and you can use all the cards. It will make the game harder, but that's the fun.
If you want to buy the game, it's only £13.99 and it can be found on Amazon and findyourgamestore.
You can also win one in my giveaway. Please read the terms&conditions at the bottom of this post. There isn't a mandatory entry, but sharing on twitter gives you more entries. Good luck.
Terms and Conditions
This giveaway is opened to UK residents only and closes on 31st October.
The prize worth of £13.99 and there is no purchase necessary. No cash alternative is available.
The winner will be contacted on the email address provided, so please make sure I have your email address. If the winner will not respond in 28 days, a new winner will be picked up.
I will dispatch the prize myself with Royal Mail and get proof of postage. I will not be responsible for items lost in the post.
All entries will be checked.