Allotment Vegan Eatery is a restaurant in Manchester. They too are participating in the Eat Out to Help Out scheme, so we took advantage and visited them earlier this week. We've decided to go for a 3 course meal despite being a bit late, as I was very curious how their food is. I've been wanting to go there for a while, but kept postponing.
The restaurant is beautifully decorated. There is plenty of space between tables and, of course, there are sanitizing stations. The starters are about £6 and the mains were £12.50 and £15, while the desserts were £6 and £6.50. Considering the prices I had high expectations. I was happy overall, but I wouldn't necessarily order the same thing next time. I will talk about each dish on its own. In no way this is a negative review though, as it's down to my own personal preference.
Paneed Mushrooms – battered button mushrooms served with mustard aioli. These were so good and I loved that their batter was different from the one used for the cauliflower. I would gladly eat these again and the portion size was great too.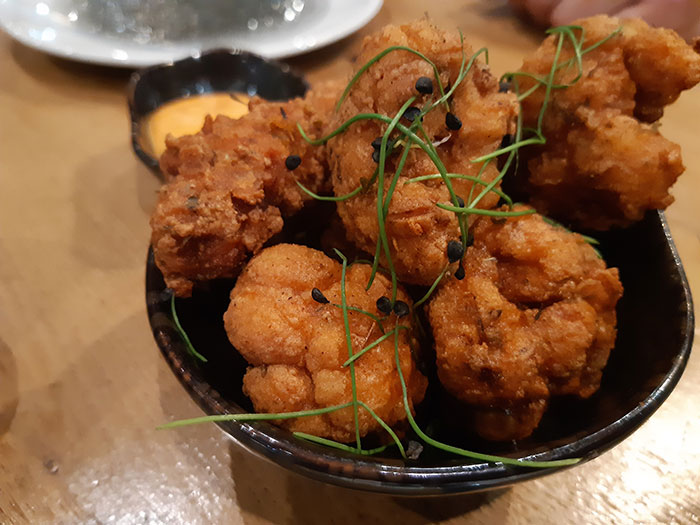 Cauliflower wings served with sriracha mayo. These too were delicious. They were a bit spicy, but that is to be expected. I would, again, order these. My husband enjoyed both the mushrooms and the cauliflower.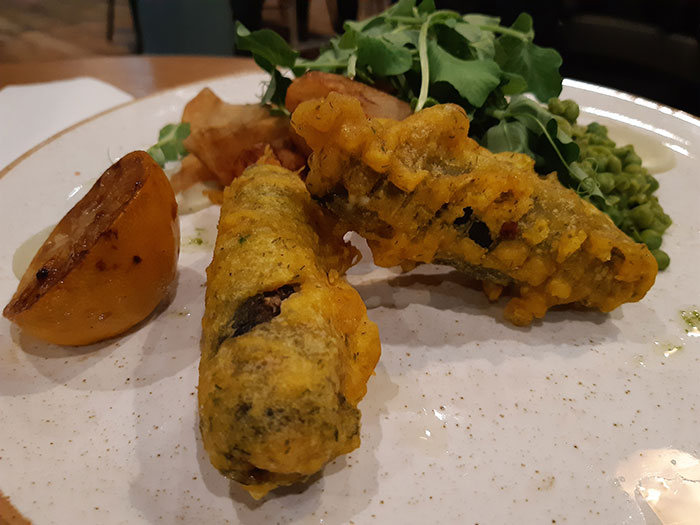 Fish and chips, as in banana blossom with chips and peas. I love banana blossom fish. These were a bit small, so more crunchy. While I found their idea of wrapping the blossom in nori really good, I prefer the taste of the fish and chips at the Veggie Republic, Liverpool.
What let down this dish was the chips, which were reheated. At that price, I would expect better quality chips, similar to the rest of the meal.
Jackfruit Tacos with BBQ sauce, served with guacamole and salsa. The salsa was making the dish a bit too spicy, as the tacos were spicy, but that came on a side, so you can put as little or as much as you like. I enjoyed this dish.
Cheesecake, they had blueberry when we went there. This is another one I was not 100% happy with, but my husband enjoyed it a lot. So, again, it's a matter of preference.
Hazelnut slice was something both myself and my husband loved. I would order this next time without a doubt.
The restaurant was very busy when we arrived, but I was able to take a few pictures after most visitors left. We booked for 8pm as we had to travel from Liverpool and we wanted to have plenty of time and not miss our booking. It also meant that we could find on-street parking (free after 8, but nobody checks a couple of minutes before that, obviously). I've enjoyed myself at the restaurant, the staff was busy, but friendly.
Allotment Vegan Eatery is on 18/22 Lloyd Street, Manchester, M2 5WA.