Gorbachev died and today all the news are saying how great he was, obviously ignoring that he kept the Russians in Afghanistan until 1988, besides crackdown in Kazakhstan (1986), massacre in Georgia (1989), "Black January" in Azerbaijan (1990), and crackdown in Lithuania (1991). Between tens and hundreds of people died in these crackdowns. Also, Chernobyl, that was under his watch too, when the Russian authorities did nothing to notify of the danger of radioactive fallout. Let's keep a clear perspective.
This month we were busy renovating the kitchen. We had good progress and by the end of next week we should be done or nearly there. We striped everything, changed the structure of the 2 walls toward the living room, resurfaced the floor, changed the window, changed some pipes to accommodate the new appliances, so it's not too bad considering how many things we've done so far. Also, suppliers and contractors can be tricky to deal with, as we are depending on their schedules too.
Luckily, I had many things to blog about from my trip to Italy, so I talked about Padua, Imola, Ferrari Museums (2 of them), Bologna, and Venice. Next month I will blog about the remaining places I've been too, which is great as I will be very busy with the kitchen anyway, so having content readily available is fantastic.
Besides, we walked a bit, when we had to wait for things to dry and so on. We visited Gwrych Castle, which looks great, but their facilities are not exactly good, so I've decided not to blog about them. I also went to the Tudor exhibition in Liverpool and it was fantastic. We went to a nearby National Trust castle and that was lovely for another day out. We've been to Manchester too, so we did a few things even with the disruption caused by the renovations.
It does look stunning though.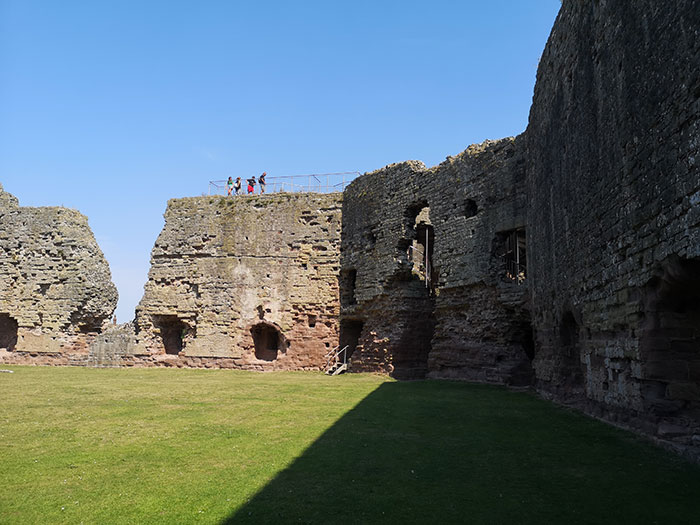 We've also been to the Rhuddlan Castle nearby and that is lovely too, but much smaller.
Green Island Bistro is a vegan restaurant in walking distance from Rhuddlan Castle and the waterfall pictured below. I loved their food, especially the bubble tea and that rich and delicious chocolate fondue.
Rhaeadr Dyserth Waterfall is a must see in north Wales. It's very close to the car park, but there are walks starting from there, so one can do a bit of exercise.
1. New life. 2. Ice coffee. 3. Cute cat that allowed us to pet her (briefly!). 4. New windows. 5. Frost burgers for lunch. 6. Local pub means cute dog. 7. Walk. 8. Bees in the garden. 9. Liverpool. 10. My garden. 11. Finished a book in Spanish. 12. I found out about Green Island Bistro in north Wales, a place we've been to during the weekend. 13. We decided to visit Gwrych Castle on Sunday. 14. Rhaeadr Dyserth Waterfall. 15. Lavender latte at The Vibe. 16. The Tudors. Passion, Power, and Politics exhibition. 17. Chocolate filled churros are amazing. 18. Tomatoes from the garden. 19. Tomatoes from the garden, part II. 20. Pizza, nettle spritz, and affogato. 21. Vegan scones at Rufford Old Hall. 22. Beautiful field (from the day before). 23. Black ribbon day – European Day of Remembrance for Victims of Stalinism and Nazism, so I shared 9 relevant books, but when it comes to Communism, some are rather new, unfortunately, as Russia is still a communist country. 24. Slava Ukraini! 25. Apples from the garden. 26. Delivery of Yaro. 27. Kitchen renovations are going well, flatpack furniture in the van. 28. Max won from 14th position, what an amazing race. 29.
30. Apples from the garden, again. I love picking up fruits directly from the tree. 31. Books in August.
This month I only read 7 books, but I enjoyed all the non-fiction. The fiction one, The Open Door, was a coming of age novel by an Egyptian author, so interesting from this point of view, but coming of age is not a subject I'm found of.
The last book was by Hitler's secretary, one of them as he had a few, and it was a fascinating read. She was unapologetic, but a Nazi nonetheless. Her comments on why Britain should surrender and join Germany in taking over the rich fields of Ukraine was similar to what today western tankies are saying. It was really interesting to read about Hitler the man, which was a nice boss, something I can't say I was expecting. He loved his Mercedes. After the war they said that they were not aware of what SS was doing and the death camps and so on, but they were well aware of death and destruction the war caused. After the war she got a job and lived till 76, not much happened to her despite being a cog in the Nazi war machine. I gave the book 5 stars for historical importance. She was a racist and xenophobe, self-centred, but a good writer, the book reads easily.
Books I read in August:
Victorian Fashions for Women by Fiona Kay, Neil Storey – 5 stars
The Devil's Workshop by Adolf Burger – 5 stars
La propaganda franquista by María-del-Pilar Rodríguez-Hernandez – 4 stars
The Open Door by Latifa al-Zayyat – 3 stars
The Tudors by Charlotte Bolland – 5 stars
War Trials by Will Yates – 4 stars
He Was My Chief by Christa Schroeder – 5 stars
You are invited to the Inlinkz link party!