We had another improvised Halloween. On the 30th we were getting back home from Edinburgh, we want to bake 2 of final challenges from Bake Off and we had work to do too. I say we want to bake 2 challenges because my husband is very much involved in this week's bake.
We were thinking of the Breaking Bad theme, but the chemistry jars I've ordered arrived broken. I said maybe we should make a "Walking Dead" theme, as we could cut-up some clothes and the make-up was quite basic. My husband did that, he cut one of his shirts. He considered splashing red food colouring too, but he wasn't sure if it would stick to the fabric or would stain something else in the house. While I think my Walking Dead idea was great, I've decided to dress up as a witch, but with high heels and nice makeup, no green in sight.
For my costume I've used my husband's vampire cape from a couple of years ago, a spider that was used for decor, a purple spider web scarf that I had last year too, a black summer dress and a pair of black shoes with 5 inch heels. I also had a pair of coffin earrings from a few years ago.
I was wondering if the bat earrings were better, but with the coffin cake, I think it was a good choice. Also dangling earrings are more appropriate for an evening outfit.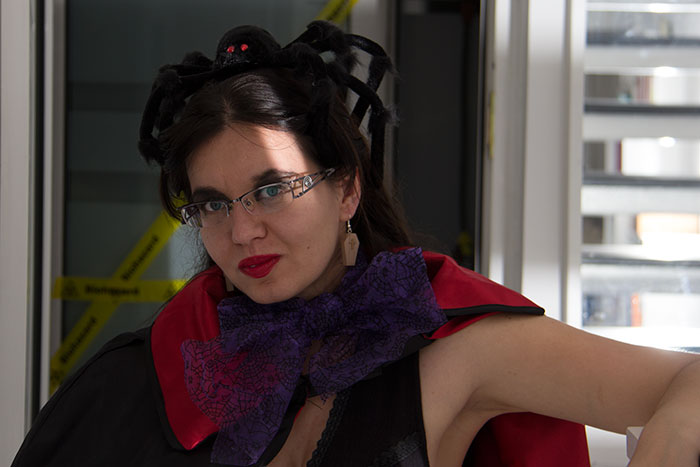 The pumpkin and the hand were a success with the children, they were all interested in them.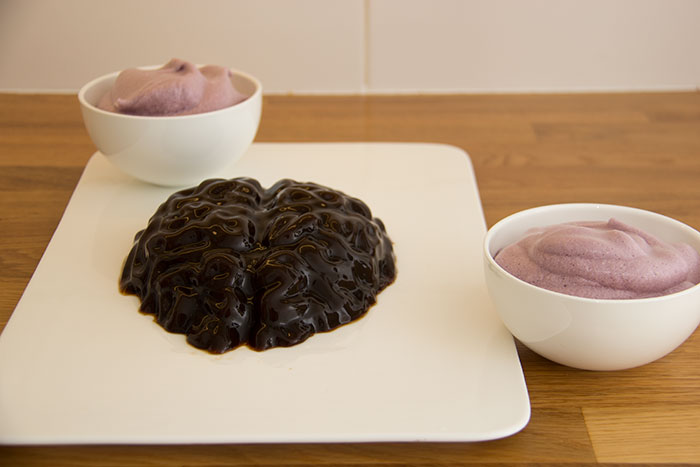 Coffee brains & purple meringue-foam

Coffin with orange and black icing on top

Creepy pumpkins with orange icing
I've decided to make the icing with bits instead of smooth for an extra-creepy effect. After I've iced the pumpkins, I've added the black food colouring for the coffin-cake.
This is how we've spent Halloween this year. It was fun, I love having children over. We had so many, more than last year. I ran out of candy and chocolates and I gave them some healthy snacks. Next year I'll make sure I have loads and loads of sweets for them.