Exactly one month ago, on the 26th, I made the last update, now it's time for My garden in April update. I took the pictures earlier today. Check the March post is you want to see the transformation, it's huge. I planted a few more bulbs, hence the need for some exploratory excavation. I found a few, pressed them back in, before digging for a suitable place for the new plants. Right now I have no idea what is planted where, besides the plants from last year and the ones that are now in bloom. It's not the best approach, I know.
I am constantly surprised by how many plants survived the winter and very happy about it too. Passiflora is not looking good, so we cut it down, hoping that it will pick up in the coming months. If not, we will see what we can do, maybe try to move the indoor passiflora outside. This is not photoshoped, but taken again, after asking Festus to move for a bit, the first picture taken is the one below.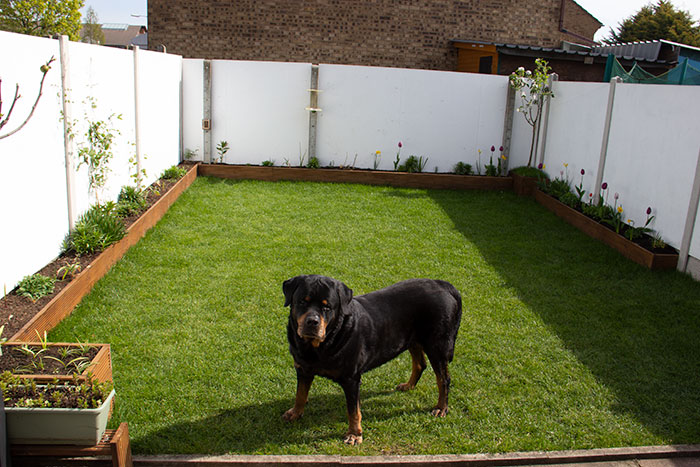 The grass, which was installed about 6 weeks ago, is doing great. It is gorgeous, really lush and green. My husband cut the grass three times, it grows incredibly fast. Also, our dog Festus loves the new grass, see the picture below.
He is doing daily grass rolls. As the weather was great this month, we spent a lot of time outdoors or in the conservatory, while Festus was outside. I did a lot of reading outside and my husband worked at his laptop from outside too. We both enjoy watching Festus doing his rolls, as he is so funny.
This is "our" pigeon, also known as "our chicken". He is not afraid of Festus. As for his part, Festus was trained (educated) to ignore birds since he was a pup. I spent hours with him calm near pigeons when he was only 3-4 months old and, after 11+ years, he is still ok with them.
I bought two plants from Arley Gardens and this is one of them, is called Lutea. It grew a bit from when we got it and the three small plants are bigger too.
The second one was this allium, which is growing beautifully too. I can't wait for it to bloom.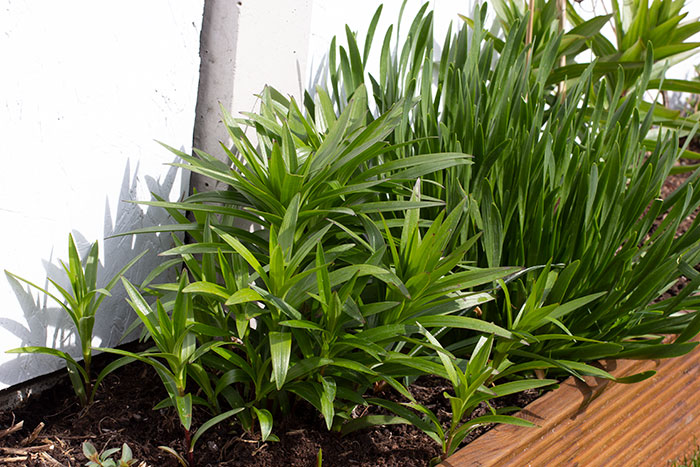 The lilies are growing, but they are spreading a bit too much. I plan to cut some of the flowers, to thin them out. If anyone has experience with lilies, please share your opinions on this. I hope I will not have to take them out of the raised bed completely.
Near the lilies are the alliums, which are growing so beautifully. My husband and I love alliums and planted a few more last month. Fingers crossed that they will grow too.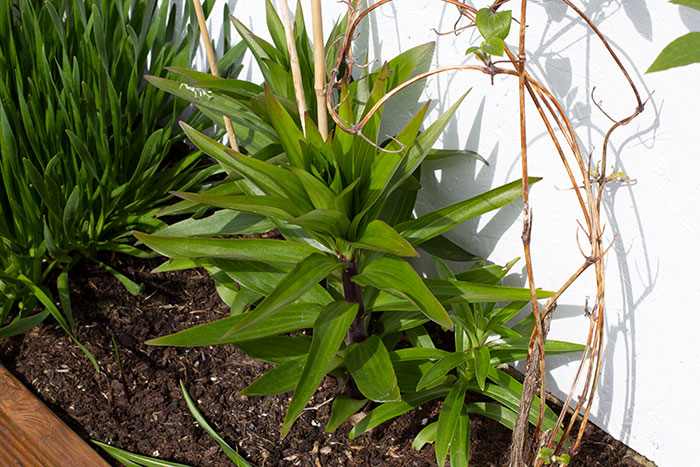 These big lilies are so much better, they are going to have a greater impact in the garden, but it doesn't look like they are going to take over. I'm very happy with them.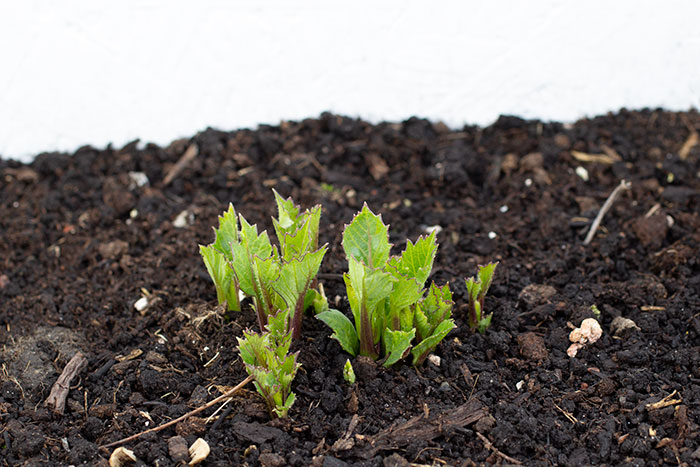 After watching regularly for updates from my dahlias, two of them started to grow some leaves. These leaves are so small, this is close-up. I think they are less than 3-4 cm tall as it is.
I planted tulips and many of them are now in bloom. I love how long lasting these flowers are, which was unexpected. Besides these tulips from bulbs, I got some ready-made small tulips, like the red one in the background. I replanted them and they are really nice, long-lasting, but smaller, so it makes for a nice addition to the raised beds.
The mint plants moved around in their pots, which looks nice. We can start harvesting soon.
We were not sure about the fig tree, but shortly after I wrote last month that I wasn't sure if it survived, new leaves started to appear, and new fruits too. How wonderful is that. I was afraid it got too cold for it, but it didn't. I didn't fleece the tree or anything in the winter.
The leaves are still very small, so I am very curious how fast they will grow in the next month. One of the climbing plants is growing at a very fast pace.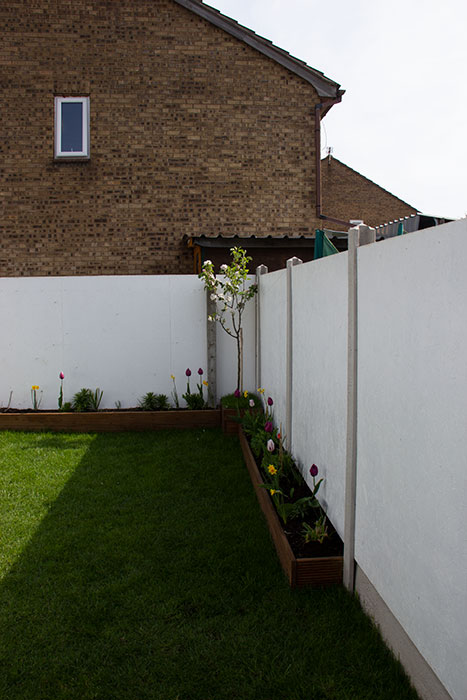 The raised beds are looking better than last month, as the plants are taller now. The tulips and daffodils are still in bloom after weeks. I just love it.
The family apple tree is in bloom too. I did not make notes of which branch is which, so it will be a journey of discovery when it comes to identifying the apples. There are 3 different kinds in this tree.
The rosemary bush grew a lot, and so did the raspberry bush in the back.
The cherry tree was the first to have leaves and flowers. I'm so happy that it survived the winter, as it was the last one we got and it didn't have a lot of time to recover before it lost its leaves.
In the background there are two red growing bags. I planted an Apache potato, beetroot, tomatoes, and courgettes. I am not expecting for anything to grow, besides potatoes, as I already planted one in the winter and had a relatively good harvest in December.
The strawberry plants are so wonderful. They had a couple of green leaves in the winter too and they started to grow nicely now, in spring time.
The edible pansies are doing great too. The only thing that did not survive being moved outdoors was the chilli plants. All four died and I will remove them this week. I am not sure what I'm going to plant next, maybe some salad leaves. I still have 3 chilli plants indoors, on the window sill, so that's good.
These are conservatory plants, three kinds of edible flowers and dill. I planted some basil, but so far it did not appear. I will buy a plant from the supermarket and transfer it to a bigger pot if the basil is still not willing to grow.
This is my garden in April update. I would love to hear any advice regarding the lilies, so please do tell. Also, if you have advice regarding anything else, please share it too.