I received this Peppermint Intensive Cooling Foot Rescue from The Body Shop* in a goodie bag at an event I went to last month. I've been using it for almost a month and I wanted to make a review as I think the cream is great. I have a face cream from that goodie bag, so I might blog about that one too.
Previously I was using a Foot Balm with peppermint from The Celtic Herbal. It was handmade in Wales, oily as a balm should be and I was very happy with it. I finished it at the beginning of last month, so I was ready to try a new one. When I saw this in the goodie bag, I though this cream would be a better choice for the summer as it's less oily.
The Peppermint Foot Cream is £9.50 for 100ml and I think it's good value for money. The foot balm I used before is just shy of £5 for 25ml, but I was using less. Price wise it's similar to the one I bough.
The smell is lovely and I like the texture of the cream too. It gets absorbed quickly into the skin and it moisturizes. My feet were soft before using the cream and they are still soft. I use it mainly in the evenings and very rarely during the day.
I can't say if it would have helped to soften the feet or if you have cracked heels. In my opinion, I don't think only a cream can do that anyway, it needs a bit more TLC, like using a scrub and moisturizing more often, not only in the evening.
The only negative I can say about the cream is that it's called Peppermint Intensive Cooling Foot Rescue, but I don't seem to feel the intensive cooling part, the tingling sensation I was expected it to have. Saying that I'm not bothered by this being an understatement as it's not something I would look for. Others might want exactly this, it should do what it "says on tin" and it doesn't.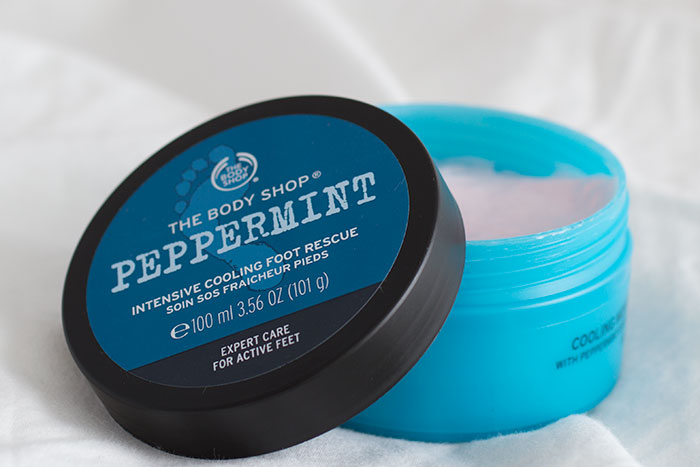 Would I buy it? Yes.
I saw that some bloggers mention the ingredients in their reviews, so I though it's a nice idea to add them. I usually look at the ingredients, but because it's The Body Shop and all their products are Cruelty-Free I didn't have to check.
Ingredients:
Aqua (Solvent/Diluent), Glycerin (Humectant), Cetearyl Alcohol (Emulsifier), Myristyl Myristate (Emollient), Glycine Soja Oil (Emollient/Skin Conditioner), Propylene Glycol (Humectant), Theobroma cacao (Emollient), Glyceryl Stearate (Emulsifier), C12-15 Alkyl Benzoate (Emulsifier), PEG-100 Stearate (Surfactant), Dimethicone (Skin Conditioning Agent), Panthenol (Skin/Hair Conditioning Agent), Cera Alba (Emulsifier/Emollient), Lanolin (Emollient), Glyceryl Caprylate (Skin Conditioning Agent), Mentha piperita (Fragrance/Essential Oil), Levulinic Acid (Skin Conditioning Agent), p-Anisic Acid (pH Modifier), Xanthan Gum (Viscosity Modifier), Sodium Hydroxide (pH Adjuster), Acidophilus/Grape Ferment (Natural Additive), Disodium EDTA (Chelating Agent), Menthol (Fragrance/Cooling Agent), Limonene (Fragrance Ingredient), Linalool (Fragrance Ingredient), Propyl Gallate (Opacifier/Antioxidant), Tocopheryl Acetate (Antioxidant), Butylene Glycol (Humectant), CI 17200 (Colour), CI 15985 (Colour).
*PR Samples.