update: It's the first time I'm writing an update like this, but the fireworks in London yesterday were just amazing and I wanted to share a couple of pictures from BBC. The whole thing was so beautiful, starting with the Lionesses' historical winning the Euro 2022, it marked 50 years of London's Pride, sent a powerful message of support to Ukraine. I love that it had the wonderful tribute to the late Queen Elizabeth II, including a voice recording, and it also had a message from King Charles, where he talked about the need to preserve our planet's future. That is something the King talked about since before I was born.
December was a busy month, mainly with my studies. January will most likely be the same. Due to strikes I only went once to London, but it was better in a way, as I could focus on my research and writing my dissertation, which is going really great.
Before talking about fun stuff though: "The body of a seven-year-old girl, she said, for example, was exhumed with seven different traces of sperm inside her corpse, believed to belong to different russian men." – UK to train Ukrainian judges to prosecute mass russian war crimes. Don't forget Ukraine, it could have been anyone of us. We were born a bit further away from russia only by chance. If you are on twitter, watch this clip, is under 2 minutes. It's an Ukranian child who thinks the sweets offered are russian. It's heartbreaking, but a must see too.
We've been going to our favourite cafe in Liverpool, to celebrate a few things, such as submitting an assignment. It's just lovely there.
I blogged about Christmas, click to see pics of the gifts and the food if you are curious. We bought many of our gifts from Ukraine and these are some of them. I am very happy with all. Also, how cute is the tank wrapping that my husband made for the Christmas-day gift? I love it!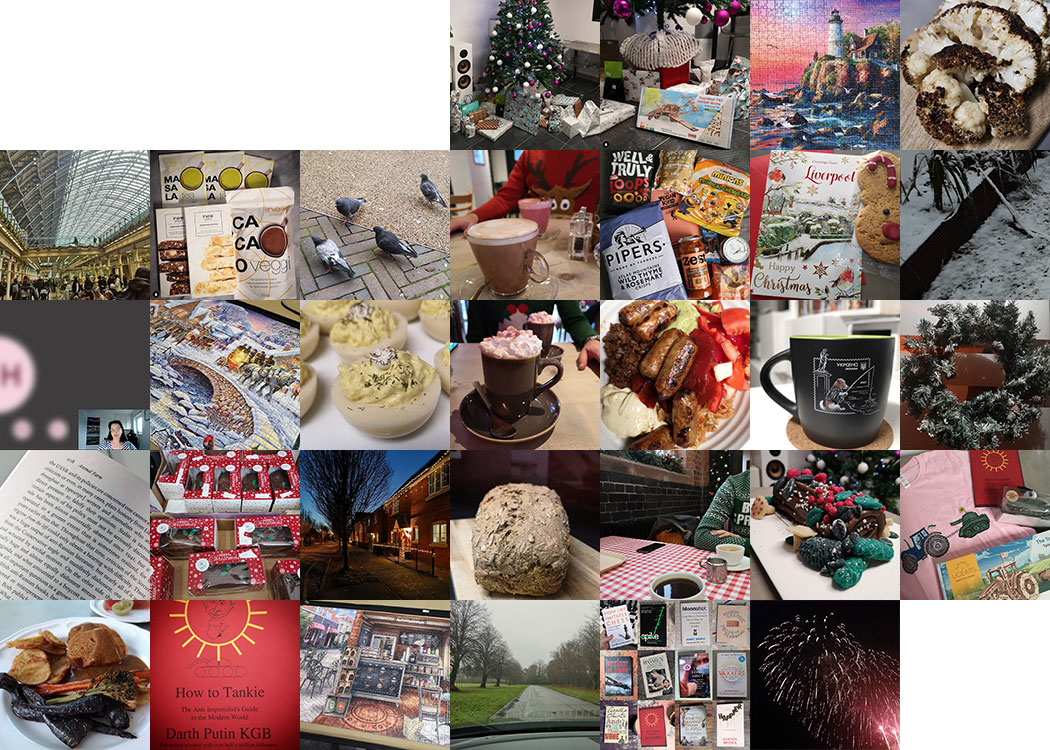 1. Another year of advent gifts instead of regular Christmas gifts. 2. The Bayraktar TB2. 3. We had fun re-doing an old puzzle. 4. Cauliflower roast. 5. St Pancras, another day in London. 6. Vegan chocolate and drinks from the platform Made with Bravery, made in Ukraine. 7. Shared my lunch with pigeons. 8. Lattes at the Vibe. 9. Last Vegan Kind box. 10. Funny Christmas card for the neighbours. 11. Snow! 12. Last seminar of the term was online. Term 1 is officially over. 13. Christmas-themed puzzle. 14. First attempt at making vegan devilled eggs. 15. Celebrating the end of term with hot chocolate. 16. Homemade poke bowl. 17. A mug as one of the Christmas gifts, with Patron, bought from Ukraine. 18. Wreath. 19. Doing a bit of research, this time re-reading parts of Animal farm. 20. I picked up my Yule Log from Plant Vegan, a vegan shop in Liverpool and I had to take a picture of these beautiful Yule Logs (made by a local bakery, also vegan). 21. From our evening walk. 22. Freshly baked bread, with 50% Ukrainian flour, and lots of seeds. 23. Coffee at Speke Hall. 24. Decorate the Yule Log with homemade marzipan. 25. Christmas gifts. 26. Enjoying the leftovers for Boxing day. 27. How to Tankie, a must read. 28. Puzzle. 29. Trip. 30. Books in December. 31. Happy New Year!
I did it! I finished 13 books this month and reached the new reading challenge goal of 89, the same as last year. I am very happy and I will set up the same number for next year too.
This month I finished some pretty fascinating books, some for university and others for fun. From these I highly recommend How to Tankie by Darth Putin, it's a short 60+ pages book on how to be a better tankie and understand that facts are imperialistic. It's hilarious!
I liked the books on covid, really interesting to read what people directly involved thought at that time and how they are reflecting on the period. It's for my studies, so I will read many more on the subject next year. I will also read more by Agatha Christie because I find them fascinating.
Books I read in December:
How Life Imitates Chess by Garry Kasparov – 5 stars
A Prisoner of Stalin by Christian Huber – 4 stars
A History of Women in Medicine and Medical Research by Dale DeBakcsy – 5 stars
The Long Shot by Kate Bingham and Tim Hames – 5 stars
Spike by Jeremy Farrar – 3 stars
Moonshot by Albert Bourla – 5 stars
Designing Graphic Props for Filmmaking by Annie Atkins – 5 stars
Vaxxers by Sarah Gilbert, Catherine Green – 4.5 stars
And Then There Were None by Agatha Christie – 5 stars
Charles and Ada by James Essinger – 2 stars
How to Tankie by Darth Putin – 5 stars
How to Manage Your Slaves by Jerry Toner – 5 stars
A Little Happier by Derren Brown – 5 stars
You are invited to the Inlinkz link party!