I promised to write about how difficult it is to be vegan in Italy. We've spent almost two weeks there and travelled in many northern cities, so I think I got a pretty good idea of how it is. After coming back I had a chat with a vegan Italian and they agreed with pretty much everything I said.
Because I didn't buy clothing I can't comment on those. I did find beauty products with ease though, but this post is mainly about food.
Firstly, the restaurants. Amazingly, there are lots of vegan restaurants. In each place we've been, including a smaller city such as Maranello (under 20k people), there was a vegan place to eat. In bigger cities, such as Milan or Bologna there were many more.
In Venice there are more vegan options at restaurants, which is understandable as there are so many tourists and they need to compete. There is a lovely vegan restaurant and we went there for dinner.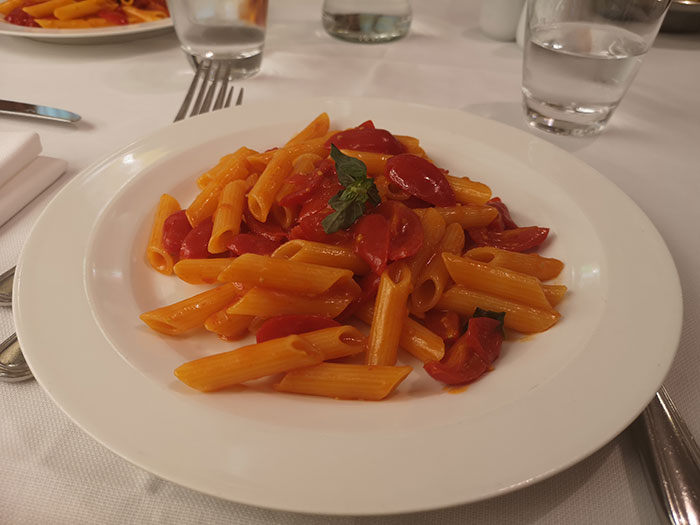 If you are not going to a vegan restaurant, there is a strong possibility you'll get the "Pasta al pomodoro" option, thus only pasta and tomatoes. You need to check that the pasta is vegan, without eggs. From my experience, they have vegan pasta that is also gluten-free, most likely to make their lives easier by having the non-standard option in one place. While pasta al pomodoro is really lovely and I enjoyed this one, I wouldn't be excited by only this option if I lived in Italy and had to deal with it every time we went out at a non-vegan place.
What's annoying is that Italians have so many veggies in their dishes, but keep adding a bit of milk, egg, and some meat on top.
As I said, in big cities there are many more options. For example, in Bologna we had vegan croissants with vegan cappuccino and espresso.
In Italy we had poke bowls. These are made with meats, but it seems that all poke bars have at least a vegan option. As they are made on the spot, they can tailor the bowl to ones' needs. These were so good that now we are having poke bowls regularly.
If you are out and about, then fruits are a perfect option. We got these from a fruit stall. In Verona there were a couple of these dotted around the market. It's a filling option for a snack and naturally vegan. These were very popular, which is understandably. In the heat of the summer, some fresh fruits sound like a much better option than any kind of snacks (or even lunch).
Now, let's talk about supermarket options. While restaurants are quite limited in their offering, the supermarkets are so well stocked. We got all of this from a local supermarket, while we were staying in a small city. Houmous, plant-based meats and cheese, olives, lots of types of salads, ready-made veggies, delicious juices, and filled croissants. Not all pasta is vegan because of the eggs, but they had a couple of options, so it's not too bad. We even got two types of ice cream.
Basically, as a vegan in Italy you can eat all sort of delicious and healthy foods at home.
This is our breakfast, in Verona.