My husband and I went to Virtual Reality Escapes, a VR centre in Chester. After having a lot of fun, I've decided to take some pictures and blog about them.
We've decided to go to Chester on my husband's day off. So, we bought tickets to Virtual Reality Escapes and made a reservation. Both of us played lots of computer games years ago, so we were excited to try the VR too. Before going there, we had a look on the website and we saw lots of interesting games.
Thinking that we'll need a bit of time to get the grips with how the games are played, we took 1h slots. There are two other options, 15 minutes and 30 minutes, depending on how much time you have.
We've got there when we had our reservation. The guy who greet us was very friendly.
As it takes a couple of minutes to set up the sets, we've waited in the waiting area.
This is the set, a couple of remote controllers, one for each hand, and the goggles. Because it was our first time, we had a bit over an hour, so to understand how everything works.
During playing you can switch from one game to another. The games are on three levels, so you can have a go at an easier game first.
The first game I've tried was TheBlue, it is an immersive underwater experience. There are three episodes. First one is Whale Encounter, where you are face to face with a whale, you can interact with small fish. The second episode is Reef Migration, and it's stunning too, again, you can interact with the jellyfish. The last one is Luminous Abyss, where your remote becomes an underwater torch, so you can see what is around you. It is amazing.
The second game was Nefertari, a recreation of the tomb of an amazing Egyptian pharaoh. Wife of Ramesses II, she was a Queen who was able to read and write, and would have diplomatic correspondence, quite unusual at that time. It was great to be able to see the tomb, walk through it and see it so close. I would love to be able to see many more things like that.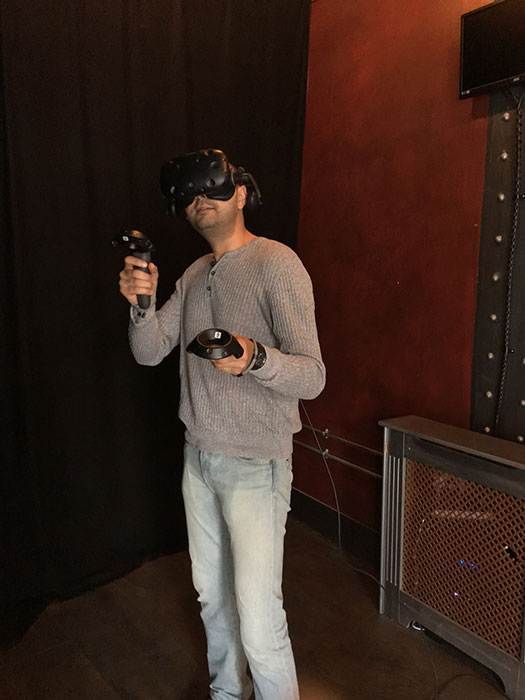 I've also tried Google Earth VR and International Space Station Tour. For both I was "suspended" and it's not something I'm feeling comfortable with, as I have Acrophobia (fear of heights). But, both are fascinating if you are not bothered with these things. I looked, but didn't spend a lot of time in these two games, maybe a couple of minutes or so.
Now, let's talk about the playing games. First of all, Fruit Ninja, a game I saw online and I thought is stupid. Well, it gets addictive, I managed to put my name on the score board in the "Survival" mode. Basically, in Survival, you have to cut fruits that are thrown at you, using two ninja swords. It's more exciting than it sounds.
Last but not least, Arizona Sunshine, a take on Walking Dead, narrated by someone who sounds a bit like Negan. My husband loved that game, I loved that game too. Next time we might play together, an hour, only that game. We used to play shooters, so it's something similar to what we were doing as students, years ago. It's strange how the remote control feels like a handgun. I was able to use both hands for the gun, despite having controllers in both hands. It's quite strange to realize how I can trick my brain into thinking something, when I know is not real.
I didn't have a lot of time to play Arizona Sunshine, as the time ran out, but, even so, I managed to take a few head-shots. You might remember that I'm quite good at shooting.
At the moment, the prices are between £7.50 for 15 minutes of gaming during the weekdays and £25 for 1h of gaming in the weekend. You can see on their website short videos of most of the games they have.
Virtual Reality Escapes is on 2B Upper North Gate Street, Chester, CH1 4EE. There is no free parking nearby, but is close to a multi-storey car park that is quite affordable.
How does Virtual Reality Escapes sound? Is it something you'd might like to try?