Bake Off was at the 11th series. I baked along, again, but this time I made only vegan items. I will talk about in detail, but, before that I should say that this is, most likely, the last year I'm baking along. Furthermore, this might be the last year I'm watching Bake Off. It got to a point that I really can't stand the jokes. It seems that half of them are toilet jokes while the other half must be about phallic shapes, "buns" as breasts, and, of course, the evergreen "I like your nuts" comment. I want to watch a baking show from where I might learn something or have fun watching people figuring out how to make a recipe they never heard of before… but having to listen to sleazy jokes is tiresome.
On top of that, the contestants are made to say stupid things [my opinion]. It's Bake off… the 11th season and they still complain about the lack of details (in the technical), or how to make a dough or choux pastry?! Really?! Who even gets to be in the tent if they don't know by heart how to make these. Also, they have to stretch the bread dough so they can be filmed. Who does that in real life? It's just pointless. Bread baking is precise: the amount of strong flour, same amount of yeast, and water, baked at the same temperature will give you the same results each time. Also, kneading in the stand mixer should be also the norm too because we are not living in the middle ages, there is no point in kneading bread dough by hand.
I'm just tired of stupid jokes and complaining contestants, insufficient time in the technicals so they can laugh of how bad their bakes turn out, and unprepared finalists. When Laura was pouring yuzu juice into her custard mix my husband said that it will never set. Of course he was right. Now, because I mentioned Laura by name… she, amazingly, said she bought agar from Australia, why not just get it from Lakeland? It's only £5 there. She also imported fresh yeast from France, again… why not buy it from Morrisons (available on amazon deliveries). In addition, using fresh yeast for a bake with a set time is bonkers, which is why Paul was so puzzled when she mentioned it. The difference between Easy bake yeast and fresh yeast is that latter needs proving, about 20 minutes if not a bit more, before you can make the dough with it. Nobody can see the difference between loaves made with fresh yeast or dry yeast.
Now let's get to my bakes. I was happy with all, only once I had to repeat a recipe and that was for vegan choux. Choux needs to be airy and the only thing that makes them rise are eggs, so not exactly a recipe easy to veganise. It worked though and I'm delighted with that. All the recipes are on my food blog, CookStyle.
Week 1: Cake
Signature – Battenberg Cake
Technical – Pineapple Upside-Down Cake
Showstopper – Celebrity Hero Cake Bust
I decided to try a Battenberg, flavoured with strawberries and Champagne. It was really lovely. Batternberg is one of those recipes very easy to make vegan. Also, the marzipan should be homemade too, as the shop-bought one is full of sugar instead of being based on almonds. In the tent they made marzipan with egg whites, but it's not necessary. It can be easily done by mixing almonds with icing sugar and a bit of rose water or something similar. Why make it harder than it needs to be?
Week 2: Biscuits
Signature – Chocolate Florentines
Technical – Coconut Macaroons
Showstopper – 3D Biscuit Table Setting
I liked the idea of macaroons and they turned out pretty good. They needed a bit longer in the oven, but the flavour was good. I will make these again, that's for sure.
Week 3: Bread
Signature – Soda Bread
Technical – Rainbow-coloured Bagels
Showstopper – Large Bread Plaque
For bread week it was a very easy choice – bagels. I made these before, but never shared the recipe. I did not make rainbow coloured ones as I don't see the point in adding colour on something which looks amazing on its own.
Week 4: Chocolate
Signature- Chocolate Brownies
Technical – Chocolate Babka
Showstopper – White Chocolate Celebration Cake
It was not a question of which one to make, as my husband was very keen on the chocolate babka. It is delicious, I do have to agree with him.
Week 5: Pastry
Signature – Pasties
Technical – Eclairs
Showstopper – Caged Tart
I liked the idea of vegan pasties, especially as in the show they made a mess of it. None of them actually made Cornish pasties using the traditional dough. These are special as they need two types of fat, traditionally is lard and butter, but it can be made vegetarian by using vegan shortening and butter, or, of course, vegan by using shortening and margarine. I made before vegetarian ones and I will make vegan ones as well.
But, the challenge was to make eclairs. It was hard to find some inspiration online, so I've decided to use my choux pastry recipe and replace the egg with egg replacer. It worked great!
Week 6: Japanese
Signature – Steamed Buns
Technical – Matcha Crepe Cake
Showstopper – Kawaii Cake
I made a Japanese inspired cake with matcha. I'm not sure if it was according to the brief, but I was too busy to try something else.
Week 7: The '80s
Signature – Quiches
Technical – Custard & Jam Finger Doughnuts
Showstopper – Ice Cream Cake
Quiches are really good and I wanted to make one with vegan sausages. It turned out delicious, especially with the new kind of sausages that are available now on the market. The texture was good too.
Week 8: Desserts
Signature – Cheesecakes
Technical – Sussex Pond Puddings
Showstopper – Jelly Art Design Cake
I'm very found of vegan cheesecake. I made one with vegan mascarpone, no bake, and I plan to try another kind of vegan cheesecake, with tofu.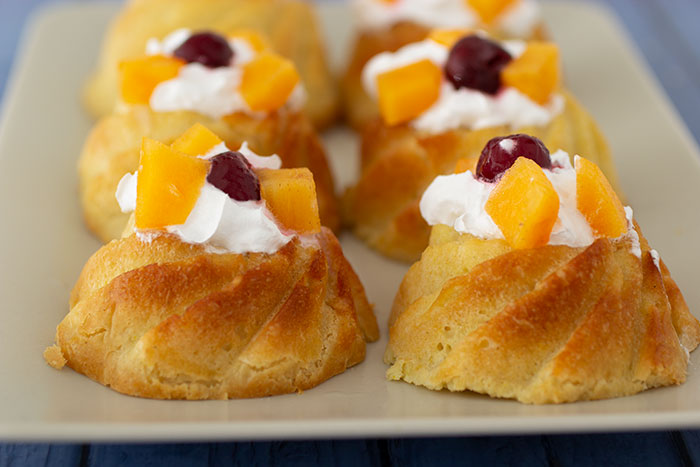 Week 9: Pâtisserie
Signature – Savarins
Technical – Danish Kransekake Cornucopia Cake
Showstopper – Cube-shaped Cakes
My husband is found of savarins and it was one of those really easy to veganise desserts. The dough is made with yeast. These turned out great from the first batch. I've added a bit of turmeric for colour and a bit of baking power to replace the eggs, while the milk was an easy switch to vegan milk. The whipped cream is from a spray, which is so very handy. I should bake these more often.
Week 10: Final
Signature – Custard Slices
Technical – Walnut Whirls
Showstopper – Colossal Dessert Tower
With Christmas approaching, I thought that a hot chocolate custard slice, served with whipped cream and marshmallows is a must. It was so good, I loved it. The custard was set with agar and the puff pastry was shop-bought.
Have you watched Bake off this year? What are your thoughts?