The title Books I read and books I didn't read sounds a bit strange, but this month I stopped reading 2 books. I stopped because one was terribly boring and the other one wasn't what I thought it would be. Initially I thought it's pointless to talk about them because I didn't finish them, but I've decided to mention them at the end of this post.
This are the 6 books I finished in April. I thought it will be 7, but I still have a few pages to read on the last book.
I've continued with the Cousins' War series because I love it. As I was telling my husband so many things about the books I was reading and he had some issues understanding whom I'm referring too because well, they had the same names (Edward had a three sons: Edward, George and Richard, while his brother George had a son Edward and his other brother Richard had a son Edward and so on). Starz made a series about The White Queen and my husband and I saw it. Now he is just as interested in the stories as I am. Now that there is a new series, The White Princess, which aired in April in the US, we can't wait to see it.
The White Princess by Philippa Gregory
This is the fifth book in the Cousins' War series. I loved it, it's well written, the subject is interesting and the way she portraits the characters is wonderful. But I couldn't love Elizabeth of York as much as I loved her mother Elizabeth Woodville (wife to Edward IV) or her grandmother Jacquetta.
Her story with Henry VII and his not so pleasant mother (if you remember her from my last post about books – The Red Queen) is a sad one. Henry VII was fearful and anxious. I imagine he loved her, but he was not like Edward, her father, confident and charming. I would recommend this book, as with the other ones written by Philippa, it's a delight to read.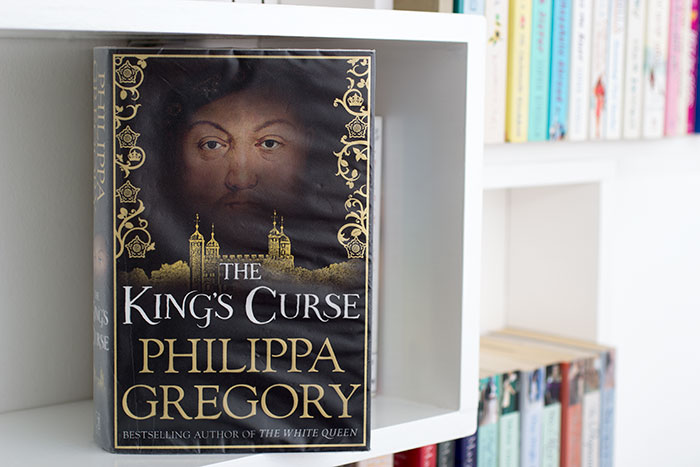 The King's Curse by Philippa Gregory
The last book in the Cousins' War series. This book makes the transition in the next series written by Philippa, The Tudor Court series.
The story of Margaret Pole, Countess of Salisbury, daughter of George of Clarence, niece of Edward IV and Richard III. Her story starts in 1499 and ends with her death in 1541. Margaret was an amazing woman, I loved her character. She was strong and loyal and she managed to do great things. Her life was not an easy one, daughter of a traitor, heiress of York under Henry VII and after that Henry VIII, from the house of Lancaster. She was the one that took care of Arthur, Henry VIII's brother and the heir apparent. Arthur died and she was a lady in waiting to Catherine of Aragon. After two years, her husband died and she had to make hard choices due to lack of funds to cover the high taxes Henry VII had imposed. She gave two of her sons to family to raise, another one to the church, going with the two smallest children in an abbey. She become lady in waiting to Catherine again when she married Henry VIII and was crowned Queen. She took care of Mary and loved her dearly.
When Catherine was put aside by Henry, Margaret was in a dire situation again. She fought for her life and fortunes, but, in the end, her eldest son was executed. She was executed too, in the Tower of London, at the age of 68.
Secrets of π. Why is it impossible to square the circle by Joaquin Navarro
The book is slightly boring at times, too many formulas. But, on the whole, I enjoyed it and I would recommend it. It had an odd chapter about PI-mania and it was hilarious to read, I think it brought a nice touch to the book.
Besides the chapter about PI-mania, the last one, about PI and infinity was my favourite. It made a reference to Jorge Luis Borges's Infinite monkey theorem. I find it fascinating.
Shadow of the Titanic. The extraordinary stories of those who survived by Andrew Wilson
This is my second book by Andrew Wilson, first one being Alexander McQueen – blood beneath the skin and I enjoyed a lot. The last survivor died in 2009, aged 97, but their stories still live on in books like this and part of exhibitions in museums.
Before reading the book I was expecting happy people with wonderful lives due to the traumatic events that happened in a calm night of April, 105 years ago. The book can't be further from the what I've expected it to be. Most stories are tragic, as the survivors struggled with survivors' guilt and PTSD in an era when nobody was aware of these sort of things.
Last year at The Great British Sewing Bee, they talked about Lucy Duff-Gordon, a famous lingerie designer that survived the sinking of Titanic. My opinion of her changed drastically after reading the book, she had a monstrous ego. Jack Thayer's story is sad, he jumped in the water and was rescued, he went to fight in France in WWI, but ended up committing suicide after his son died in WWII and his mother died in the same year. Dorothy Gibson left America for Europe, she was imprisoned in a concentration camp, escaped, but died in February 1946 in Paris. Helen Bishop was rescued from the Titanic, survived an earthquake, survived a terrible car crash, had a successful brain surgery, but she died in 1916 after tripping over a rug.
There are many more stories in the book, all as fascinating.
I've Got Your Number by Sophie Kinsella
Poppy finds herself in a predicament when she realizes she lost her engagement ring only a couple of weeks before her wedding. Her phone is snatched from her hand by a thief in the same night. At that point, Poppy finds Sam's phone in a bin in the hotel foyer. She takes the phone to give the number to the hotel to contact her about the ring without having to call her at home where her fiance might be. She and Sam start talking and texting and things get complicated.
At the begging I thought the story doesn't seem realistic, but in the end, some of the things I thought are just daft, weren't because the other characters in the book had ulterior motives. I enjoyed reading it, as I enjoy Sophie's books.
A Street Cat Named Bob by James Bowen
A friend recommended this book and I'm happy she did. I couldn't put it down, it's a beautiful story of a street cat and a recovering addict. They save each other. There is a movie made after the book and I want to see it, when I'll have the time.
As a pet owner, the book made me emotional at times, when parts of his story seemed so real, similar to the ones we've been through. After I finished the book I searched them and it was amazing to see them together on videos on youtube. If you love animals you would love this book. If you are a pet owner, it will melt your heart.
The first book I didn't read was Understanding Fashion History by Valerie Cumming. The name of the book sounded amazing, it had a beautiful old dress on it and I thought it will be a delight to read. You shouldn't judge a book by its cover, because this one wasn't what I hoped. It was a book about books about fashion, yep, that's it. I imagine it would have been interesting (sort of) if I would have actually read the tens of books she is referring to. So, I had a look at the pictures and decided to return it to the library.
The last book I'm going to talk about in this post is Travelling to Infinity: My life with Stephen by Jane Hawking. I imagined I would love this book, as I loved the movie The theory of everything, as I mentioned on my blog last year. After 30-35 pages I stopped. The style is so boring, too many details that I couldn't be interested in. The book has 488 pages and I didn't even manage to read 10% of it. What can I say, the last book I wasn't able to finish was The Canterbury Tales by Geoffrey Chaucer and that only because the old English was so hard to understand. The book has some good reviews online though.