I had a couple of posts a few years ago on my cooking adventures and I gave up. Now I want to make it a monthly update because the way I cook changes in time. I also think that this might give my readers some ideas.
I tried a lot of new things this month, from top left, I cooked raw cauliflower cous-cous with vegan Linda Mccartney sausages. I saw the raw cauliflower cous-cous during a TV show, it was delicious. The sausages are delicious, I eat them regularly as I like them so much.
Bread is one of my absolute favourite bakes. With easy rising yeast I can bake bread fast… well, fast for making bread, it still takes a couple of hours. As mostly is waiting time, I can work and take 5 minutes breaks every 30-40 minutes.
This month I've made wholemeal bread and I also tried two different enriched dough recipes, egg or milk. Hubby and I had different opinions regarding the bread, I preferred the one with egg and he liked the one with milk.
After watching Victorian Bakers I talked with hubby about baking bread with steam and now we developed a procedure to make steam in the oven. It's not very complicated, but it's easier if two people are doing it. I'll talk about it on my cooking blog.
It seems I'm looking at lots of food related TV shows, but I love cooking and it's fun. Anyway, the next on the list, middle left, is sweet potato chips with Quorn steak, pan fried shiitake mushrooms and rocket salad. Simple and delicious, easy to make on a busy schedule.
Courgette pasta is another easy and fast dish. The courgette takes only 2-3 minutes to cook and they have to be blanched (rinsed with cold water to stop the cooking) or else they will continue cooking. I usually make a sauce with reduced fat soft cheese and crushed plum tomatoes with a little bit of seasoning.
Risotto and broccoli soup are the last on my list. Risotto is such an easy dish to make, with the right type of rice, it's ready in 20 minutes, it's filling and there are so many different ways to add flavour. I like it a lot. As for the broccoli soup, I made a very simple one with broccoli, salt and black pepper and a drizzle of truffle infused olive oil. It was delicious.
This month I also cooked two countries in my Taste the World challenge, France and Turkey. I should cook at least a country each week to finish in time (after I postponed the deadline once), but it's a busy time.
I learned a lot of things from cooking French. I understood why knowing how to cook French is so important, I understood why knowing the ingredients is so important and how good something can taste with only salt and pepper. The dishes were more complicated than I thought, but the effort was worth it. The dark chocolate mousse is now one of my favourite dishes and I will spend a couple of hours to make French Onion Soup and Ratatouille again.
Turkey was interesting. The dishes are easier to make, but I didn't enjoy myself as much as I did with French cuisine. It's just a different style. I made Smoked aubergines with yogurt that was refreshing and I would gladly cook again. Acvar is the colourful veggie dish, another dish I will make again in the summer. Baked houmous was the main dish and it was a success. For dessert I made baklava.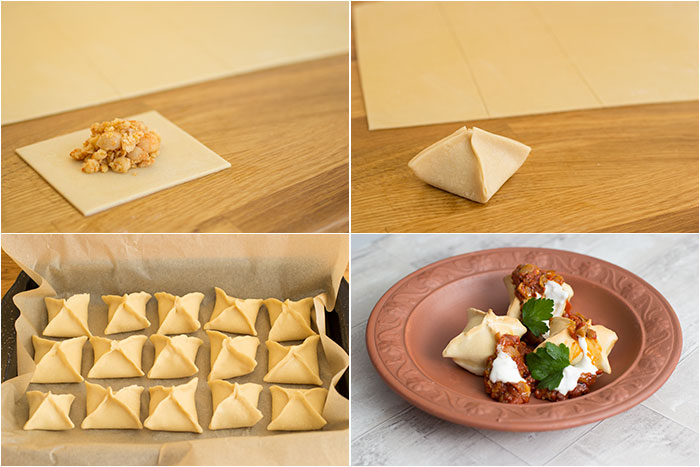 Not everything is rainbows and perfectly cooked food. This one was a disaster. The pasta was tough, although it looked so pretty. The recipe in the cookbook was wrong and it put me off trying any other recipe from it. I will try this dish again, because I love the shape of the pasta, but using another recipe.