The Vegan Kind subscription has two June boxes, the lifestyle box which is monthly and beauty box which is every other month. I was happy with both boxes this month.
I don't start using everything, especially from the beauty box right away because I still have creams or makeup. But I am happy with them once I start using them. In the April's box I received an eyeshadow palette which I like using, it's good. I am also using now a lip oil which is lovely, from April, and the February's Vitamin C Moisturiser and I love it. So, while I can't say right now much about some of the items, I will be using them in a few months time.
The Vegan Kind. June beauty box:
Delilah Long Wear Retractable Pencil (RRP £20.00) – It's an eyeliner with a sharpener inserted in it.
BetterYou Hair, Skin and Nails Daily Oral Spray 25ml (RRP £19.95) – is a vitamin spray from a brand I blogged about before and I am using at the moment. On top of that, it comes in recyclable, plant-based packaging. So, I am pretty delighted seeing this in the box.
Miss Patisserie Frosting Bath Slab (RRP £7.50) – is a bath bomb slab from which you can break off a chunk or two. I think it's pretty great to have the possibility to use more or less, depending on the mood. It should be enough for 8 to 10 baths or so, so the price is really good too.
Dr PAWPAW Tinted Peach Pink Balm 25ml (£6.95) – is lovely and creamy, but the shade does not work for me at all on the lips. My complexion and peach-tinted balm are clashing, so that's a no. Instead of using it is a lip balm, I will use it as an eye shadow. It stays in place.
Dr Botanicals Strawberry & Poppy Seed Cleansing Bar 100g (RRP £9.90) – an exfoliating bar which is a bit expensive. I like this kind of bars and I am looking forward to using it.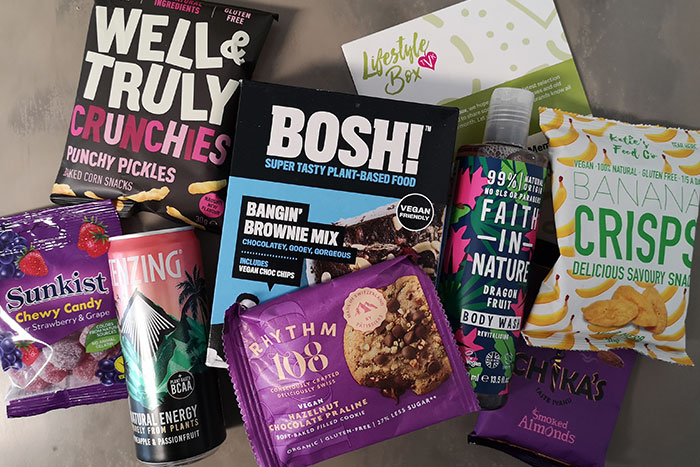 The Vegan Kind. June lifestyle box:
Rhythm 108 Hazelnut Chocolate Praline Soft-Baked Filled Cookie 50g (RRP £1.59) – was lovely. I liked the texture, but my husband prefers harder cookies. Next time I'm having one of these by myself.
Katies Food Co Mixed Herb Banana Crisps 32g (RRP £1.49) – I am yet to try these, but I am very much looking forward to it.
Well&Truly Crunchies Punchy Pickles 30g (RRP £0.85) – these are so unusual, but I loved them. It works so nice, even though the idea of pickle snacks might be a bit strange at first. I would buy these again.
Chika's Smoked Almonds 41g (RRP £1.49) – another delicious snack. We both loved it and surely we will buy these again.
TENZING Pinapple & Passion Fruit 330ml (RRP £2.10) – was nice.
Sunkist Chewy Candy 60g (RRP £1.60) – I am yet to try these.
Faith In Nature Dragon Fruit Body Wash 400ml (RRP £5.79) – has a lovely smell. I use Faith In Nature products and most of them are great. I only had an issue with a shampoo, but my hair is very picky and only agrees with a handful of shampoos anyway. I love the smell of the body wash and I will keep the bottle to refill it, with Faith In Nature, from a local refill shop.
BOSH! Bangin' Brownie Mix (RRP £2.99) – these are great. I've tried this mix before and liked it a lot.
Lifestyle boxes are between £8 and £10, depending on the subscription, and £3.15 for P&P. Every month they give a donation to a charity and in June they picked Miracle's Mission. It is an animal welfare organisation that works with sick, injured, and disabled animals worldwide, as they provide a place of safety for animals in danger and to neuter stray dogs and cats to prevent the birth of more animals onto the streets. They also rehabilitate and re-home dogs, often with disabilities, in UK.
Beauty boxes are between £12.75 and £15, depending on the subscription, and £3.15 for P&P. The beauty boxes are every other month. They give a donation to a charity and in June they picked Animal Free Research UK.