My husband and I went to The Holly Bush pub last month, but I didn't get the chance to talk about it until today. The Holly Bush is in Northwich, Cheshire and it was built in the 17th century.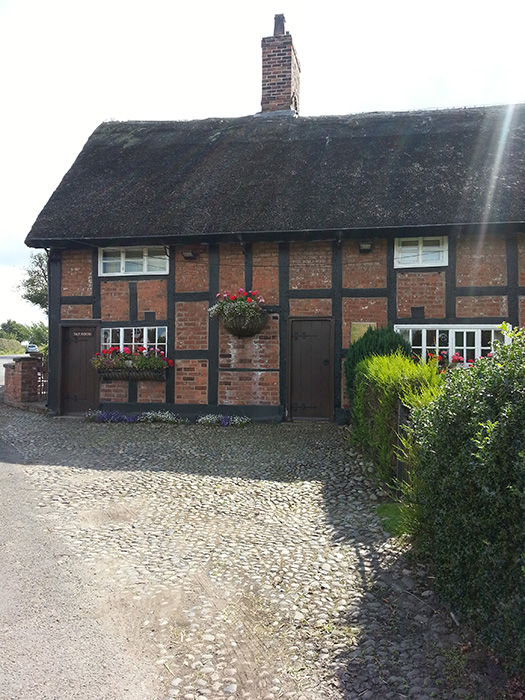 During the Victorian period the pub was extended. The last extension, where the restaurant is today, was built only 12 years ago. Beside the pub there is an inn in a converted barn. I noticed a board with room prices when we've paid for the lunch and I think they are affordable. If they look as nice as the pub, it is value for money.
They do have a vegetarian section in the menu and I like that so much every time I see it. I ordered Four Mushroom Stroganoff, mushrooms cooked in a creamy & smoked paprika sauce (priced at £8.50) and my husband had Spicy Bean Burger, Kidney bean, vegetables & salsa sauce in breadcrumbs, (priced at £7.25). Strangely, there wasn't any mention of side dishes and they weren't mentioned in the menu either. So, my husband ordered chips for both of us while I was taking pictures in the pub. Well, it was fortunate he ordered chips because the dish would have been basic without them. We had half of each dish, as we usually do.
His burger was very good, but without any salad and only a bit of shop-bought ketchup.
My mushrooms were delicious, I liked the sauce and the veggies were cooked perfectly. I didn't notice the "four" mushrooms, but it wasn't an issue. I enjoyed the food and the location, but, as we had to pay extra for side dish and the burger was more basic than expected, it wasn't as good value for money as we had in other pubs. Even if it was nice overall, I wouldn't go there again for lunch.
These pictures are taken in the older parts of the pub. It's really lovely.
The Holly Bush Inn is in Little Leigh, Northwich, Cheshire, CW8 4QY. Their car park is very big, so there are plenty of places to park.