Yesterday I blogged about the Imola Circuit, Autodromo Internazionale Enzo e Dino Ferrari, including the Ayrton Senna memorial which is in Parco Acque Minerali. For anyone who watches F1 those names are well known and the primary reason to go to Imola. For the rest though, Imola has a lot more to offer. It's a small place, so perfect for a day-trip or as a base for going to Bologna on day-trips. There are a few lovely villages nearby, but we did not have time to visit them. We stopped for a coffee and we also had vegan croissants, so there are places that do cater for everybody.
Rocca Sforzesca is a gorgeous fortification, but unfortunately it is open only a couple of days a week and not when we were there. Nevertheless, it is worth going around it, a quiet place for a stroll or having a coffee at a nearby cafe. Its history dates back to the 13th century, although this building is newer.
Another must-see in Imola is the Cathedral, which was in refurbishment, so there was scaffolding outside, but it was open and beautiful to see. Someone was playing the organ, so we spent more time in the cathedral, listening to that gorgeous music.
Another fascinating place is Farmacia dell'Ospedale. It is close to the cathedral and to the city centre, where there are cafes, shops, and restaurants. It is also in the oldest part of the city, with beautiful homes all around.
Farmacia dell'Ospedale can be found using maps, which was somehow unexpected considering that the translation in English is: hospital's pharmacy. It is part of a pharmacy that is open today, which makes it even more interesting.
The building was built in the 15th century as a hospital. The pharmacy was established in the 17th century. In late 18th century it was refurbished and that gorgeous ceiling dates back to that period.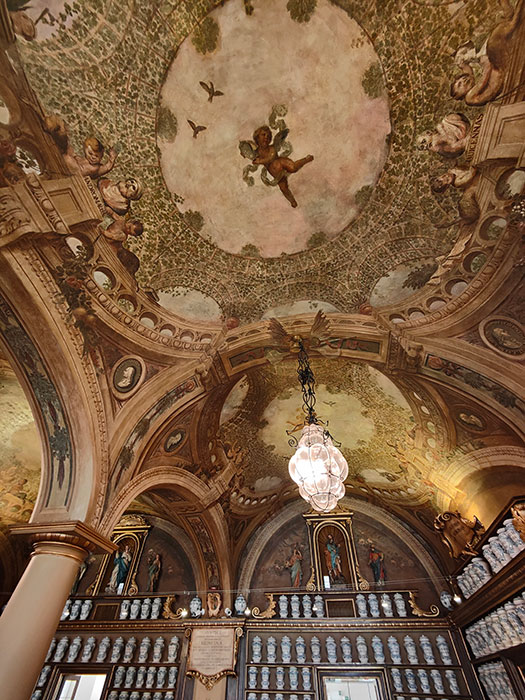 These decorations were painted by Angelo Gottarelli and Alessandro Dalla Nave in 1792.
I think Imola is a lovely place which is worth visiting.