I've been to the International Slavery Museum on Albert Dock, when I moved to Liverpool. I wasn't impressed, as I mentioned it in my post Museums. It was interesting to my thoughts from back then, when I said that "I think slavery deserves a better way to be presented, stronger and with more impact on the visitors." Now I think the same, it can be more shocking. It's a museum dedicated to a horrible part of our global history. That being said, I still think it's worth a visit, especially as the entry is free, and you can decide for yourself if you like it or not.
The museum and the University of Liverpool organize events and talks about slavery and I've been going to them recently. Today I'll be at one of them, thus me talking about the International Slavery Museum. If you want to see what's on and maybe attend some of their events, have a look on their website for more details.
There is a recreation of an African house, with all its beautiful colours and decorations.
There are different objects on display, related to the African lifestyle. This is a telegraph drum, used until the 19th century to communicate over long distances.
Farming tools from Africa, dating from 1950s.
These glass beads were imported from Europe, from Venice, Prague, and Silesia in Germany. In 1770s glass beads made up 50% of the value of cargoes shipped to the Cameroons by a Liverpudlian merchant called William Davenport.
Manillas, these horseshoe shape piece of metal, were used as a source of metal for casting in Africa. Manillas were made in Europe, including locally to Liverpool, in St. Helens, Warrington, Macclesfield, and Cheadle.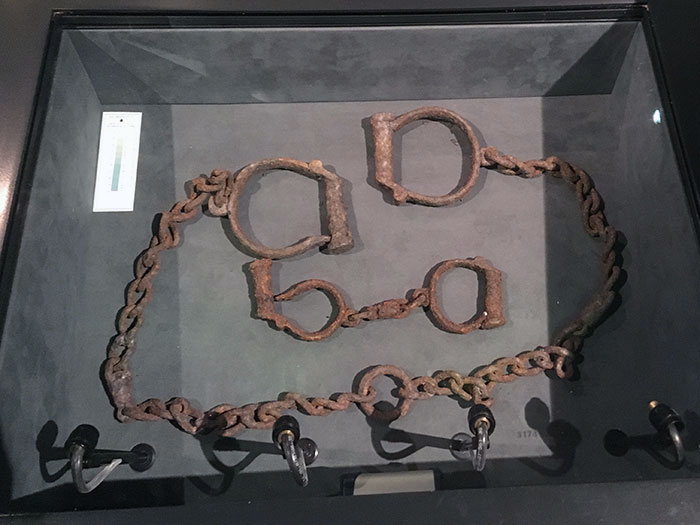 These are cowrie shells that came originally from the Maldive Islands. They were used as currency in Africa. Olaudah Equiano was sold for 172 cowrie shells. Cowries were used for decoration too.
This is how a plantation might have looked like. It was both a farm and a factory. There are recounts of the life of the slaves and the life of the plantation owner in a screen nearby. It's a nice display.
This device looks horrible. It was used as a metallic muzzle. I recognized it because I've seen it before. It was used by men during the Oliver Cromwell's era, as a tool to submit women. The protestant church was in favour of this back then.
Porcelain sugar bowl with the inscription: "East India Sugar. The Produce of Free Labour", dating form 1820 – 1830. It's precursor of the modern Fairtrade ideals and concepts.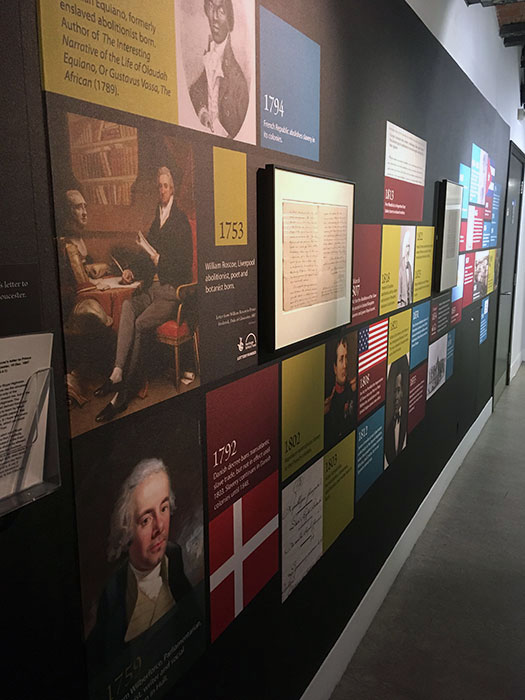 Chronological timeline of the abolition of slavery.
A stereoviewer, which makes a 3D image using specially made images.
International Slavery Museum is on Dock Traffic Office, Royal Albert Dock, Liverpool Waterfront, Liverpool, L3 4AX.