We've spent this month at home, as we were in lockdown, but we also had a renovation project (or three) and, of course, I had my exams. I'm not going to talk about the latter, as I mentioned this topic a couple of times this month, but I'm going to talk about the former. My husband and I started renovating the downstairs, having in mind some repairs and changing the carpet. But the project went bigger and bigger, from new switches to more furniture. Now I have two new bookcases and a lot of space to add my ever growing collection of books.
Besides the living room, we've started working in the garden. My passiflora, maybe you remember it from last year, nearly died. This allowed us to remove the bamboo screen and change the fence. Furthermore, we've installed a raised bed and plenty of new flowers. It was the push we needed to change the broken posts. Last weekend a side of the garden was sorted out, with the help of the neighbour who is on the opposite part of that fence. This weekend two more posts are planned to be changed on the last side of the fence and the neighbour is happy to help, considering that it is his fence too. So, weather permitting, we should have new posts and we can continue the install of the new fences.
If that wasn't enough, we've also started working on the conservatory. This was a smaller job, but we should finish it by next week, if nothing unexpected appears. We got a new bench for outside, so we removed the bench we had in the conservatory, as we were not using it too often. Instead we are thinking of adding a couple of very comfy chairs and a table. Of course, the flooring and new paint will finish the job, before installing a long cupboard. I'm very excited about that too. I will make posts about this, as soon as we are finishing one room (or the outside). We have also plans for the kitchen and the bathroom.
We've changed Festus's bed. He has had a Vetbed that I got from Crufts four years ago. The Vetbed is still looking good and it is now stored away. We might take that one with us when we are caravanning, for example.
1. Festus in the kitchen. 2. Prosecco, to celebrate. 3. Sugar free Russian cake. 4. I finished George IV by Kate Heard. 5. Vegan English Breakfast. 6. Pizza and Corona. 7. Crumble. 8. I received the review copies from the publisher. 9. The avocado plant. 10. My new bookcase. 11. Festus, on his new bed. 12. Empties from Body Shop. 13. Grass. 14. Exam ready (desserts). 15. First exam. 16. Watched Napoleon, the movie. 17. Second exam. 18. Virtual cocktail party with my colleagues. 19. Relaxing with romantic novels. 20. L1. 21. Festus, very tired. 22. DIY. 23. Shop-bought apple strudel, quite good. 24. Painted fence. 25. DIY – upcycled plant pots. 26. Flowers for my raised bed. 27. Getting ready for a picnic on the 30th (as in making the plans, the mini-bread was baked on the 29th). 28. Forest. 29. Post is ready. 30. Books I read in June.
Because it is not a book per se, I will mention this before I talk about the books I've read this month – The Whisky Cubes Pack. It can be a fun gift or a treat, if you like whisky, as I do. This guide starts with an comprehensive explanation on how whisky is made and how different ingredients alter the taste. There are 2-3 page descriptions of distilleries, which are helpful if you want to learn something about the drinks you have at home or, even better, if you want and can visit them. Furthermore, there are granite cubes in the pack, which are great for chilling the drink without diluting it. I'm very happy with those too.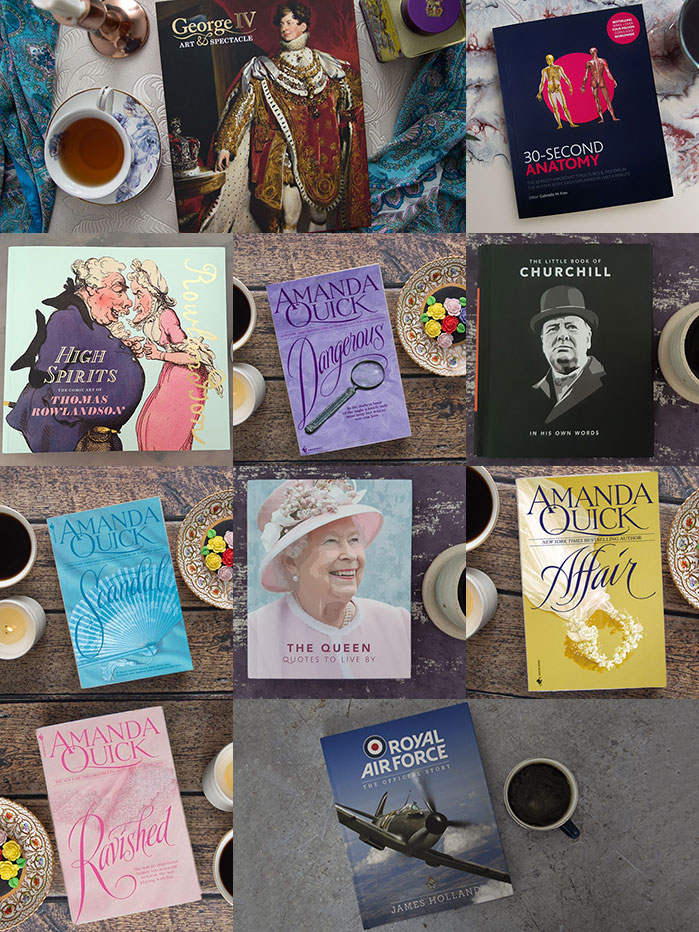 In June I finished 10 books and all of them are reviewed on Coffee and Books. I finished two books I bought from Buckingham, when I went on a day trip in London back in January, George IV and High Spirits. Both are lovely and interesting, I've enjoyed them.
I also read another book from the 30-second series, on Anatomy and I found it very interesting. I liked remembering details from my years at high-school, when I learned anatomy as a subject. When it comes to non-fiction books, I read four more, two with quotes, by Churchill and the Queen, and both are really fun and, as I said in the description, great as a gift too. The last book I finished this month was RAF: The Official Story. I loved it. It has so many wonderful pictures and, of course lots and lots of interesting details. I think it is a book worth reading.
Lastly, I read 4 regency novels, written by an author I used to love as a teenager, Amanda Quick. It seems that I still love her style, considering the ratings.
Books I read in June:
George IV by Kate Heard – 5 stars
30-Second Anatomy by Gabrielle Finn – 5 stars
High Spirits by Kate Heard – 5 stars
Dangerous by Amanda Quick – 5 stars
Winston Churchill: In His Own Words – 5 stars
Scandal by Amanda Quick – 5 stars
Quotes to Live by: The Queen – 5 stars
Affair by Amanda Quick – 4 stars
Ravished by Amanda Quick – 5 stars
RAF: The Official Story by James Holland – 5 stars