The Wexell Escape Room by James Hamer-Morton* is an escape room puzzle game with 5 rooms. I was so looking forward to playing this game as I love escape rooms. So far I've been to different escape rooms three times, including to one earlier this month. Also, I got a basic escape room game which was played using the phone and a few print outs. I will make sure I'm not going to give out any spoilers, so no worries if you want to get the game for yourself.
The book starts with a quick puzzle before the first room and that is really great, as it offers you the opportunity to get used to the puzzles without the added time pressure.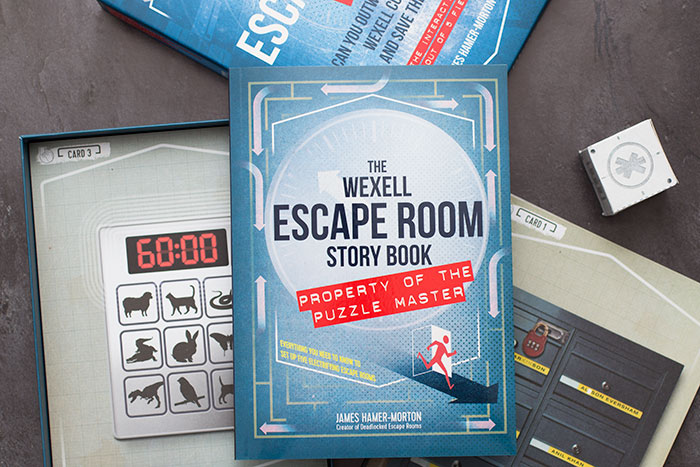 After that, the first escape room puzzle starts, with the 60 minutes time-frame. The game is rather complicated, so it can be played with a couple of friends, or, like we did, as a couple.
James Hamer-Morton, the creator, is an experienced escape room creator, and it shows, because the puzzles are similar in concept to the ones I've seen in real escape rooms. This is also a good idea, if you want to try something at home, before going to an escape room. This game is only £17, so worths every penny, considering how much a ticket to a standard escape room is.
All the rooms are based around the adventures of a young investigative journalist, Adam Parkinson, and his friend, Henry Fielding.
The Wexell Escape Room: What's in the box
The box contains puzzle cards, hint cards, and The Wexell Escape Room Story Book.
The book contains hints and tips to help you on your way when you get stuck. I would suggest using the first hint after 10 or 15 minutes, if you don't make sufficient progress, as waiting to use the hints with 5 minutes to spare is not a good idea. At the end of the book you have all the solutions, so, if you had issues with a puzzle, you can check it after the time runs out and understand how it could have been solved.
Besides what's in the book, I suggest getting paper, pens, scissors, and some glue. As you can see, we had to make a cube for one of the puzzles. You will also need your phone to search for some things online.
Playing the first game was so much fun. I've enjoyed it a lot. We needed two more minutes to get out, but we solved all the puzzles. We've made a mistake when solving, even though we realized the solution, we didn't have the time to check again to see why something was a bit different (a letter was different). I think we did pretty well and, if we've got a hint earlier, maybe we would have saved those two minutes to check again and discover why it did not fit the possible answers.
This can be a great gift or something you can take with you on holiday, so do check the game out. It is available in shops and online, at Waterstones, WHSmith, and amazon. I imagine the game is available at small retailers as well.
*PR sample.