On Easter Monday we've been in Lymm to see the Duck race. I read about the duck races and they are organized for fundraising for charity.
When we left home it was gloomy, but during the race the sky cleared and the sun was shinning. I really enjoyed it.
I discovered Lymm last month when I wanted to walk in a small, quiet village. It was lovely, we stopped for cake and the walk was so relaxing. It was then when I found out about the duck race and it looked like something fun. So, after a day of splurging on food and chocolate, we've went to see the ducks.
Lymm was so busy, lots of stalls and buzzing with people. Unexpectedly, it was quite difficult to find a parking space and we had to walk a little more.
I found a nice place, exactly near the finish line and waited there for the ducks to show up.
I hoped I'll see the duck with the number 14, as it's the date of my birthday and hubby's birthday too. Missed it at the race but I've seen it at home, when I was looking through the pictures. I was so surprised, seeing it in the middle of hundreds of ducks.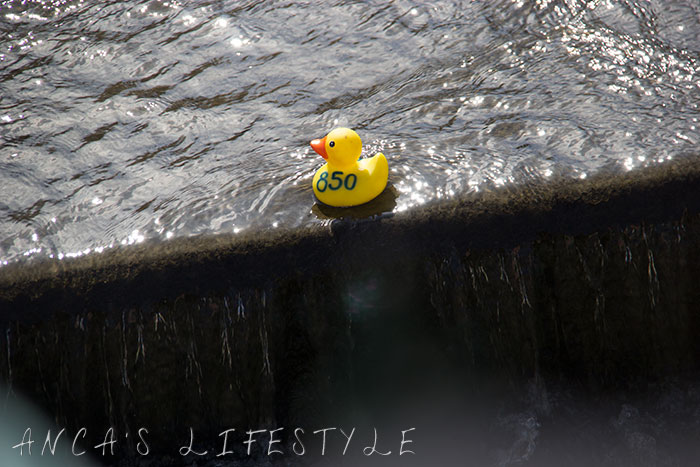 I don't remember the numbers of the 2nd and 3rd place, but the winner was Duck 25. Sorry, no pictures with the winners.
This is a bouncy castle sort of thing.
It was warm enough for ice cream. Although I do eat ice cream in the winter too 🙂
Have you ever been to a duck race?